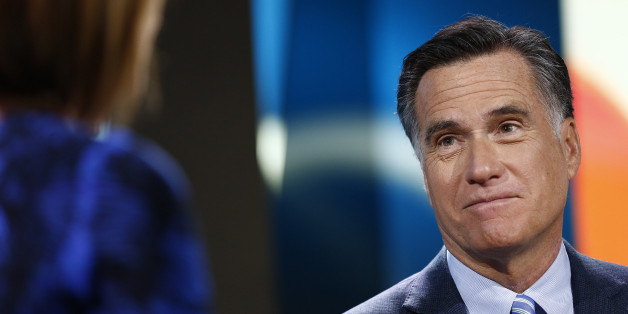 Important news today from the Magical Kingdom of Hypothetica, where polls are conducted many hundreds of days before electoral races begin, and their sweet songs of trolling arrive on a golden wind to beguile the imagination. Mitt Romney, late of losing the 2012 presidential election, is the "frontrunner" for "2016" according to a poll of New Hampshire primary voters.
This could be a challenge to Mike Huckabee, who is also posting pretty good polling numbers in this non-existent primary contest.
National Journal's Matt Vasilogambros, who reports this news directly from the child heralds who flew in from Hypothetica's harlequin-colored court, notes that the Mitt Romney who lives here on our planet has repeatedly said no to another run for president. How many times did he repeat "no"? Eleven times. But, there is a but:
But that didn't stop the Virginia-based bipartisan policy firm Purple Strategies from adding his name to a recent survey for Granite State voters, which shows Romney in the lead with 25 percent support. Libertarian firebrand Rand Paul (who has strong infrastructure in New Hampshire) and New Jersey Gov. Chris Christie are behind with 18 percent and 17 percent support, respectively.
See, that's the thing. Nobody tried to stop Purple Strategies from conducting this poll, because it's a free country and they can do what they want. Though I'll note that articles that report this news are nevertheless supposed to be tagged with the following symbols -- "ℑ" and "»" and "Ñ" -- according to the Edwards-Levy/Linkins Way-Too-Early Polling Shorthand System.
Perhaps my favorite part of this story is the insistence that "GOP insiders want [Romney] to come back." What's the sourcing on that, Skippy? Oh, it's this guy from a Buzzfeed article:
In fact, it's gotten so bad, the operative said, that some donors have started looking back fondly on the good old days of 2012: "You know what a lot of them say to me? I think we need Mitt back."
Hoo, boy! That's a confident take from a guy who's so sure of what he's talking about that he doesn't want to have his name attributed to this nice thing he's saying about Mitt Romney.
Elsewhere in the National Journal piece, we find this: "We might be experiencing Mittmentum 3.0." In all likelihood, no. What we're probably experiencing is "Mitt-stalgia." A portion of the New Hampshire voters who voted to nominate Romney in 2012 would likely do so again. There are two things worth observing here.
First, we're essentially seeing a situation in which many of the people who recently voted for Mitt Romney for president do not think the choice they made was a bad one. Because that's what Purple Strategies is really asking when they drop Romney into this poll: "Do you feel like you'd vote for Romney all over again?" And many would, because many did.
Second, this poll indicates that this far out, none of the more plausible 2016 candidates have captured the loyalty or attention of GOP primary voters in a way that dislodges the memory of the 2012 election and the candidate they backed.
Consider what Vasilogambros observed: "Libertarian firebrand Rand Paul (who has strong infrastructure in New Hampshire) and New Jersey Gov. Chris Christie are behind with 18 percent and 17 percent support, respectively." If nothing else, this tells you that Christie is not doing too badly, despite his recent political travails. Republican primary voters aren't like political media obsessives. They haven't yet paid as much attention to "Bridgegate." One day they might, but at the moment they aren't even thinking of Chris Christie. Mitt Romney is still foremost in their hearts and minds.
Alongside today's other big polling news -- Hillary Clinton has some insane lead over her hypothetical competitors in their hypothetical match-up -- what have we learned? Democrats haven't done much thinking about 2016, but they have moved on from 2012. Which makes sense: they won. Republicans haven't yet moved on. Which makes sense: the guy they wanted voted out of office just gave the State of the Union address.
Turns out that when you call up people on the phone and ask them questions, they respond rather logically. The rest is divination.

[Would you like to follow me on Twitter? Because why not?]

BEFORE YOU GO
PHOTO GALLERY
Awkward Mitt Romney