Earlier this month, a LEGO ad from 1981, featuring a little girl, went viral. The adorable image sent an important message: That kids are kids, and the segregation of "girl" and "boy" toys is not only sexist, but unnecessary.
It's a concept so simple, that even kids get it. (Or kids get it because it is simple?) Recently, a 7-year-old named Charlotte wrote a stunning letter to LEGO complaining about the lack of "LEGO girls" at her local toy store. She noticed that the girl figures only go to the beach and shop, whereas the boy figures have jobs and save people. Charlotte's mom sent a copy of the letter to Sociological Images, who shared the note on Twitter.
Perhaps LEGO should hire Charlotte as a consultant?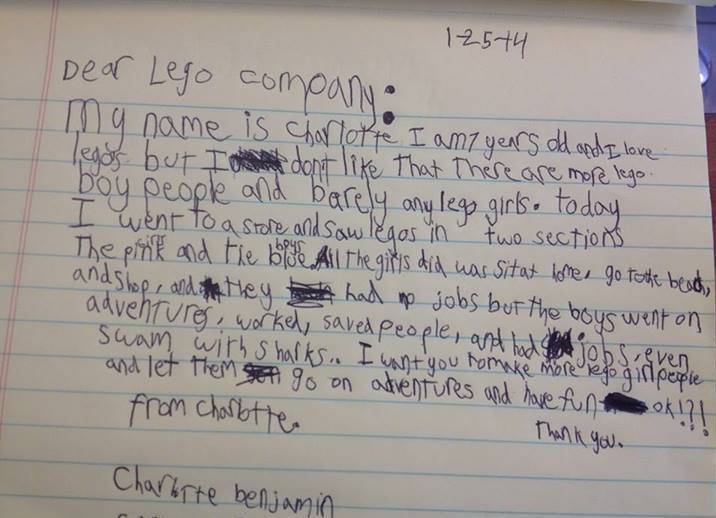 Dear Lego company,

My name is Charlotte. I am 7 years old and I love legos but I don't like that there are more lego boy people and barely any lego girls. today I went to a store and saw legos in two sections the girls pink and the boys blue. All the girls did was sit at home, go to the beach, and shop, and they had no jobs but the boys went on adventures, worked, saved people, and had jobs, even swam with sharks. I want you to make more lego girl people and let them go on adventures and have fun ok!?!

Thank you.
from Charlotte
BEFORE YOU GO
PHOTO GALLERY
Cute Kid Notes