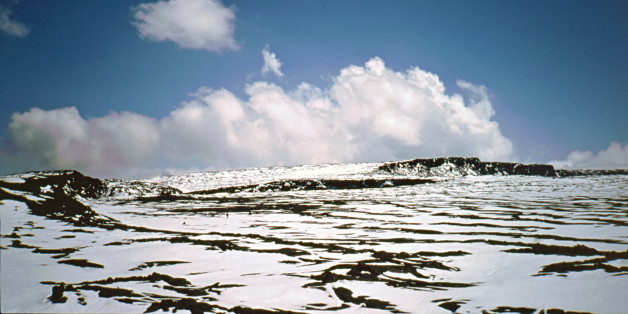 Alex Sverdlov of Queens, New York, spent two days trapped in a heavy snowstorm during an 18-mile hike on Hawaii island's Mauna Loa volcano.
The 36-year-old Brooklyn College professor began his trek up the 13,677-foot summit on Sunday. Before reaching the peak on Tuesday, Sverdlov left behind his pack to conserve energy for the last two miles. On his way back down that same afternoon, a snow storm moved in with strong winds, creating blinding white-out conditions.
"It went from like barely drizzling snow to like maybe two feet of snow within literally an hour," Sverdlov told KITV.
After a few unsuccessful attempts to locate his backpack, Sverdlov decided to call it a night. His only protection was the clothes on his back, a frozen water bottle, and a cellphone with no reception.
"I just slept in the snow," Sverdlov said. "I was shivering all night, but I didn't die."
Earlier that day, park management had closed the volcano to visitors due to the dangerous weather conditions. Sverdlov was the only registered hiker in the park, but park rangers weren't able to reach him on his cell phone. By Wednesday afternoon, when Sverdlov's car was still parked near the trailhead on Mauna Loa Road, park ranger John Broward scheduled a search and rescue mission for the next morning.
Sverdlov found his pack on Wednesday morning but was unable to make much progress in the waist-deep snow. He spent a second night on the freezing volcano, this time, with warmer clothes and a sleeping bag. Sverdlov later told park rangers that he thought he'd die on Mauna Loa.
On Thursday morning at 9 a.m., a helicopter located the stranded hiker.
"That was the best moment of my life," Sverdlov said about the rescue. "If I had to walk down I probably would have made it, but it would've been another three or four days and those would've been a horrible, horrible three or four days."
Broward said that even the most experienced and prepared hikers can get into trouble at the park. What saved Sverdlov, who successfully summited Mauna Loa last winter, was his backcountry permit since rangers were able to recognize that he was missing.
Amazingly, Sverdlov applied for another backcountry permit on Thursday afternoon, just hours after his rescue. The sun-burned and wind-whipped Sverdlov plans to hike the park's more remote coastal area next.
"I'm going to the sunny part of the park," he said.
BEFORE YOU GO
PHOTO GALLERY
Ten Best U.S. National Parks