"My father-in-law is going more and more blind each time I visit him. I am conscious how much his focus is changing. He used to look at me, but now he practically sees through me," photographer Julia Fullerton-Batten explained to The Huffington Post in an email.
Inspired by her father-in-law's bravery and strength, Fullerton-Batten embarked on a photographic journey to capture others whose worlds don't consist of colors and shapes. In a moving series simply titled "Blind," Fullerton-Batten grapples with questions many have when contemplating a life without sight. "How different my life would be if I was surrounded by dark, blurred scenes of mottled grey and colors?" she asks. "How do they dream without the background knowledge stored in their memory?"
The artist resolved to learn more through a series of personal, photographic portraits each with an accompanying story. For each image, Fullerton-Batten asked her models to choose a background to pose before and write of their experiences with blindness, in their own words, using speech recognition software and Braille keys. The combination of images and words allows access into an existence that, for those of us who don't experience it firsthand, is almost impossible to imagine.
See the stunning images and the stories that led to them below, and let us know your thoughts in the comments.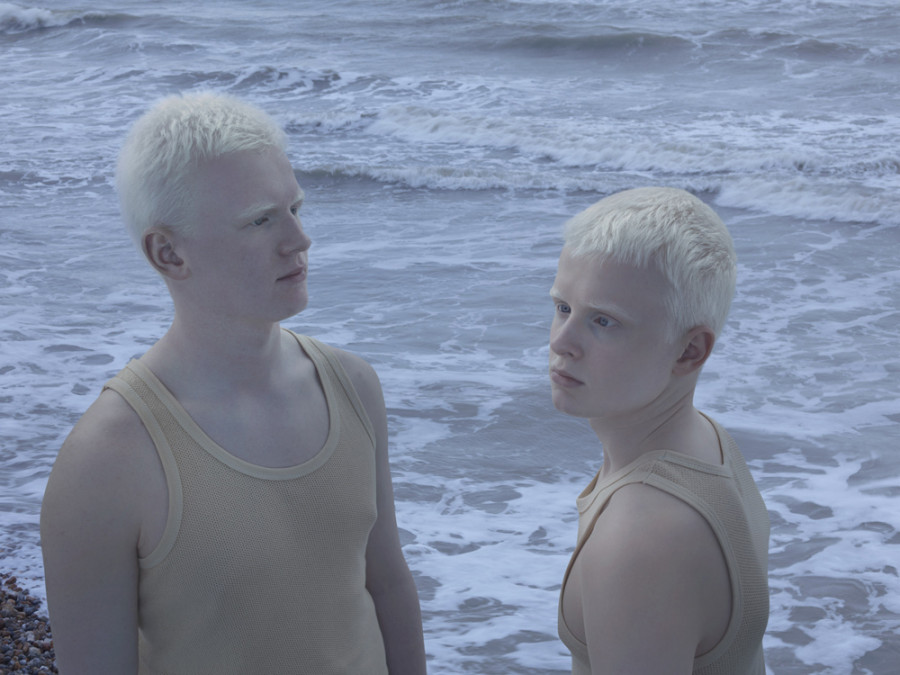 "Both David and I have Ocular Cutaneous Albinism. This leads us to have just below 10% vision with nystagmus (involuntary eye wobble), very pale skin and we burn very easily.  We have both had the condition since birth but have both adapted to it as it is only what we know.
"The background in the photograph relates to us because as a family we love to travel. Unable to sit in the sun, we have to find other things to do on holiday.  A few years ago we decided to try scuba diving, and that has now become a family passion. When we are under the water (20m down)  we are protected from the sun, thus can't be burnt.  Being underwater is a safe world away from the sun and somewhere where we can forget all about our eye condition. (Even though we may not see everything everybody else does underwater)."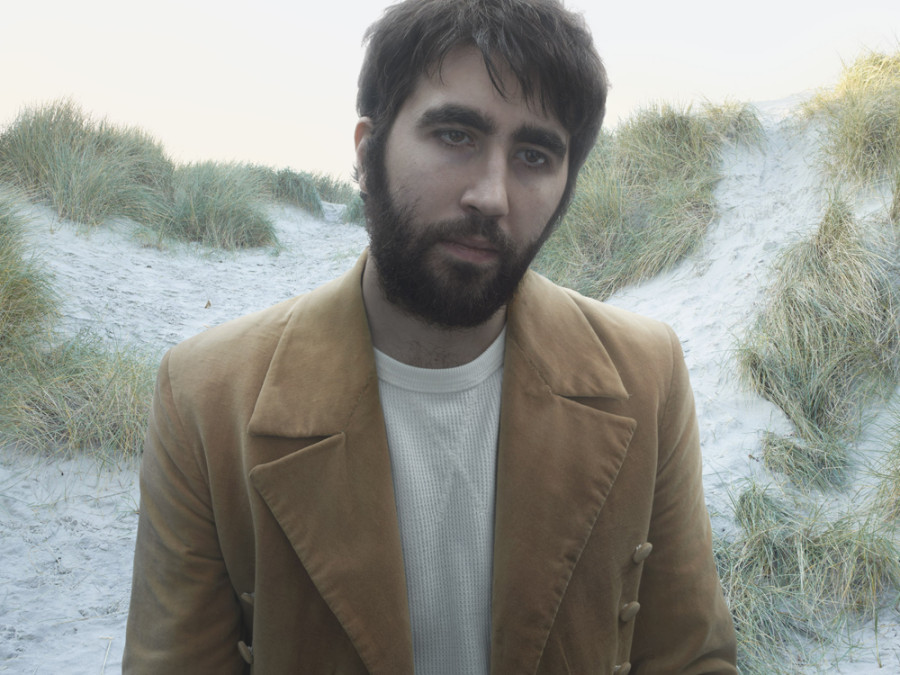 "My name is Adam, I'm 29, from London, registered severely visually impaired. I suffer from something called Retinitis Pigmentosa, which has gradually affected my sight in many ways. Large patches of blind spots around my peripheral field cause "tunnel vision", while blind spots in my central field make focusing on details difficult/impossible. I can't make out many colours, for instance distinguish between various pastels or dark shades, and this is all dependent on there being good levels of light; in dim conditions such as night time or even a cloudy day, I'm virtually totally blind.
"One of the toughest obstacles I have to deal with is people thinking I'm faking my blindness, or simply need to get a good pair of spectacles, and/or that I'm crazy or suffer mental difficulties. I asked Julia to picture me on a beach because I very much enjoy the beach. I love the sound of the waves, I love the sand between my toes. I like it if it's sunny or rainy, and I love the sensation of being on the edge of a great expanse. Having grown up in the city of London, the beach is almost alien, surreal, and I find it very soothing."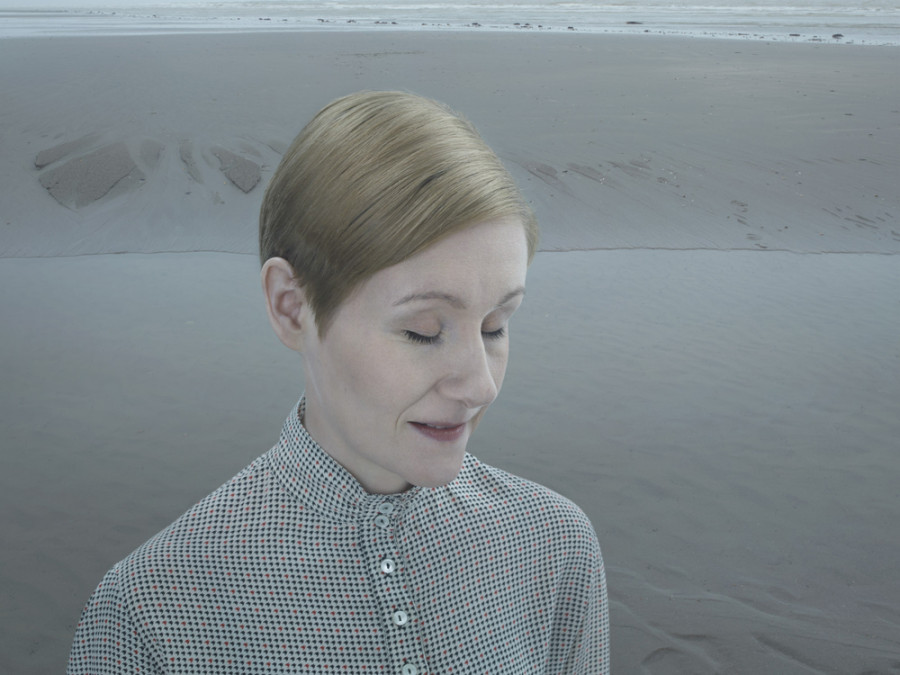 "I was born blind, with an eye condition called bilateral microphthalmia, which means that my eyes are much smaller than other people's.  I have very slight light perception and am able to see shadows, but apart from that, I can't see anything at all.  Having always been blind though, I'm very used to it and I'm definitely someone who believes in getting out there and getting on with life!
"I also have an amazing black guide dog called Reno, who comes out and about with me every day and makes getting around so much easier; he's also wonderful company!
"The sea is very important to me.  I have many happy memories of times spent by the sea and it has also been a great source of power, strength and inspiration for me.  As a child, I spent many happy days on the beaches in Sussex with my family and in my late teens and early twenties, when I had difficult decisions to make about my life and my work, I spent a lot of time in Cornwall and on the beaches in that part of the country.  The sea helped me find the strength to move forward and to become who I am today, so I have much to thank it for."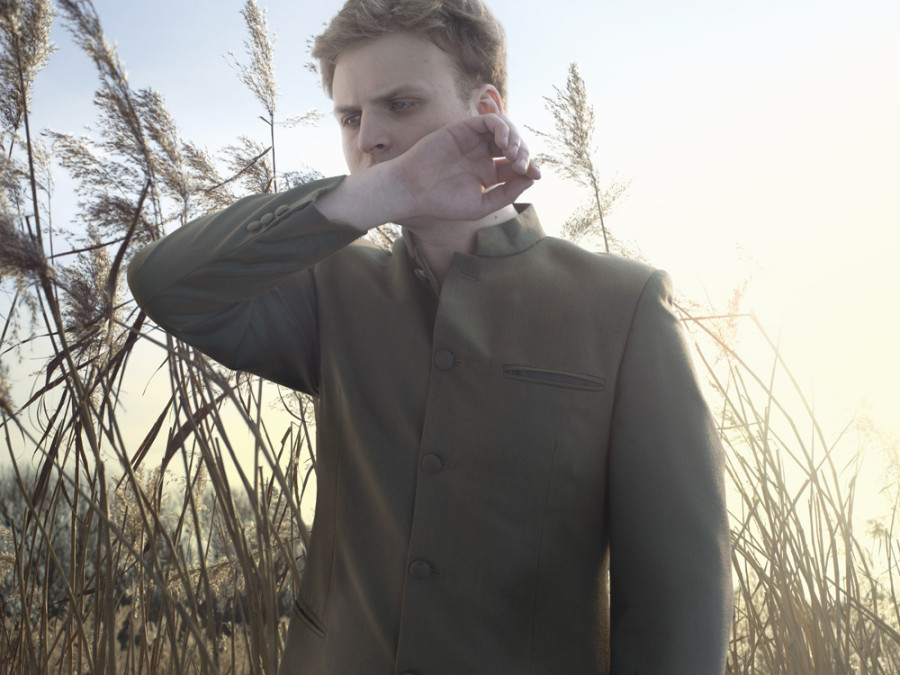 "I went blind in one eye at the age of 10 after being severely myopic since birth. I then lost sight in the other eye after a string of 8 major operations when I was around 13/14.  Both eyes suffered retinal detachments. The operations had differing levels of success with some completely repairing my vision but with others causing further complications which eventually ended in blindness.

The picture references a strong memory from my youth where I remember watching fireworks and listening to music with my friends and family. This was one of the first occasions where I remember being captivated by music and because composing, producing and listening to music has grown to be an integral part of my life since going blind, I thought that this image would have a lot of personal significance."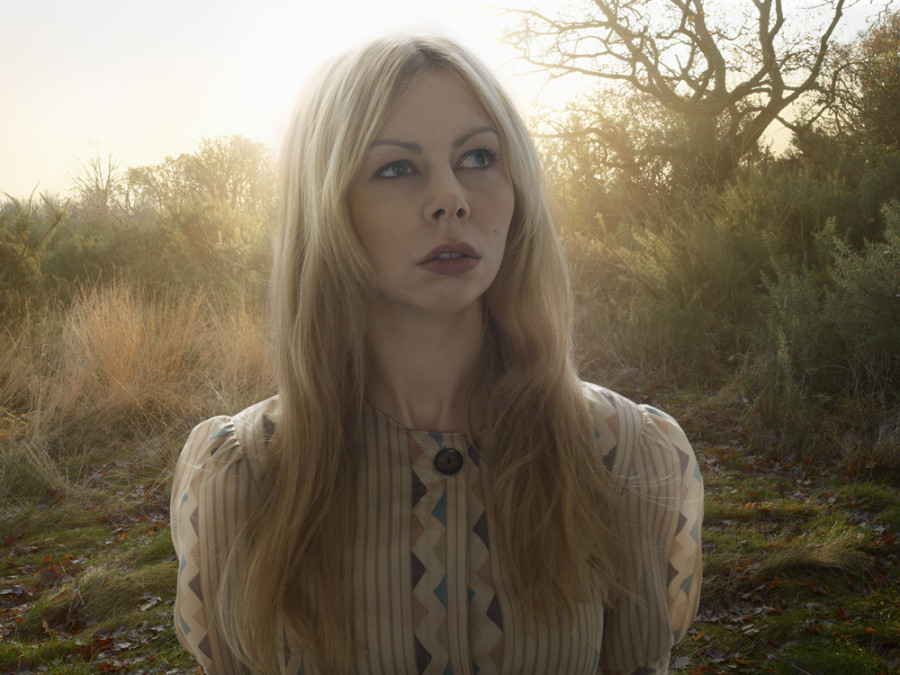 "My eye condition has lead to total blindness in my left eye and periods of complete sight loss from detached retinas but now have relatively good vision in the right.  However it is only with a lifetime of maintenance and treatment that it will continue to survive.

"I was diagnosed at the age of three with uveitis and secondary glaucoma.  I was immediately to have lensectomy operations and then years spent controlling the pressure and protecting my optic nerve from the unpredictability of the disease. Unfortunately there is no known cause of the condition. I have a tube in the right eye which takes full control of the pressure. It was not available when I was first diagnosed.  Surgical treatments have been the most beneficial and bought me up to ten years without any more. I am positive about the advances in medical science that my sight will never be lost again.

"When asked what images and places came to mind of importance to me, my immediate thoughts where very simple ones.  It's the simple and most obvious things we miss when they're gone and also those we take most for granted.  An image I have as a child was the trees at the back of my parent's large garden that the light used to shine through.  That was an image of home for me.  And the simplicity of light slipping through very tall trees could invoke such emotion was a sight that was devastating to be without but never really felt this until it was no longer there for me.  I have been given a second chance with my sight and will take pride and pleasure in all these images."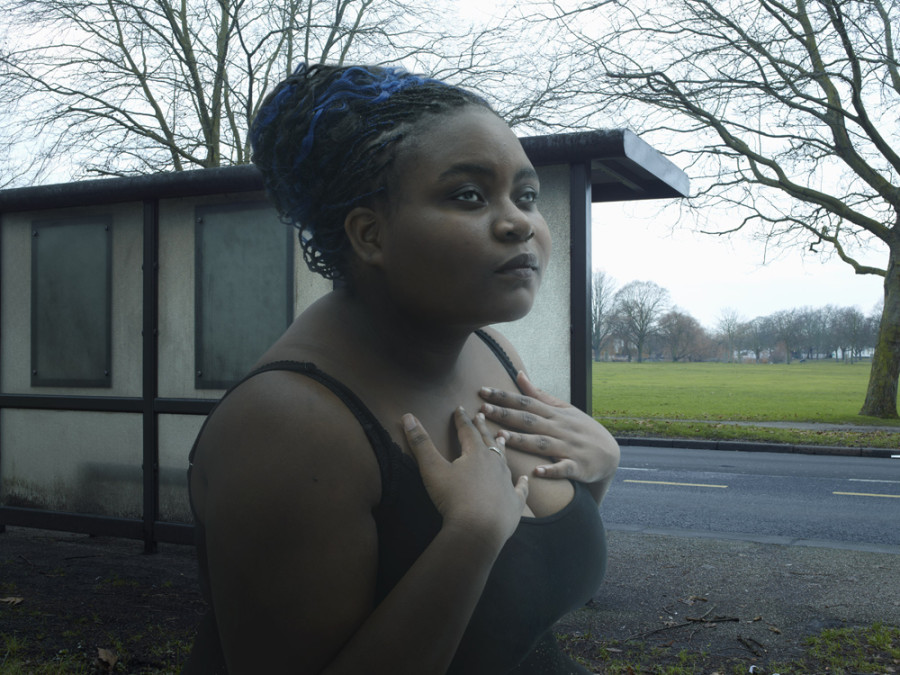 "My name is Joy Addo and I am 18 years old. I have an inflammatory disease at the back of my eyes. This has been an on-going problem throughout my life. 
"My mum noticed something was wrong with my eyes at the age of four. I have had about 11 operations now throughout my life. My vision is slightly improved with glasses. At the moment my vision is stable and doctors say I may grow out of it when I am in my late 20s, however I don't really expect to. I am just trying to get on with life with a visual impairment and if I do grow out of this condition it will be a bonus. 

"The reason I was photographed outside a bus stop was because I have been using that same bus stop for a number of years now. I have been taking very similar routes which mostly consisted using this particular bus journey.
I have now moved out of the family home and therefore will not be using the bus stop as often, however it is a route that I will never forget."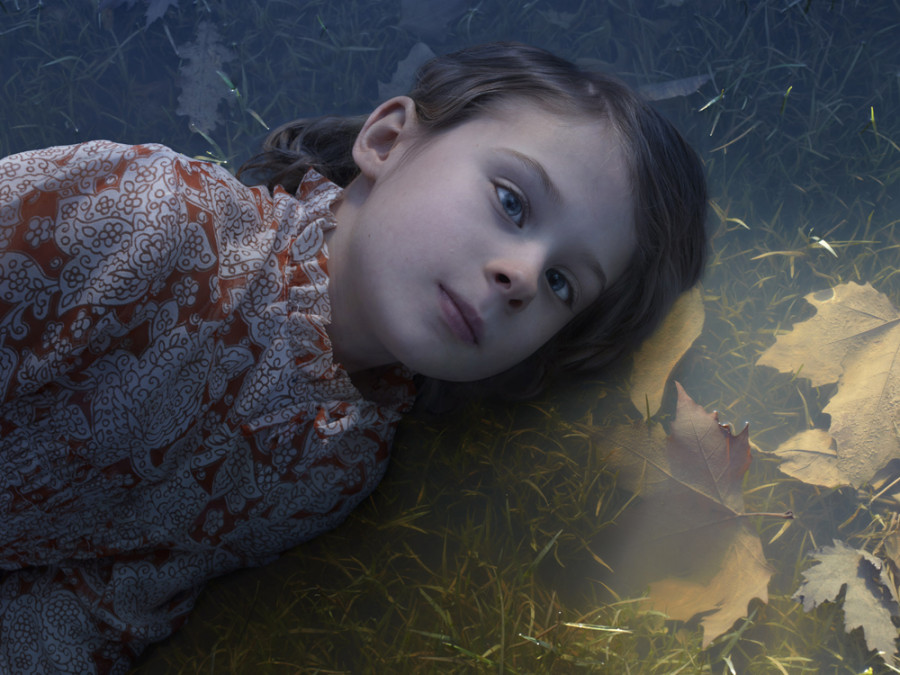 "Nala's left eye has had nerve damage since birth.  She sees some shapes and light. She is sensitive to bright light in that eye. In particular we notice this with snow. We have regularly visited eye doctors but we have been told there is nothing that can be done to rectify the nerve damage. Nala's right eye is short- sighted. She wears glasses for this eye and it enables her to have a normal life and she goes to a regular school and does well. Doctors have said she has learnt ways of coping with just one eye since birth, so with her glasses people rarely notice she has sight issues although during sports and physical education she can struggle with glasses and also with depth of field (ball games etc). We are very proud of Nala.
"The background relates to her love of water and swimming. She loves to swim. She glides elegantly through water, wearing prescription goggles. It seems in water that she is much freer and more confident physically."
 (Relayed by her mother)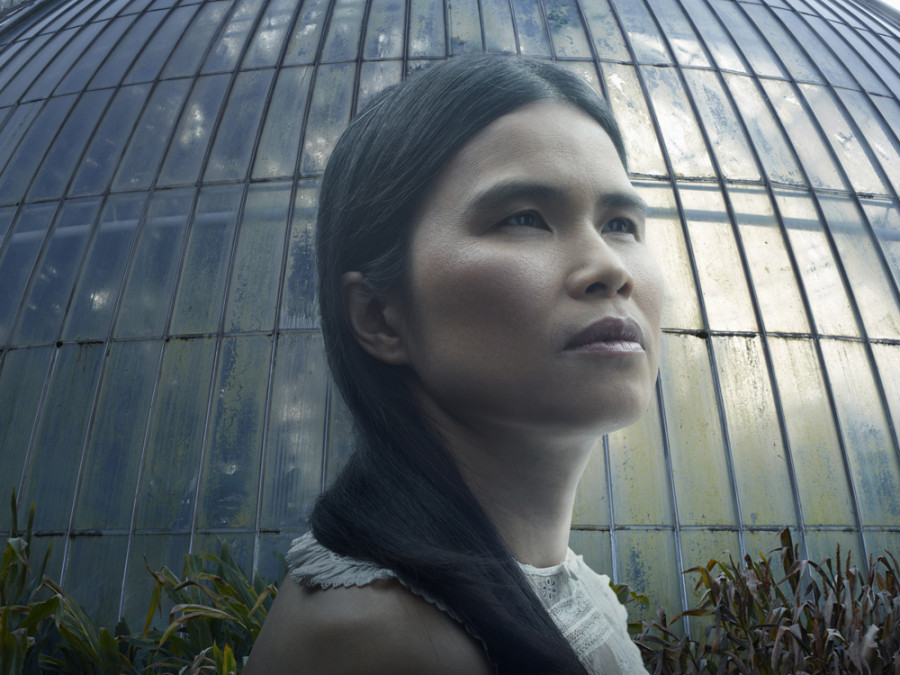 "I have a degenerative disease of the retina called Lebers Congenital Amorosis. It causes the light sensitive cells in my eyes to die over time. It is caused by a gene mutation passed down from my parents. There is currently no treatment, but I am talking to the Oxford Eye Hospital about taking part in their research to identify the gene through analysing blood samples. There is research being done to grow new retinas and I am hoping that this will one day restore my sight. I have not been able to see how I look compared to other girls and women, and so have always been very unsure about my looks, particularly as my mum has never been complimentary. I fantasised about being like a beautiful princess one day. I love dancing, so I talked to Julia about shooting a backdrop that was like a beautiful ballroom with glittering chandeliers where I could dance like a beautiful princess."