It won't be Miami's worst news blooper, but the Sunshine State GOP is hopping mad at a local NBC station for labeling them the "Reprehensive Party of Florida."
In a news story it aired Thursday night on the Florida governor's race, NBC 6 screened portions of a Republican Party ad bashing Democratic candidate Charlie Crist, who had the gig as a Republican from 2007 to 2011 before leaving the GOP.
For some 11 seconds, the "reprehensive" credit ran in a graphic over the ad in the upper left corner of the screen.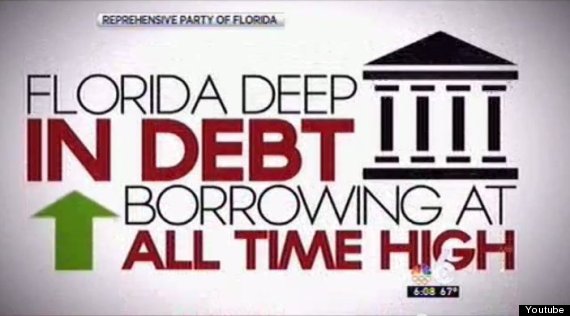 Calling the segment "offensive," Republican Party of Florida Chairman Lenny Curry demanded an apology in a statement emailed to media outlets.
"This blatant disregard for journalist ethics and impartiality is a complete abdication of your station's professional duty to truth at best and slander at worst," he wrote in a letter to station executives, adding that the party may sue.
"We are currently reviewing our legal options against your station, but at minimum we demand an on-air apology for violating journalist ethics and public discipline for any employees responsible for the creation of this graphic."
NBC did not immediately reply to a request for comment.
The extra attention on the 30-second spot, part of a campaign to re-elect Gov. Rick Scott, may not bother the RPOF. According to the Tampa Bay Times, the ad is part of a "significant six-figure digital ad buy" running on Hulu, YouTube, Facebook, Twitter, and some sports websites.
UPDATE, 5 p.m.: According to a statement from the Tallahassee-based Capitol News Service, it has fired employees responsible for the error on footage the company supplied to NBC.
"Capitol News Service takes full responsibility for an error that resulted in one of our clients, WTVJ incorrectly labeling on screen material. In a report in which we played a web ad by the Republican Party of Florida, our employees indicated it should have the on screen chyron 'Reprehensive Party of Florida.' We deeply regret this incident. The people who made the error and reviewed it without catching it are no longer in our employ."
NBC Miami also issued a statement apologizing for the error. According to Romanesko, it read, in part: "The story came to us from a news service we use out of Tallahassee that we have relied on for years with no issues. We do, however, know it was our responsibility to catch the graphic and we regret that we did not prevent it from airing."
Disclosure: The author of this article was previously an employee of NBC Miami.
BEFORE YOU GO
PHOTO GALLERY
Rick Scott Controversies