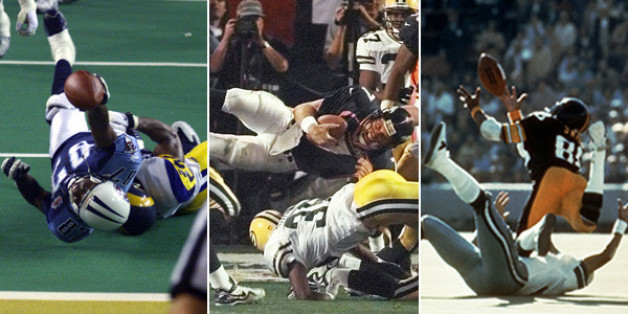 The helicopter play. The helmet catch. The onside kick. When a game-changing play is made in the Super Bowl, it often gets a title with the word "The" in it. Few of these remarkable plays come from the defensive side of the ball and even fewer of them actually end the game. But with six seconds left in Super Bowl XXXIV and the Tennessee Titans 10 yards away from the end zone, St. Louis linebacker Mike Jones made one of the most clutch plays in Super Bowl history. Titans quarterback Steve McNair connected with receiver Kevin Dyson on a short slant route inside the 5-yard line. Dyson tried to lunge forward for a game-tying score, but Jones was there to wrap the wideout up. He stopped him a yard short of the end zone.
Game over. The play would go down as "The Tackle."
"Greatest play in Super Bowl history," then-Rams coach Dick Vermeil later told ESPN. "I still can't get over it, even after all this time. In certain moments, relaxing moments, I see the play over and over in my head. It was simply a brilliant play by Mike Jones, a beautiful moment."
While Jones' tackle ended the game and gave St. Louis the Lombardi Trophy, James Harrison made another iconic, game-changing defensive play in Super Bowl XLIII with 100-yard interception return for a touchdown for the Pittsburgh Steelers. There have been plenty of other incredible plays in Super Bowl history, from Santonio Holme's game-winning catch in Super Bowl XLIII to John Riggins' touchdown run on fourth down in Super Bowl XVII.
Without further ado, here are some of the most incredible plays in Super Bowl history.
PHOTO GALLERY
Most Memorable Super Bowl Plays Ever