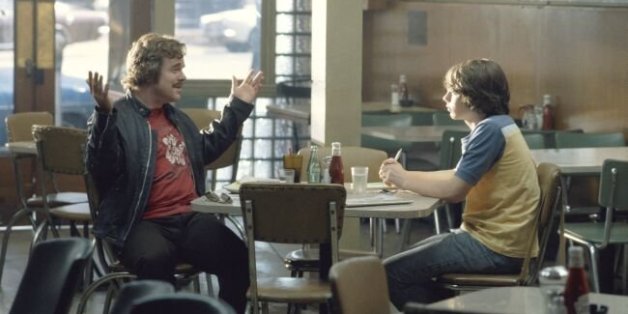 One of Philip Seymour Hoffman's most beloved performances was as Lester Bangs in Cameron Crowe's "Almost Famous." On Monday, one day after Hoffman was found dead from an apparent drug overdose in his New York City apartment, Crowe posted a remembrance of working with the late actor on a key scene in the seminal film: Bangs' "uncool" speech.
He'd leapt over the words and the script, and gone hunting for the soul and compassion of the private Lester, the one only a few of us had ever met. Suddenly the portrait was complete. The crew and I will always be grateful for that front row seat to his genius.
Read Crowe's full memory of Hoffman over at Crowe's website, fittingly called The Uncool. Watch the scene in question below:
The transcript, via IMDb:
Lester Bangs: Aw, man. You made friends with them. See, friendship is the booze they feed you. They want you to get drunk on feeling like you belong.

William Miller: Well, it was fun.

Lester Bangs: They make you feel cool. And hey. I met you. You are not cool.

William Miller: I know. Even when I thought I was, I knew I wasn't.

Lester Bangs: That's because we're uncool. And while women will always be a problem for us, most of the great art in the world is about that very same problem. Good-looking people don't have any spine. Their art never lasts. They get the girls, but we're smarter.

William Miller: I can really see that now.

Lester Bangs: Yeah, great art is about conflict and pain and guilt and longing and love disguised as sex, and sex disguised as love... and let's face it, you got a big head start.

William Miller: I'm glad you were home.

Lester Bangs: I'm always home. I'm uncool.

William Miller: Me too!

Lester Bangs: The only true currency in this bankrupt world is what we share with someone else when we're uncool.

William Miller: I feel better.

Lester Bangs: My advice to you. I know you think those guys are your friends. You wanna be a true friend to them? Be honest, and unmerciful.
BEFORE YOU GO
PHOTO GALLERY
Philip Seymour Hoffman Dead: Greatest Big Screen Performances