Naya Rivera's wedding date has yet to be revealed, but the "Glee" star is in full honeymoon mode.
With a sexy floral top and matching skirt, the 27-year-old star graces the cover of Cosmopolitan for Latina's Spring issue. In an interview with the magazine, Rivera raved about her relationship with her fiancé and the one thing she wants to learn when she has kids.
Boyfriend "Big Sean" proposed last October -- and it's clear that the winter has not brought about a case of cold feet for the actress.
"I think he's going to be an amazing husband, and he'll make a great father someday," she told Cosmopolitan For Latinas. "He's so kind to people, but he also wears the pants in our relationship, which I love. We Latinas are very independent and strong, so it's even sweeter that I've found somebody who can let me out of that role for a minute."
The Puerto Rican star described herself and other Latinas as "really great nurturers who are great to our men" and "very resourceful." When she was 19, Rivera revealed, she would lie about having a bachelor's degree on her resume to be able to get a job.
"Even when I didn't have much, I always acted as if I had everything I wanted," the actress and singer told Cosmo. "Latin women are go-getters by nature. We have a certain charm and finesse that gets us what we want."
Despite being proud of her Latin roots, Naya is aware that her Spanish is not as strong as she'd like it to be and she certainly expects more from her children.
"It sucks because I have no one to [speak Spanish] to, but it's something I need to learn when I have kids. They need to be fluent."
As the star prepares for her wedding, she continues to surprise "Glee" fans as Santana on Fox's musical comedy. Recently, she gave fans of the series a very sexy sneak peek of the show's 100th episode via instagram.
Check out Naya's cover below: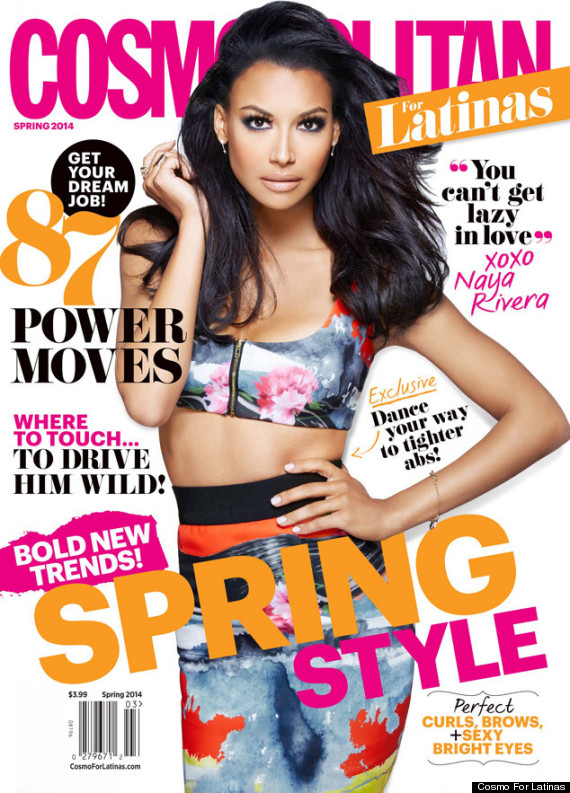 BEFORE YOU GO
PHOTO GALLERY
Personal Details On "Glee's" Naya Rivera