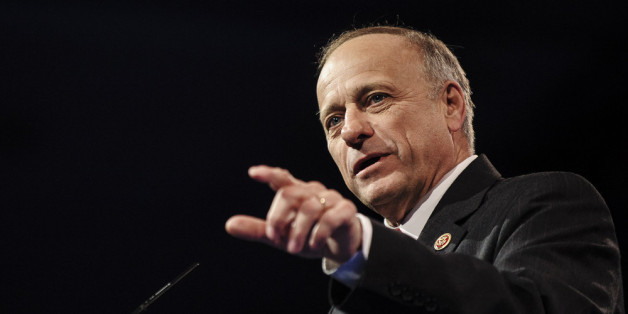 Rep. Steve King (R-Iowa) has raised significantly less money for his 2014 reelection campaign than he did for his last election, and his Democratic challenger raised more money than King for the second consecutive quarter.
Democratic candidate Jim Mowrer, an Iraq War veteran and former Pentagon official, raised $175,362 in the last quarter of 2013, while King raised $162,850, the Sioux City Journal reported. In the previous quarter, Mowrer raised $180,514, compared with King's $109,871, according to the paper.
"I think it's an indicator of his job performance," Mowrer said in an interview Monday with The Huffington Post. "Folks are not excited about reelecting a representative who can't get the job done and who gives the district a bad name nationally."
King, who has served in Congress since 2003, remains the favorite in the Republican-leaning district. But Mowrer has the attention of national Democrats.
In September, Vice President Joe Biden hosted a fundraiser for Mowrer, who served as the Iowa veterans coordinator for Biden's presidential campaign in 2007. Mowrer has the support of the Democratic veterans advocacy organization, Vote Vets. He has been endorsed by former Rep. Leonard Boswell (D-Iowa) and the former first lady of Iowa, Christie Vilsack, who ran against King in 2012.
King had $529,490 cash on hand at this point in his competitive 2012 race against Vilsack, according to King's report with the Federal Election Commission. He had just $139,428 in his campaign account at the end of 2013, roughly $67,000 less than Mowrer.
"In the 2012 election cycle, we set the fundraising record," King said in a statement defending his fundraising, emailed by a campaign spokesman on Monday.
King raised a total of $3.4 million for his successful 2012 reelection, The Hill reported. He defeated Vilsack 53 percent to 45 percent.
King ignited a firestorm over the summer with comments regarding President Barack Obama's decision to halt deportations of young, undocumented immigrants living in America.
"For everyone who's a valedictorian, there's another 100 out there that weigh 130 pounds and they've got calves the size of cantaloupes because they're hauling 75 pounds of marijuana across the desert," King said.
Mowrer said Monday that Iowans are displeased with King's "divisive and hateful language."
"I think we're in great shape and really putting ourselves in a position to come out ahead on election day," Mowrer said.