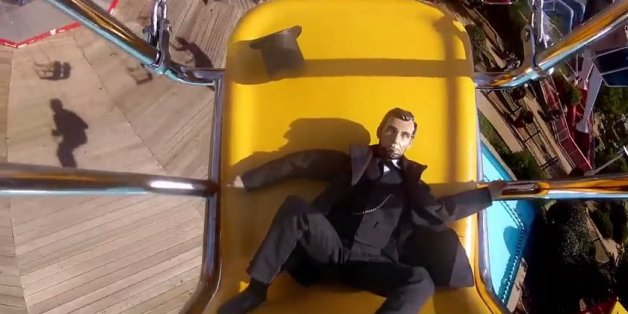 While Super Bowl viewers around the nation fixed their eyes on $4 million ads from big name brands like Budweiser, McDonald's and Volkswagen, some of the most memorable commercials were ones that aired only in local markets.
Shown mostly during halftime, everyone from regional universities to the local grocery store can score a slice of Super Bowl air time (though the airtime still doesn't come cheap; Chicago's market reportedly demanded $400,000 for a 30-second spot, while New York City commanded a cool million).
Below are some of a Super Bowl ads that went unseen outside their local markets, including what we can safely say is the most hands-down bonkers local ad to ever hit the airwaves (of Georgia).
#MiniAbe (Illinois Office of Tourism) -- CHICAGO
The Illinois Office of Tourism ran a 30-second "mini Abe" ad (it originally debuted last fall) featuring the adventures of the 16th president in miniature enjoying adventures across the Prairie State. The spot, which only aired in Chicago, cost the office $127,000.
Spiritual Technology (Scientology) -- NEW YORK CITY, D.C.
Churches may take out a promotion ad now and then, but crafting a commercial for a whole religion (during the Super Bowl, no less)? That's Scientology. And according to Slate, a lot of viewers found the one-minute spot "creepy." Slate notes it's the second year a Scientology ad has aired during the Super Bowl's local spots, broadcast first in New York and later in D.C.
Closed Sundays (Fareway Grocery Stores) -- DES MOINES, IOWA
Des Moines-based 515 Productions created this stark, stylish spot that had a subtle but no less powerful message. Patrons of the Heartland grocery chain Fareway applauded the chain's 30-second "Closed Sundays" ad that touted its long-standing practice of giving its employees Sundays off to relax and spend time with their families.
Upside Down (Robert Haack Diamonds) -- MILWAUKEE
Bret Eulberg, co-owner of Robert Haack Diamonds in Milwaukee, told Milwaukee Business Journal his decision to make an upside-down ad for the Super Bowl was spur-of-the-moment. Though silly (and a little confusing) Eulberg said he wanted a spot to get people talking about the crazy deals and "loads of free stuff" being given away.
Casino's Law (Jamie Casino Personal Injury Lawyer) -- SAVANNAH, GA.
The fact that the commercial for this Savannah-based personal injury lawyer is a robust two minutes is actually the least unusual thing about this absolutely unbelievable ad. Flashback? Yep. Dramatic re-enactment? You bet. Gravestone with a flaming sledgehammer? Check, check and check. The Savannah Morning News says Casino has "always had a flair for the dramatic" with his commercials to which everyone is is probably saying: "No kidding."
BEFORE YOU GO