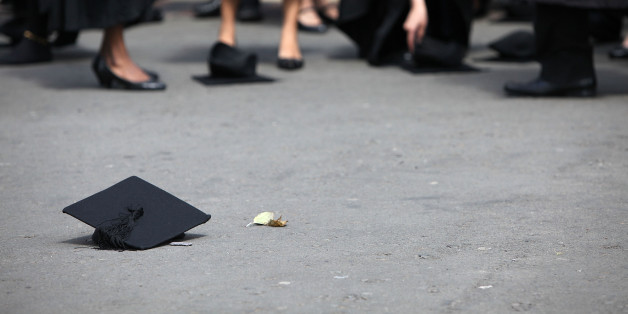 The Obama administration has launched a probe into job placement rates advertised by Corinthian Colleges Inc., a major for-profit college operator, suggesting there are "systemic deficiencies" in the company's operations.
Corinthian disclosed the probe in its most recent earnings statement on Wednesday, reporting it had received a letter from the Department of Education seeking extensive documentation on job placement rates and other academic data. The Jan. 23 letter, a copy of which was obtained by The Huffington Post, requires Corinthian within 30 days to provide a database of all graduates considered "placed" in their career field, along with the contact information for their employers.
The request follows a HuffPost investigation published in December into inflated job placement rates, including evidence that some Corinthian campuses paid employers to temporarily hire graduates as a way to boost official job placement data. Documents and interviews with former Corinthian career services employees in six states revealed a culture of data manipulation intended to satisfy collegiate accrediting bodies, enabling the company to tap into billions of dollars in federal student aid funds.
The for-profit college operator has taken in nearly $10 billion in federal student loan and grant money over the last decade, more than 80 percent of the company's total revenue.
Citing HuffPost's investigation, U.S. Sen. Dick Durbin (D-Ill.) in December called on the Department of Education to investigate the alleged job placement manipulation.
Corinthian is in the crosshairs of more than a dozen state and federal agencies investigating a range of alleged marketing abuses. In early January, Corinthian disclosed that the federal Consumer Financial Protection Bureau may be nearing legal action against the company in connection with internal student lending programs.
And last week, Corinthian disclosed that a coalition of 13 state attorneys general is investigating the company's business practices, including job placement and recruiting techniques. Three other for-profit college corporations -- Education Management Corp., ITT Educational Services and Career Education Corp. -– have received similar inquiries.
Corinthian also is defending a lawsuit filed by California Attorney General Kamala Harris in October, accusing the company of artificially boosting job placement rates to attract new students.
In addition to requesting job placement data across Corinthian's more than 90 U.S. campuses, the Department of Education denied approval of several proposed programs and campuses.
The Department of Education said in its letter that it blocked Corinthian's expansion because the company "has admitted to falsifying placement rates and/or grad and attendance records at various institutions and because of ongoing state and federal investigations into serious allegations."
In a quarterly earnings conference call on Wednesday, Corinthian chief executive Jack Massimino said the company had not yet met with the Department of Education regarding the letter. But he strongly disagreed with the suggestion that the company had "admitted wrongdoing."
Instead, Massimino said the company believes the department is referencing "isolated instances over a four-year period when we detected false or erroneous information" and then disciplined or dismissed lower-level employees who were involved.
"When we find issues, we take corrective action and we report them," Massimino said on the call. "It's our goal to get together with (the Department of Education) and bring them out to our organization and give them an opportunity to see what we do and how we do it."
A spokeswoman for the Department of Education declined to comment.