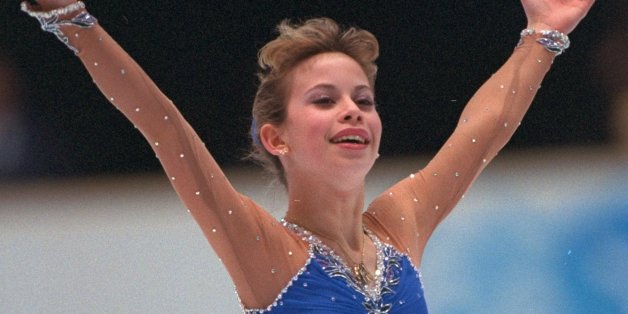 Triple salchow, double toe loop, triple axel -- amateur viewers of Olympic figure skating probably don't know the difference, but everyone can recognize something spectacular. As the 2014 Winter Olympics in Sochi are about to begin, these are the on-ice moments that still set the standard for figure skating perfection.
Dorothy Hamill's 1976 Free Skate in Innsbruck
19-year-old Hamill rose above expectations to win gold with this final skate in Innsbruck, Austria, ending the performance of a lifetime with her signature "Hamill camel" move, a camel spin into a sit spin (at 3:56).
Tara Lipinski's 1998 Free Skate in Nagano
15-year-old Tara became the youngest skater to ever earn Olympic gold with her 1998 free skate. She beat out favorite Michelle Kwan, who was known as the more artistic of the two, with her technically difficult performance that included the famous triple loop-triple loop combination (at 2:57). Does anyone else fit more spins into tighter, lower jumps than Tara?
Brian Boitano's 1988 Long Program in Calgary
At the 1988 Winter Olympics, Boitano found himself pitted against Canadian Brian Orser in what the media dubbed "The Battle of the Brians." With the pair tied after the compulsory figures and the short program, the third and final performance, the long program, would decide which Brian brought home gold. Boitano took the ice first, landed eight triple jumps, including a Tano triple, and an impressive prolonged spread eagle for a nearly perfect performance that won him the gold medal.
Tenley Albright's 1956 Skate in Cortina d'Ampezzo
No American woman had won a gold medal in figure skating until Tenley Albright in Italy. She had contracted polio as a child and had suffered an ankle injury a mere 12 days before the 1956 Olympic Games. But her grace and finesse on the ice in Cortina d'Ampezzo, skating to Jacques Offenbach's "The Tales of Hoffmann," earned her America's first women's gold.
Nancy Kerrigan's 1994 Free Skate in Lillehammer
Just seven weeks after she was attacked by an unknown assailant who would later be identified as a man hired by Tonya Harding's husband Jeff Gillooly, and bodyguard Shawn Eckardt, Kerrigan hit the ice with all eyes on her and skated one of the best performances of her career. Performing before Oksana Baiul in a frothy Vera Wang costume, Nancy skated a near-flawless performance and finished second by the narrowest of margins for silver.
Scott Hamilton's 1984 Long Program in Sarajevo
A favorite heading into the 1984 Winter Olympics, Hamilton took his skating seriously. "Too much artistry by graceful men in jeweled costumes. I don't hate spangles; they just got to be too much," he told Sports Illustrated before the Games. "At the end of a performance, people shouldn't swoon. They should look upon it as a sporting event." And in Sarajevo, wearing a sleek uniform more suited for a speed skater than a figure skater, he proved he was at the top of the game and brought home the gold.
Michelle Kwan's 1998 Free Skate in Nagano
Kwan was a national favorite heading into the 1998 Winter Olympics. She was first after the short program, heading into the free skate. And like her main competition, Tara Lipinski, she completed seven triple jumps in her performance, but it was always her grace and artistry that set her apart. With this free skate, she brought home the silver medal.
Dick Button's 1948 Skate in St. Moritz
Button was the first American figure skater to win gold, taking home the medal in Switzerland after becoming the first skater ever to land a double axel in an Olympic competition (at 0:15)... and only two days after he successfully did one for the first time in practice.
Peggy Fleming's 1968 Free Skate in Grenoble
With the tragic 1961 death of the entire US delegation to the world figure skating championships still fresh, Fleming brought glory back to American figure skating at the 1968 Winter Olympics. Her free skate performance wasn't flawless -- as ESPN notes, she turned a double axel into a single -- but her high score in the earlier compulsory figures pushed her ahead and earned her America's only gold in figure skating that year.
Sarah Hughes' 2002 Free Skate in Salt Lake City
With Russia's Irina Slutskaya and Michelle Kwan ahead of her, Sarah Hughes pulled off what many deemed an upset to win gold at the 2002 Winter Olympics. She did so with this flawless free skate, in which she completed two triple-triple combinations, a triple salchow-triple loop (at 1:55) and a triple toe-triple loop (at 3:22), and earned the gold medal.
Evan Lysacek's 2010 Free Skate in Vancouver
Lysacek stole gold with this free skate performance in Vancouver in 2010 despite the fact that his competition, Evgeni Plushenko of Russia, completed quadruple jumps in both his short and long programs. Lysacek lacked quad jumps in both, but the quality of this free skate performance earned him gold. As the Washington Post put it, it was "a victory for artistry over acrobatics."
Tiffany Chin's 1984 Short Program in Sarajevo
Despite being repeatedly (and annoyingly) pegged a "china doll" by the press, Tiffany Chin, the first Asian-American woman to win a national figure skating title, performed masterfully at the 1984 Olympics. She was an underdog, placing 12th in the initial compulsory figures. But her high score in the short program catapulted her to second, and she finished fourth place overall, just shy of a medal.
Kristi Yamaguchi's 1992 Free Skate in Albertville
Kristi was seen as no match for Japan's Midori Ito, the first woman to ever land a triple axel in competition and Yamaguchi's competition at the 1992 Winter Olympics. But after errors in Ito's Olympic performance, Yamaguchi skated for the gold in her free skate that kicked off with a triple lutz-triple toe loop combo (at 0:29) and didn't look back. It wasn't perfect, but this performance earned her the gold medal.
Sasha Cohen's 2006 Short Program in Torino
She ended up winning silver in 2006, not gold as she'd hoped. But this energetic short performance, her first at the 2006 Winter Olympics in Italy, was nearly perfect with a great triple flip (at 0:53) and smooth artistic sequences, and it put her just ahead of Russia's Irina Slutskaya, in position to medal.
Tonya Harding's 1994 Long Program in Lillehammer
One of Harding's most memorable performances was one she didn't actually complete. In 1994, just weeks after the attack on Nancy Kerrigan that turned Harding into a media villain, Harding took the ice at the Olympics. She struggled with her laces, arriving to the ice late then having to stop in the middle and ask the judges for a second chance. She eventually got the chance to reskate... and finished eighth. The 1994 Olympics were her last.