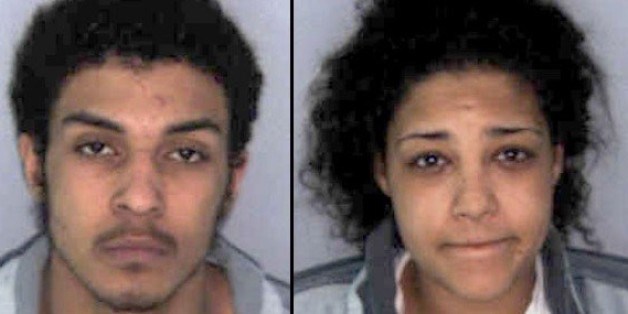 Authorities in Virginia say they have arrested a brother and sister in connection with the disappearance of Police Reserve Captain Kevin Wayne Quick.
According to state police, 18-year-old Daniel Mathis, also known as Daniel Shelton, and his sister, 20-year-old Mersadies Shelton, were taken into custody Tuesday night at a City of Alexandria hotel. The pair has been charged by state police with grand larceny for the theft of Quick's silver 1999 Toyota 4Runner. Police said Mathis is also being questioned in connection with a Feb. 2 shooting that took place in Louisa County.
A third sibling, 24-year-old Shantai Shelton, was also taken into custody at the same location on an unrelated outstanding arrest warrant for selling stolen property and obtaining money by false pretense.
Quick, 45, of Rockfish, Va., was last seen on the evening of Jan. 31, when he left his mother's Afton home to visit the mother of his child. Afton is located about 20 miles west of Charlottesville, in the foothills of the Blue Ridge Mountains.
Quick never arrived at his friend's house and was reported missing on Feb. 1.
Cellphone records indicate Quick's phone was shut off at 10:54 p.m. on the night he went missing. Financial records further indicate he has not used his Discover card since 5:54 p.m. that day, police said.
On Feb. 2, authorities obtained surveillance photos that show Quick's Toyota 4Runner in Fork Union on the night of his disappearance and in Manassas on Feb. 1. Fork Union is located about 50 miles southwest of Afton. Manassas is in the opposite direction, approximately 100 miles northeast of Afton.
The surveillance photos also show two unidentified people, police said. Authorities have yet to say if any of the siblings in custody are in the surveillance video.
Quick's Toyota 4Runner was found abandoned in Mineral, Va., on Feb. 3. Virginia State Police spokeswoman Corinne Geller told HuffPost the vehicle was found by a deputy with the Louisa County Sheriff's Office.
"Because of the kind of rural isolated stretch of area where the vehicle was abandoned, we have reason to believe when they abandoned the vehicle, they were picked up by another vehicle," Geller said.
Authorities have declined to elaborate on what, if anything, was found inside Quick's vehicle.
All three of the siblings arrested Tuesday are being held without bond at the Central Virginia Regional Jail. As of Thursday, none of them have been charged in connection with Quick's abduction.
Quick is a captain in the Waynesboro Police Department's Police Reserve Unit. He has been a member of the unit since 1990. Authorities said Quick is a valued member of the reserve unit and is well-known in the community. His father, a colonel in the police reserves, was an active member of the unit from 1993 until his death last year.
The FBI has joined the investigation into Quick's disappearance. In addition, several community businesses have contributed to a $30,000 reward for information leading to Quick's whereabouts.
"We are hoping this money will be the bait that is necessary to bring forward those individuals or individual who has information," said Waynesboro Police Department Sgt. Brian Edwards.
Quick is described as a white male, 6 feet 1 inch tall and 200 pounds. He has brown hair and hazel eyes, a scar above his left eye, and he could be wearing contacts or eyeglasses.
Anyone with information about Quick or any of the three Shelton siblings is asked to contact Virginia State Police at (434) 352-7128.