Jesse Heikkila loved superheroes and "Star Wars," and he dreamed of one day becoming a police officer. So when brain cancer ended the 7-year-old's life much, much too soon, police from far and wide came to pay their respects to the courageous wannabe crime fighter with a touching, blue-soaked tribute.
Jesse died Jan. 30 after a five-year battle with the disease. His obituary reads, in part:
Jesse loved his home where he would build Legos, play video games and swim in his pool. He also enjoyed dressing in costumes and would pretend to be Batman or a Jedi Knight. It was Jesse's dream to be a Police Officer one day to help catch all the bad guys. He adored his dogs; and joins his Doberman Vito and Yorkshire Terrier Vinny in heaven.
Hundreds attended the boy's funeral Wednesday at the St. Edith Stein Church in Brockton, Mass. In a heartbreaking nod to some of Jesse's favorite things, the organist played the theme from "Star Wars" as the casket left the church, and Jesse's uncle Brian Heikkila, a pallbearer, wore a Batman costume, The Enterprise reports.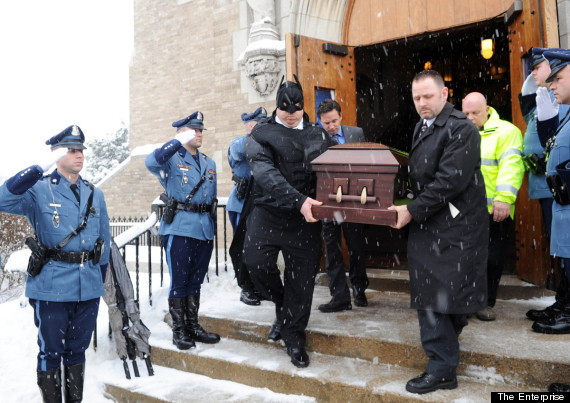 Brian Heikkila, of Lakeville, dressed as Batman for Jesse T. Heikkila's funeral on Wednesday, Feb. 5. Batman was one of his nephew's favorite superheroes.
Local police officers also played a noticeable role in the tribute, with State Police escorting the funeral procession to the funeral plot, the Enterprise notes.
Police also came out in force for Jesse's wake on Tuesday night, converging on the funeral home in a "wave of blue," according to The Patriot Ledger. Officers from Middleboro, Bridgewater, Bridgewater State University, East Bridgewater, Plymouth County Sheriff's Department and Suffolk County Sheriff's Department, as well as troopers from the Middleboro, Norwell and Bourne barracks, attended in full dress.
In a final act of respect, Bridgewater Police Chief Christopher D. Delmonte made Jesse an honorary officer, the Ledger reports.
The police presence was due in large part to the efforts of Bridgewater officer Dawn Savery who had been following Jesse's battle with cancer on Facebook and put out a call to her fellow officers to make sure he had a good send-off.

"When I saw he wanted to be a police officer I made it my own personal goal to make sure he was that officer," Savery told the Ledger. "This is the story of little Jesse winning over the hearts of the town of Middleboro and everybody else."
PHOTO GALLERY
Jesse Heikkila Loses Battle To Cancer, Gets Batman Pallbearer