Russia's anti-gay policies have taken center stage in the buildup to the 2014 Winter Olympics, with homophobic delusion going so far as to lead the mayor of Sochi to claim there are no gay people in the city at all. It must have come as a surprise then, to see gay pride and other aspects of gay culture take over the show during the unbelievably extravagant opening ceremony. Nobody tell Russian President Vladimir Putin -- he'd rather have the Olympics be about sports, and certainly not the nation's glaring unpreparedness or quickness to arrest gay "propagandists". Here's just how gay the event was:
The German team literally rocked a rainbow uniform.
#OpeningCeremony: Germany makes an incredibly low-key entrance (Photo: Getty) http://t.co/CEG4XLwGtn pic.twitter.com/w6kwOiMhBI

— GuardianUS (@GuardianUS) February 7, 2014
Though the German Olympics team has maintained that their uniforms were designed before Russia passed its anti-gay law and came under criticism for assaulting LGBT rights, their uniforms spoke louder and prouder than any PR statement could.
The Greeks wore gloves with rainbow tips.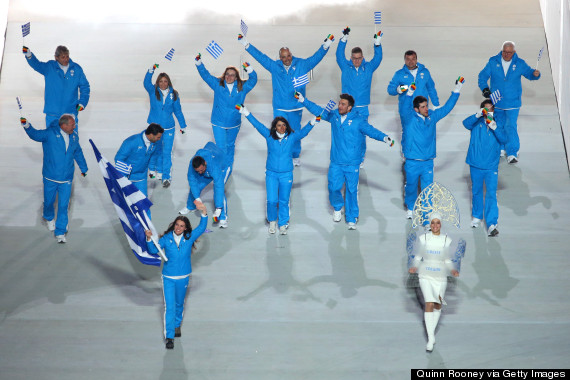 A not-so-subtle statement of LGBT support, perhaps, for a nation that has none of these colors in its flag.
A Russian pseudo-gay duo performed. While holding hands. With people sporting rainbow gear by their side.
t.A.T.u. performing "Not Gonna Get Us" pic.twitter.com/OT91qcZNRa

— t.A.T.u. (@tATuHeaven) February 7, 2014
Yup, that's t.A.T.u., the techno duo that was long rumored to be gay. This later turned out not to be true, though they have continued to show support for the LGBT community and their gay fans. They're most famous in the U.S. for their early-aughts hit, "All The Things She Said."
These are the audience seats.
The @guardian has a rainbow G on our homepage today. Also rainbow seats here at Sochi stadium. Nothing gay, honest. pic.twitter.com/WT5bxuPV2Z

— Shaun Walker (@shaunwalker7) February 7, 2014
Some rainbow action going on there. Has to be coincidental, right?
Russia paid tribute to their nation's greatest artists, several of whom were famously gay.
This tweet from our friends at HuffPost Canada gives a brief overview:
Gay Russians featured at the Opening Ceremony:
* Tchaikovsky
* Gogol
* Eisenstein
* Nijinksy / Diaghilev
http://t.co/FDaz86A065

— HuffPost Canada (@HuffPostCanada) February 7, 2014
The ceremony included a dance to Peter Tchaikovsky's "Swan Lake" ballet and a tribute to renowned author, Nikolai Gogol, and the famous flying three-horse carriage from his literary work. These are just two examples of the ways in which some of history's most widely acclaimed and definitely gay Russians were celebrated in the ceremony.
And played "We Will Rock You," by Queen.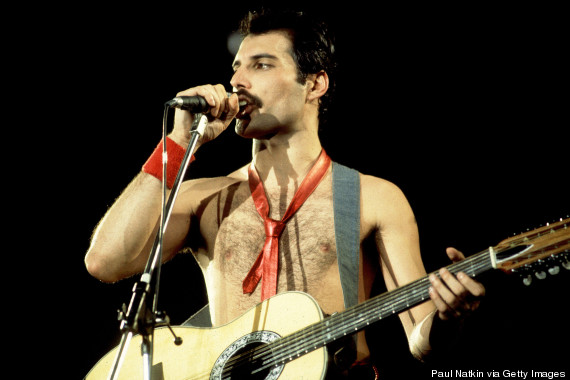 If you didn't know Queen frontman Freddie Mercury was bisexual, you might be as oblivious as the mayor of Sochi.
An athlete wore this pin.
This rainbow pin will be worn by speed skater @BlakeSkjellerup in Sochi to raise gay rights awareness. pic.twitter.com/3f3s8mE5Cu

— Martin Rogers (@mrogersyahoo) October 9, 2013
Blake Skjellerup is an openly gay speed skater from New Zealand. Is this the kind of "propaganda" Russia is afraid of?
The Czechs celebrated with hearts aplenty.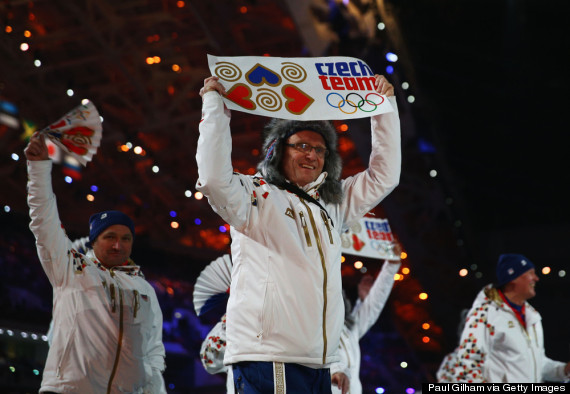 The hearts on their banners and uniforms are likely an homage to Václav Havel, the famous dissident and later Czech president, whose signature always included a heart beneath his name. But Havel was famously progressive when it came to LGBT rights, and a lifelong champion of love and equality.
Correction: A previous version of this article misidentified the Queen song performed and Freddie Mercury's sexuality. This has been corrected.
BEFORE YOU GO
PHOTO GALLERY
PHOTOS: Sochi 2014 Opening Ceremony