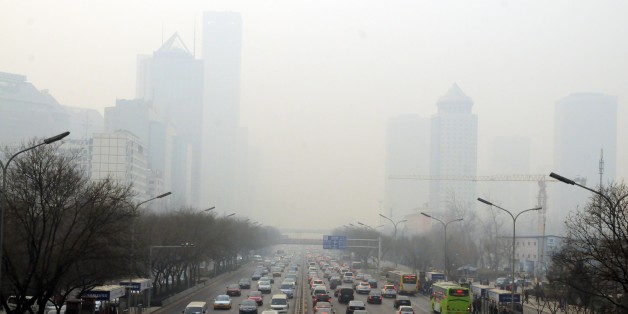 By Luna Lin, a reporter in chinadialogue's Beijing office. This article was first published by chinadialogue.
China's first legally binding regulations for reducing PM2.5 levels have been approved by Beijing's municipal congress.
Beijing's annual average PM2.5 level currently stands at 89.5 micrograms per cubic meter, far exceeding the 35-micrograms national standard. Officials have previously pledged to reduce this figure by 25 percent over the next five years.
The new law, which was passed by a huge margin of 659-23 at the annual session of the municipal legislative body last week, will come into effect in March. Fang Li, deputy head of Beijing's environmental authority, told China's state news agency Xinhua that the regulation would be Beijing's first effort to set targets to curb the city's total pollutant emissions.
About one-third of the total clauses in this regulation feature tougher punishment for polluters, which the vice director of the municipal congress' standing committee said were aimed at making polluting behaviors too expensive for companies to profit from.
According to the regulation, Beijing will toughen penalties on air pollution violations—non-compliers will be fined on a daily basis.
Beijing Mayor Wang Anshun has said that air pollution is currently the biggest problem concerning people's livelihoods in the capital and that it would be worth spending a trillion yuan to bring back the blue sky, clean water and green fields.
Ma Jun, the director of the Institute of Public Environmental Affairs, told the Global Times that the regulation was of great significance as previous regulations usually focus on the reduction of emissions rather than PM2.5 levels.
However, Greenpeace Asia's Climate and Energy campaigner Li Shuo told chinadialogue that the significance of the regulation itself was limited.
"There is nothing we have not seen in other policies or official documents…to some degree, the regulation is only a collective of all previous air pollution control efforts."
This article was previously published on ChinaFile, an online magazine from Asia Society's Center on U.S.-China Relations.