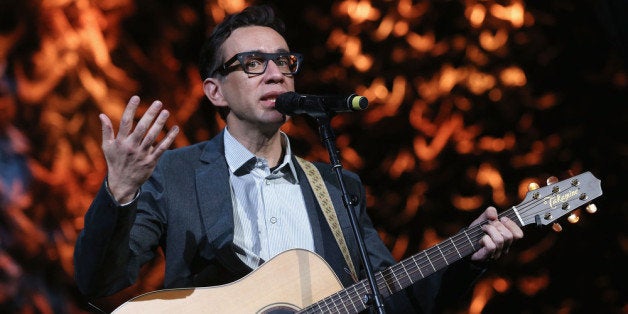 There's been a lot of speculation on how "Late Night With Seth Meyers" was going to fill the enormous shoes of The Roots, who are moving with Jimmy Fallon to "The Tonight Show." Earlier reports said Meyers and his producers weren't even sure if they wanted a band or DJ.
Well, we can finally stop guessing: "LNSM" will indeed have a band, and it's leader will be none other than Seth Meyers' fellow "SNL" alum and star of "Portlandia", Fred Armisen. Meyers made the announcement via Twitter Monday afternoon:
A spokesperson for NBC tells Huffington Post that the band's official name is the "8G Band With Fred Armisen," and the additional members are (pictured left to right above) Seth Jabour (guitar), Kimberly Thompson (drums), Eli Janney (keyboards), and Syd Butler (bass). Janney is a member of Girls Against Boys, and Jabour and Butler are both from Les Savy Fav. Thompson is a world-renowned drummer who has played with the likes of Beyonce Knowles, Kanye West, George Michael and more.
In a subsequent tweet, Meyers explained that, "Fred will curate and lead the band, and continue to run it even when he's off shooting Portlandia."
Having Armisen on stage every night opens up even more exciting "SNL"-esque possibilities for the upcoming show, which according to The Hollywood Reporter will involve more sketches and characters than its predecessor.
Fingers crossed for regular appearances by Ian Rubbish.
The @LateNightSeth twitter account followed up Meyers' announcement with one of their own, highlighting last year's drum-off between Armisen and Questlove from "Late Night With Jimmy Fallon."
Naturally, Twitter was abuzz Monday afternoon with the news, but we think Cecily Strong said it best:
@LateNightSeth oh my god dang. Fred Armisen now, too?! I am jealous of how cool and funny this show is already.

— Cecily Strong (@cecilybecily) February 10, 2014
"Late Night With Seth Meyers" debuts Monday, February 24 on NBC.