 Houston Astros pitcher Jarred Cosart found himself in hot water after using an anti-gay slur to describe Justin Bieber in a Twitter exchange with Canadian baseball player Tyson Gillies, according to the Associated Press.
The tweet, which Cosart has since deleted, read as follows: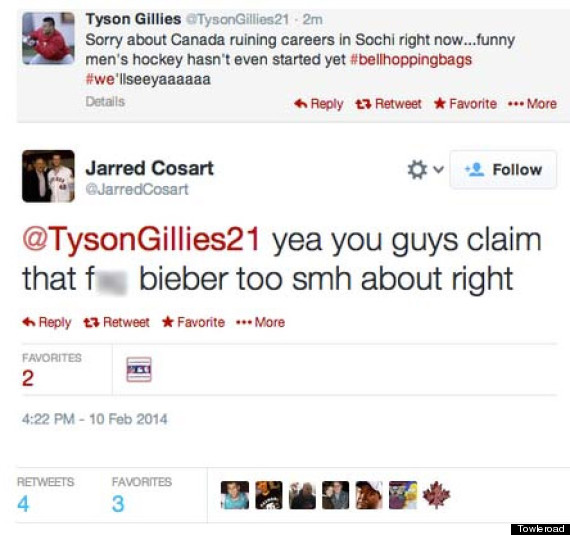 (Screengrab appears courtesy of Towleroad)
The Astros quickly released a statement regarding the tweet, noting, "We do not condone the language used on Twitter today by Jarred. It is unacceptable from anyone in our organization. We've spoken to Jarred about this matter, and he is extremely remorseful. He realizes his mistake and has apologized."
Cosart also took to Twitter to apologized for the tweet:
I used a very poor choice of words in one of my tweets earlier today that I need to apologize for. The tweet does not reflect who I am

— Jarred Cosart (@JarredCosart) February 10, 2014
Or what I stand for as far as an organization. Go astros

— Jarred Cosart (@JarredCosart) February 10, 2014
ALSO ON HUFFPOST:
PHOTO GALLERY
BEFORE YOU GO
Homophobic Tweets By Celebs
PHOTO GALLERY
Homophobic Tweets By Celebs