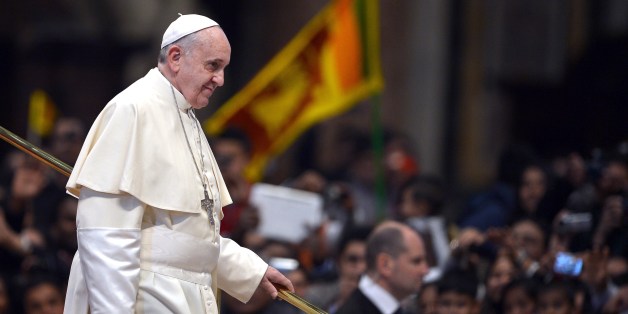 Though Pope Francis' name is now on the whole world's lips, it seems that the former Cardinal Jose Mario Bergoglio did not always intend on choosing it as his papal name, reports David Gibson of Religion News Service.
A recently published book by Gianluca Barile, Diario di un Papista, reveals that Bergoglio told friend and fellow Cardinal, Francesco Marchisano, that if he had been elected pope during the 2005 conclave he would have taken the name "John," or "Giovanni," after Pope John XIII. Barile is a journalist and writer who has met extensively with the Pope Francis and Pope Benedict.
Pope Francis came very close to being elected Pontiff in the 2005 conclave that elected Pope Benedict, as Bergoglio received 40 votes to Ratzinger's 72 after three rounds of balloting, standing in second place. In an attempt to avoid a long conclave, Bergoglio reportedly signaled his supporters to cease backing him, and in the fourth round of voting he took only 26 votes while Ratzinger won with 84, according to Religion News Service.
Italian newspaper La Stampa highlighted the excerpt from Barile's book, reporting that Beroglio commented in 2005 that if he had been elected, "John, I would have called myself John, like the Good Pope; I would have been completely inspired by him."
Pope John XXIII, also known as "Good Pope John," was a notable reformer who called the 1960s Second Vatican Council that dramatically brought the Catholic Church into the modern world. Before Vatican II, there hadn't been an ecumenical council in almost 100 years, says NPR. He's considered a progressive icon to many Catholics, and it's not a stretch to see why Pope Francis admired his gumption and courage in matters of church reform, considering his own efforts in that realm.
John XXIII will be declared a saint in April, along with Pope John Paul II, in a rare double canonization.
While many comparisons between Pope Francis and his namesake St. Francis of Assisi have already been made due to the pope's humility and care for the poor, perhaps it's now worthwhile to focus more attention on John XXIII's reformist example to get a hint of what the pope is planning next.
BEFORE YOU GO
PHOTO GALLERY
Best Of Pope Francis