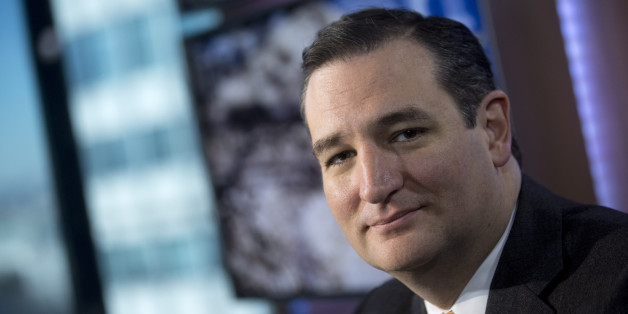 Sen. Ted Cruz (R-Texas) will seek out a 60-vote threshold on the Senate debt ceiling vote, his office confirmed to The Huffington Post on Tuesday.
Cruz's Republican colleagues in the House capitulated on Tuesday, and 28 of them voted to pass a "clean" bill to increase the nation's debt limit without cutting spending. But when the bill heads to the Senate on Wednesday, Cruz plans to filibuster the vote by objecting to holding a simple majority vote.
By insisting on a 60-vote threshold, the senator is forcing fellow Republicans to either join the Democratic caucus in voting for a debt limit hike, or to vote to let the nation default on its debt.
"Historically, the debt ceiling has proven the most effective leverage for reining in spending; 28 times, Congress has attached meaningful conditions to debt ceiling increases. We should do so again to address the real problem," Cruz said late Tuesday. "I intend to object to any effort to raise the debt ceiling on a 50-vote threshold. I will insist instead on a 60-vote threshold, and if Republicans stand together we can demand meaningful spending restraint to help pull our nation back from the fiscal and economic cliff."
Though Cruz won't let the Senate increase the debt ceiling without a fight, several of his colleagues have said, they expect their chamber to ultimately pass the bill. Sen. John McCain (R-Ariz.) said Republicans learned their lesson in the aftermath of last fall's government shutdown, which Cruz played an instrumental role in causing.
"What has happened over the last year is the American people overwhelmingly rejected the shutdown of the government. Overwhelmingly," McCain said. "Obamacare saved us because it shifted attention to Obamacare, but we were sinking rapidly in the polls because Americans don't like government, but they didn't want it shut down. That's been an object lesson to Republicans."
Prior to the House vote, Cruz told reporters it would be "irresponsible" to pass a clean debt ceiling bill.
"We'll have to wait to see what the details are," Cruz said, "but in my view we should not raise the debt ceiling without significant structural reform to fix the problem to stop the out-of-control spending."
Sabrina Siddiqui contributed reporting.
BEFORE YOU GO