When Hosni Mubarak was ousted by popular protests three years ago, many Egyptians took to the streets of Cairo in jubilant celebrations. However, since then, those same streets of the capital have seen protest after protests. Demonstrators have rallied for and against three successive rulers: Egypt's armed forces, Islamist President Mohamed Morsi, and the post-Morsi military-backed government of today.
Two squares have become enduring symbols of the protest in Egypt: Tahrir Square and Rabaa al-Adawiya.
1. Tahrir Square
Tahrir took center stage during the weeks-long protests that toppled long-time leader Hosni Mubarak in February 2011. Hundreds of thousands gathered night after night to demand the fall of the regime while singing and chanting. Egyptians from all walks of life, from every religion and every economical background spent the night in tents, united in one demand: Mubarak had to go. When the president finally stepped down, the square erupted in celebration. "Lift your head high, you're an Egyptian," the chant rang out from Tahrir, the New York Times reported at the time. "The people, at last, have brought down the regime."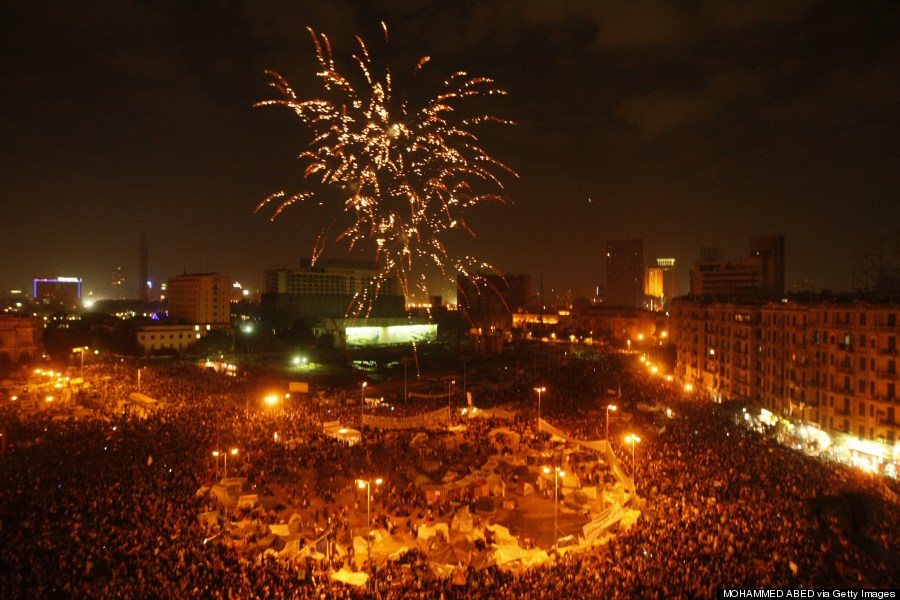 Egyptians celebrating the second night after Mubarak's ouster, in Cairo's Tahrir Square on February 12, 2011. (MOHAMMED ABED/AFP/Getty Images)
After the military leadership took over power, some democracy activists tried to hang onto the square, demanding reforms and a transition to civilian rule. Within weeks, troops started to clash with residents of the protest camp, leading to the first casualties since the revolution. "We will not leave here again until they take tangible steps to put Mubarak and high officials on trial," one protester told Reuters at the protest camp.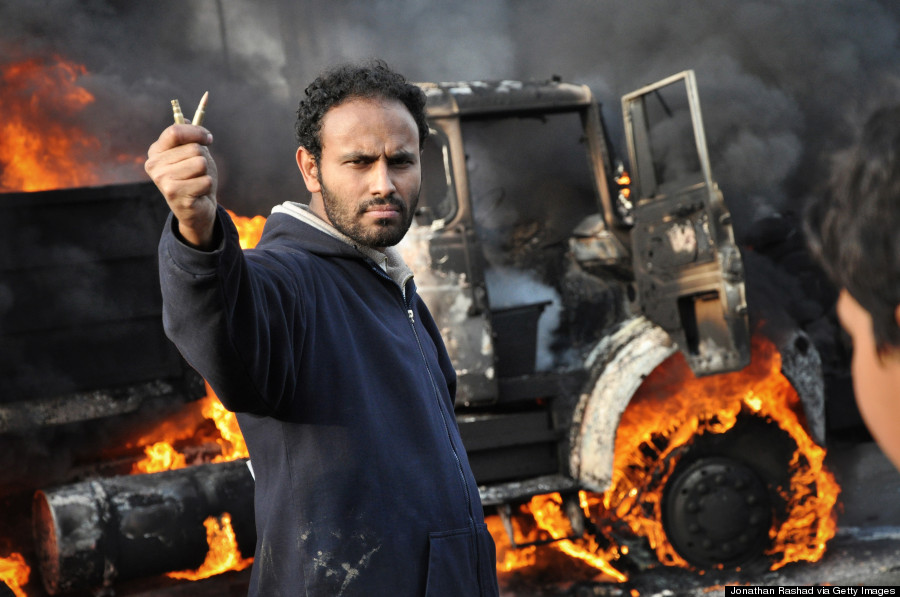 An Egyptian protester holding live bullets that were shot by the army during the crackdown on Tahrir Square, on April 9, 2011. (Jonathan Rashad/Getty Images)
Mubarak was put on trial, and in June 2012 Egypt elected its first democratic president, Mohamed Morsi. He took a symbolic oath of office in Tahrir Square, telling the crowd: "There is no power above people power." But the people spoke again when Morsi began to accrue greater powers and display signs of authoritarianism. Anti-Morsi protesters filled Tahrir Square on the second anniversary of the Jan. 25 revolution, prompting fierce clashes with troops. Egyptian protesters take cover as they clash with riot police, near Tahrir Square, January 25, 2013. (AP Photo/Khalil Hamra)
As discontent with Morsi's leadership grew, opponents of the president called a mass rally to oust the president in June 2013. Tahrir Square was again filled with the slogan "Irhal!" (Leave!) Thousands of Egyptian opponents of Morsi protest in Tahrir Square, below a banner which reads "Leave, we are back to the square" on July 2, 2013. (AP Photo/Amr Nabil)
After Morsi was ousted in July 2013, the new government put a memorial in Tahrir Square to commemorate those killed in protests against both Mubarak and Morsi. Some activists were furious at what they saw as a military-installed government whitewashing the army and police's role in protester killings, according to TIME. The memorial was trashed on the night of its opening ceremony in November 2013.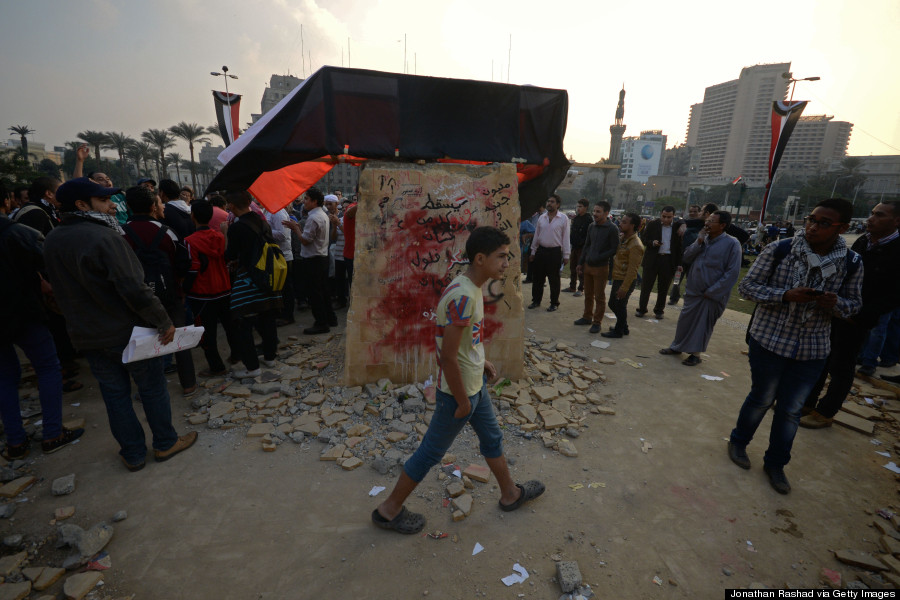 An Egyptian protester walks past a destroyed monument in Tahrir Square on November 19, 2013. (Jonathan Rashad/Getty Images)
2. Rabaa Al-Adawiya
The popular protests against Morsi in the summer of 2013 had highlighted deep divisions in Egypt. As opponents of the Islamist president flooded the streets and squares of downtown Cairo in late June, Morsi's supporters held a counter-protest at the square outside Cairo's Rabaa al-Adawiya mosque.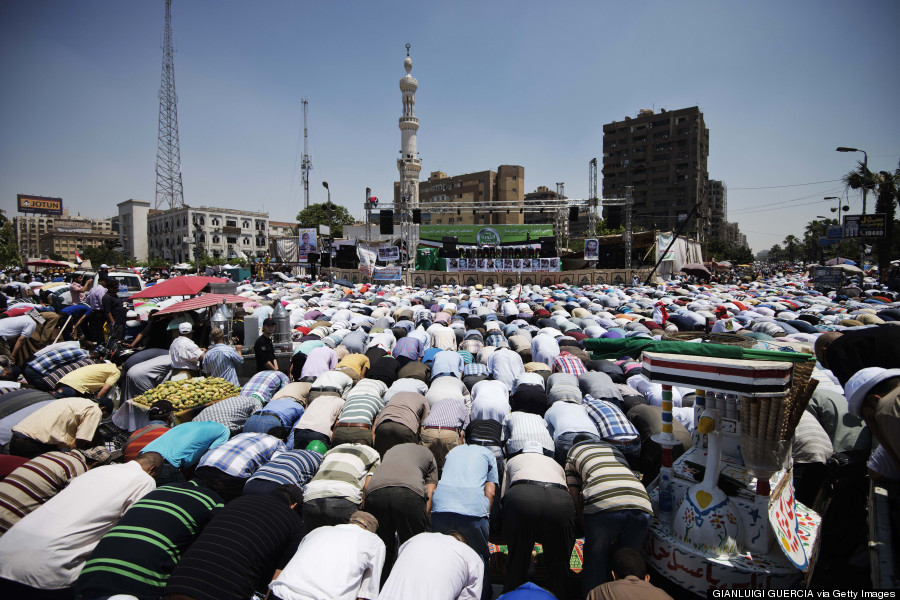 Thousands of Muslim Brotherhood supporters perform the Friday prayers as they gather at Rabaa al-Adawiya mosque to start an open-ended sit-in in support of Morsi on June 28, 2013. (GIANLUIGI GUERCIA/AFP/Getty Images)
After Morsi was forced out of power on July 3, his outraged supporters hunkered down in the protest village that had grown around Rabaa al-Adawiya. "We play football, we play ping-pong, we just don't want to get bored. We want this to be a happy atmosphere," one demonstrator told Voice of America from the camp.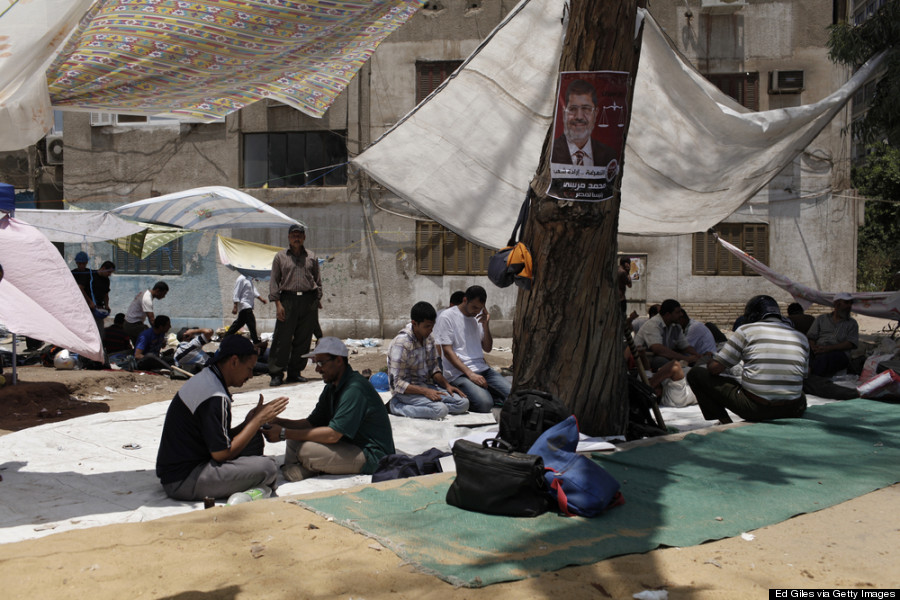 Morsi supporters sit in under sheets for shade during a demonstration at the Rabaa al-Adawiya Mosque pm June 30, 2013. (Ed Giles/Getty Images)
In August 2013, the army moved in to clear the pro-Morsi camp and Rabaa al-Adawiya became a battle scene, leaving hundreds of Morsi loyalists dead. The Muslim Brotherhood called it a massacre, while many opponents of the Brotherhood praised the army, as the BBC reports, creating a bitter rift in the country. Egyptian government employees clean up outside the Rabaa al-Adawiya mosque, where supporters of Egypt's ousted President Mohammed Morsi had a protest camp in Nasr City, Cairo, Egypt, Thursday, Aug. 15, 2013. (AP Photo/Khalil Hamra)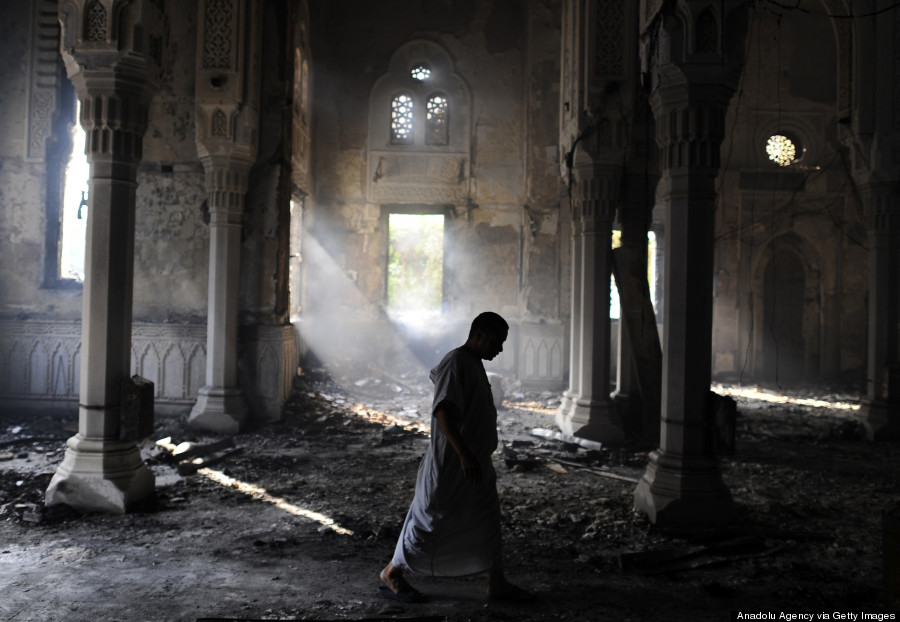 A man walks thorough the burnt-out Rabaa al-Adawiya Mosque after the government crackdown on August 15, 2013. (Mohamed Hossam/Anadolu Agency/Getty Images)
In the aftermath, the military-backed government moved to crack down on the Muslim Brotherhood. Rabaa al-Adawiya was quickly repainted, repaved, and a memorial to the army and police installed, according to the New York Times. "They did it so quickly, to make it look like nothing happened," one resident told the Times.

Rabaa al-Adawiya after it was rebuilt, November 10, 2013 (Source: Egyptian Army Spokesman Facebook Page)
BEFORE YOU GO
PHOTO GALLERY
Hosni Mubarak Timeline