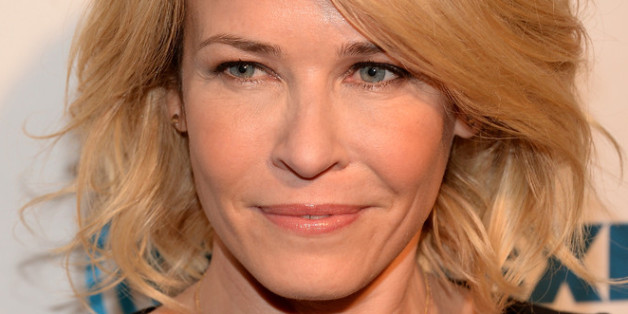 When asked if she's funny all the time, late night talk show host and potty-mouthed comedian Chelsea Handler answered without taking a breath, "In my opinion, I'm very funny."
At the MAKERS Conference on Tuesday, Handler spoke with Marie Claire's Anne Fulenwider about the virtues of being honest, doing one thing really well and how she fits in with the boys. She even threw in the word sagacious. When an audience member asked how she deals with being in a room with mostly men, Handler quipped, "I just act like I'm the reason everyone's in the room."
In fact, Handler is used to being in a room only half inhabited by men. Fifty percent of the funny lady's staff are women -- and shockingly, she's the only person in late-night comedy who can make that claim.
HuffPost Women broke down the comedian's conversation into five life lessons Chelsea Handler can teach women about being successful:
1. Don't Have Too Many Cooks In The Kitchen
"I think when you're doing anything that's important to you, it's good to take advice from one sagacious person, or maybe two, who you respect. Never more than that. I don't like any more cooks in the kitchen than that. And if there's someone you meet who really blows your mind or says something powerful to you, then you take that with you all the way through your entire life."
2. Just Get One Person To Say Yes
"I was reading Chris Matthews' book years ago, and he said it doesn't matter how many people say no -- and it's been said by many people -- you just need one person to say yes. Just keep knocking down walls until one person says yes. No one wanted to give a lady -- actually I would never call myself a lady -- no one wanted to give a female a late night talk show, and when I did get it, no one wanted to let me put a little person as my sidekick. They said that's never been done and you don't do that. I wanted to know why I couldn't do it. If I think it's funny then someone else is going to think it's funny too. Someone else has to agree with me.
And they said no, female late night shows don't work. I had one person who said they do work. And it was a man. He said it's going to work and she has a different point of view. I think the most important thing, whatever your profession is, is if you do something really well, people will recognize it."
3. Women Need To Take Care Of Other Women
"I think as a woman you have a responsibility to take care of other women. So yeah, I'm looking for the funniest people. And first I'm looking for the funniest women. I'm not going to not hire a guy because he's a guy. Then we are just starting over, but the other way around. I don't want to discriminate against men just because they can be so annoying. Tina Fey and Amy Poehler and Sarah Silverman get the same question -- 'what's it like being a female comedian?' It's just like being a comedian.
I think women who don't have a lot of girlfriends are … problematic [laughs]. If you're a girl, you should naturally be predisposed to other women. That's just the way it is. You should be sharing your experiences with other women. It's like women who don't speak to their sisters or brothers -- also problematic. At some point you just have to get over it. I mean, I'm talking to my sister and there was the DUI and FBI incident [laughs]."
4. Don't Be Another Pain-In-The-Ass Girl
"I don't lie about anything in my past. I'm not one of those girls who covers up something in an interview or says I can't talk about that. It's important for people to know that you make mistakes. That we aren't infallible. We are all embarrassed about certain things that have happened in the past, or people we've dated or things we've done or said or fights we have been in. I'm not a big proponent of pretending to be something that you're not. I think it's much more honorable to see somebody who is flawed. No one is perfect. What's the point in trying to pretend that you are? That's just another pain-in-the-ass girl."
5. Contribute, Period.
"Men are partial to men, just like I said women are partial to women. I think the most important thing, and the key ingredient for a woman, is to act like you belong there and believe that you belong there. It's a hard thing not to sit there and say, 'Why aren't we being treated equally?' But sometimes the argument becomes a moot point. Just fit in. Go with the flow. Contribute, contribute. And sooner or later, they're going to go, 'Wow, we need another one of those.'"
Handler's latest book "Uganda Be Kidding Me" comes out on March 11 and chronicles her adventures while on safari in Africa.