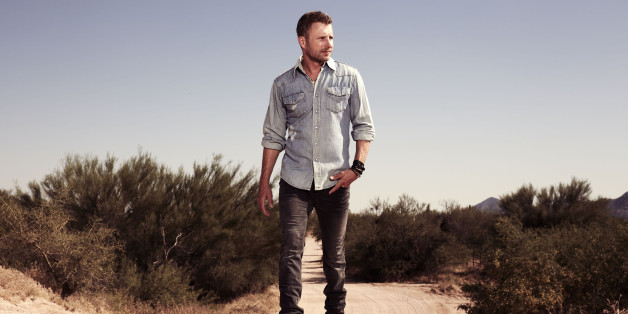 Dierks Bentley has been a prominent face of country music for more than 10 years now, with many of his songs reaching No. 1 on the country radio charts.
The 38-year-old singer from Arizona moved to Nashville, Tenn., at 19 years old to pursue a career in country music and never looked back. He's set to release his seventh studio album "RISER" on Feb. 25, which was written and recorded between the death of his dad, Leon Fife Bentley, in June 2012 and the birth of his first son, Knox, in Oct. 2013. The record reflects the ups and downs that we all encounter when life throws us curveballs.
"The last few years have been pretty crazy as far as life goes," Bentley said while promoting "RISER." "At the start of this process, my dad passed away and by the end of making the record my son Knox was born, so it was kind of a circle of life thing happening."
Bentley, who also has two daughters, Evelyn, 5, and Jordan, 3, with wife Cassidy Black, chatted with HuffPost Entertainment about his career, his experiences on tour and his life as an "undercover" celebrity.
How did you get into country music?
My dad introduced me to country radio and that's all it took. At 13, I discovered the electric guitar through a friend and that immediately changed my whole life. I was just obsessed with the electric guitar and listened to a lot of rock music. And then at 17, I started getting into Hank Williams Jr. and that was it … I loved country music. I moved to Nashville when I was 19 years old.
What inspired you to write and record your new album, "RISER"?
In general, you just really connect to life in weird ways. When you're single, there's a lot of drama to dating and all that stuff and then you get married and you're trying to let go of that and there's more drama! And when you do finally let go, all that drama goes away, which is great for your personal life, but not too good for your songwriting.
I didn't realize this at the time, I notice it now because of where I am, but, as a writer, there's kind of a lull between being married and not having kids and being married with kids. All of the sudden, kids come along and you're knee-deep in life and you're just totally wrapped up in it. There's no way to run and hide from it and there's so much substance to write from. Life is back in a totally different form, it's tenfold, it's crazy. A lot of the songs on the album are things I couldn't write or sing if I wasn't living a fully-formed version of myself.
"Pretty Girls" is a song on the album. I heard you wrote that at the Bowery Hotel in New York City.
Yeah, we finished that in the lobby there. We were up in New York doing CMA Songwriters night at Joe's Pub and we saw a lot of pretty girls drinking tall boys at my show –- well, that's a sight at a lot of my shows –- lots of girls holding up tall boy beers, which they sell for like $25. [Laughs] That's the kind of song where I really didn't want it to sound like the title, I wanted it to sound really vibey and cool and unexpected. I wanted it to be a party song, but this has a more darker groove.
You recently toured with your good pal Miranda Lambert. Who's your favorite person to tour with?
Last year, I toured with Miranda on Locked & Reloaded and it was the most fun I've ever had on tour. It was a big part of the record because that tour kind of strung together these two points of my life between my dad passing away and my son being born. In between all of that crazy life was my tour with Miranda, where I got to be on stage and with the people I love the most, which is my band and fans, and to just yell and scream and sing and pull people up on stage and jump off out into the crowd. I have this big life that is happening, but at the end of the day, I'm still this guy that loves being on the road and having fun and making people laugh. I'm thankful for that tour and the songs I wrote during it because they really paint a picture of … me.
Any good tour stories?
Randy Rogers and his band, including Jon Richardson, were out with us and we would sit with Miranda, who'd bring this Airstream on the road, and the four of us would just kind of get in there and listen to vinyl records and get a chance to B.S. It's really fun because I'm surrounded by people all the time, but to be with those three other singers, it was like you're living like your heroes with them. Like how Willie Nelson, Waylon Jennings and Johnny Cash must have hung out at times. It was pretty awesome.
Speaking of Miranda, her husband Blake Shelton is on "The Voice," and then you have Keith Urban on "American Idol." What do you think about all these singing reality shows? Would you ever be a judge on one?
I think that one of my biggest strengths is knowing what makes me happy. Between trying to write songs, make a record, put together a tour and go out there and execute it the way that I want to do it and then, on top of all that, I have a family and three kids, it's just not something I want to do.
I don't want to be any more famous than I need to be to perform my music. You know, I'm at a store right now, walking around looking like an idiot and nobody knows who I am. It's great! I can kind of still fly under the radar, even in Nashville, which is totally awesome. There's no greater thing in the world, if you ask me or a person who's famous this, than being able to be a normal dude. I want my kids to see me as a normal dude –- I want them to look at me as dad rather than any other way. So yeah, I want to write music for a lot of people and I want to grab my guitar and play big arenas and at the same time, I really don't want to be a celebrity by any stretch of the imagination. Like, it gives me the heebie jeebies. [Laughs] But if I want my songs to do well, I have to be popular, right? So it's a balance.
You're very fortunate to have that balance because not a lot of people in the business can say they can fly under the radar.
It's the coolest thing ever. I feel like I'm getting away with something. Like I get the chance to go out and play arenas and amphitheaters on a headline tour with 20,000 people in the audience and then walk around, like, "Oh God, I wore a pair of Uggs to the grocery store with shorts. I hope no one recognizes me!" And guess what? They usually don't! [Laughs] It's awesome. So, that's the best key to happiness, for me.
But Blake Shelton is so good. He's so funny and he's a great singer. I mean, he's doing exactly what he should be doing. I know it makes him happy and that's awesome. You have to do the things that make you happy.
Why do you think country music is starting to become more popular? It's now reached the masses of NYC ...
Now, you got Nash FM the radio station up in New York. [At this point, Dierks says thank you to a cashier at a grocery store]. Sorry, I'm just picking up a little wine for me and my wife before I head to Canada ...
[Yup, it's OK to swoon]
I guess people who live in New York City come from all different places, so that helps. One of my favorite things to do is kind of sit outside before my shows start, like at Irving Plaza, and watch the cowboy boots and the sea of cowboy hats coming from all directions. So yeah, they're everywhere up there so it's really cool, I love playing up there. Going and doing Jimmy Fallon and stuff.
What makes country different from other genres of music?
Country music is very authentic. It's about the lyrics, it's about the music, more than anything else. Just great songs that resonate with people and their lives. It's amazing how this one form of song –- verse, chorus, verse, chorus, solo, bridge, chorus -– that structure has been going on for a long time. Somehow, someway it still manages to move people in unbelievable ways. It speaks a lot about the power of lyrics and music and it's a crazy thing. Country music, there's nothing else like it.
We're excited to see One Republic show off their country side with you on "CMT Crossroads."
Yeah! I got the chance to hang out with Ryan Teter a bunch and his band and their great guys and he's an awesome dude. I'm a huge fan of his and his songwriting. So it's going to be a great show, just really fun.
Dierks Bentley's album "RISER" hits stores and iTunes on Feb. 25.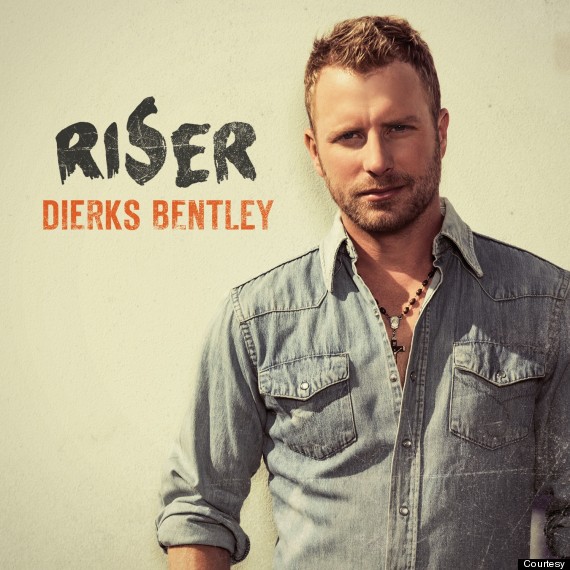 BEFORE YOU GO
PHOTO GALLERY
Celebrity News & Photos