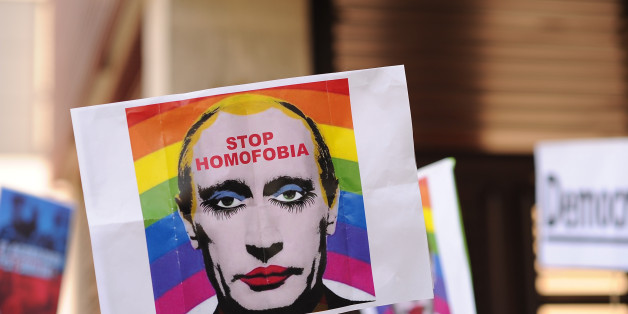 Viewers of the Sochi Winter Olympics have the opportunity to send a clear message to the LGBT community in Russia: while their cause might not be seen, it has not been silenced.
Russia's "propaganda" law, which enacts restrictions on its LGBT community, has been well-documented, and those protesting it have been aggressively silenced. On the first day of the games, at least 14 people protesting the law were arrested, Al Jazeera America reported.
Here are nine ways you can stand in solidarity with Russia's LGBT community:
1. Get Informed
PolicyMic wrote a primer that's a crash course on the anti-gay legislation in question. Read it and learn the facts.
2. Become an "Athlete Ally"
If you're an athlete or a fan, you should know about "Athlete Ally," an organization that aims to support and empower the LGBT athletic community. Join their movement to encourage Olympians in Sochi to speak up about human rights.
3. Petition NBC
NBC Universal has the exclusive rights for Olympic coverage, and they decide what they do with that power. You can track how much of their coverage they've dedicated to LGBT abuses and urge them to cover more by signing this petition.
4. Put Your Money Where Your Mouth Is
Check out Human Rights Campaign to learn more about the companies that are sponsoring the Sochi Olympics, and what they have and haven't done for the LGBT community in Russia and at home. With sponsors such as Coca-Cola and McDonald's, you might be surprised to find out how many of these companies you buy from regularly. From there, decide whether their efforts -- or lack thereof -- merit your patronage. By using your cash to support LGBT-friendly companies, and choosing not to buy from the ones who are not, you're making a statement.
5. Urge the International Olympic Committee to Practice What They Preach
Principle 6 of the Olympic Charter states that, "Any form of discrimination with regard to a country or a person on grounds of race, religion, politics, gender or otherwise is incompatible with belonging to the Olympic Movement." With this in mind, an organization called "Principle 6" was born to urge the Olympic Committee to play by their own rules. Help them spread the word!
6. Send a Message
The "It Gets Better" project wants to help you send a message to the LGBT community in Russia -- literally. You can write it down or create a video post.
7. Cover Your Walls
Download and print this free Human Rights Campaign poster which states, "In Russia, if you support LGBT equality, President Putin says you can be fined, you can be arrested, you can be deported."
8. Wear Your Protest and Take a Selfie
The Human Rights Campaign also created T-shirts which declare that "Love Conquers Hate." They're for sale starting at $28 and 100 percent of the proceeds go to LGBT activists in Russia. Once you're wearing your T-shirt, smile for a selfie! The #LoveConquersHate Instagram movement, also organized by the Human Rights Campaign, features an army of T-shirt-wearing allies, including celebrities like Madonna and Jamie Lee Curtis.
9. Change the Channel
Or, at the very least, watch carefully. There's been a lot of back and forth over whether viewers should boycott the Olympics. In the ongoing debate, equality activists have landed on both sides of the fence. Regardless of what you choose, be a conscientious viewer by remembering that what you see isn't necessarily what you get.
BEFORE YOU GO
PHOTO GALLERY
Stars Sound Off On Russia's Anti-Gay Law