Adidas announced this week that Tom Daley, who came out late last year as being in relationship with another man, will become the face of the company's street-wear brand NEO.
NEO is reportedly an "everyday" brand with clothing, accessories and footwear in vibrant prints and colors.
'It's great to be working with Adidas on their NEO label," Daley told reporters. "The jumper I wore for the NEO shoot is one of my favorites at the moment. It's a twist on a standard jumper and it's exactly what I like to throw on after training with a pair of jeans."
The move comes after Adidas landed itself in hot water for allowing customers to customize their footwear with a 10-character word or phrase, but banning certain words from the system, including "gay."
While Adidas has since rectified the ban on superimposing the word "gay" on their footwear after coming under fire, a number of other words are still "disallowed." These reportedly include "lesbian," "bisexual," "homophobia," and "trans."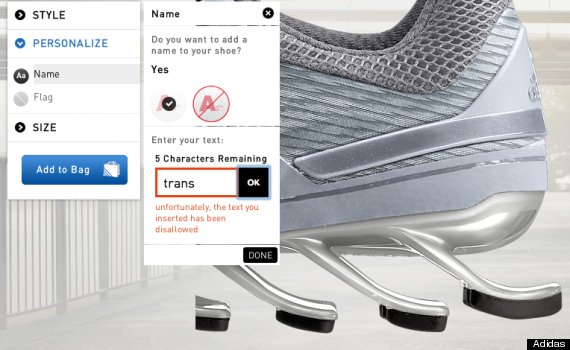 However, virtually any other word or combination of letters that fits within the 10-character limit is allowed by the company.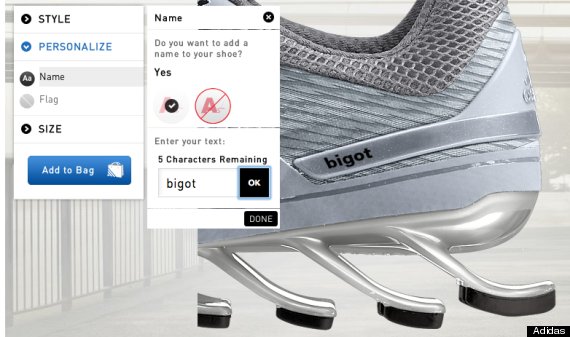 A representative for Adidas reportedly told The Independent that these limitations on their customizable footwear are there to prevent people from "abusing the system." A portion of the statement reads,
The word restrictions built into our miadidas ordering system are unfortunately driven by the need to prevent a small minority of people from abusing the system and therefore we restrict the usage of certain terms based on those terms most likely to be mis-used... it is not our intention to bracket words such as 'gay' or 'lesbian' into the 'bad words' column, but in a largely automated system, the fear is that the word 'gay(s)' could be easily pre-fixed by 'I hate' and therefore we might find ourselves in an equally difficult situation.
The statement in full can be read at The Independent.
This isn't the first time a company has come under fire for banning the word "gay" from an online promotion. Earlier this year, Coca-Cola released a new social media campaign related to the Olympics that allegedly prevented users from typing the word "gay" on a customizable Coke can, but allowed the use of the word "straight."
BEFORE YOU GO
PHOTO GALLERY
25 LGBT-Friendly Products & Companies Targeted By Boycotters