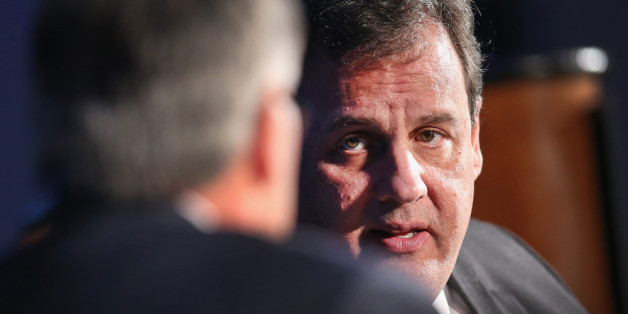 WASHINGTON -- The political calendar has New Jersey Gov. Chris Christie (R) on a crash course with the Washington press corps a week from Monday, but it's unclear whether he will show up.
Late next week, governors from around the country will arrive in the nation's capital for the annual meeting of the National Governors Association. On the sidelines of the NGA events, the Republican and Democratic governors will hold their own separate meetings, hosted by the Republican Governors Association and the Democratic Governors Association.
Over the past few years, the RGA has made a practice of holding a press conference the Monday after the weekend meetings, giving those who lead the organization some face time with the Washington press corps. It's a platform for whichever governor serves as the group's chairman that year. The problem, of course, is that Christie is the chairman now.
Christie's political troubles have been in the news for weeks, going back to early January when the Bridgegate scandal first became an explosive, national story. Since then, Christie has been unable to shake the ongoing media coverage. He has made several trips to other states to raise money for his fellow GOP governors, who have avoided appearing with him in public. Cue another round of negative press for Christie.
In addition, the New Jersey legislature's special committee investigating Bridgegate keeps issuing subpoenas, providing fresh chum for a feeding frenzy.
So an in-person meeting with Washington reporters is probably the last thing Christie wants right now. It has the potential to become a complete media circus -- drawing a good portion of the D.C. press corps, as well as international press -- and would focus another round of national attention on his travails.
An RGA spokesman said it was still up in the air whether the governor would appear at the press conference a week from Monday. A Christie spokesperson has not yet responded to an email inquiry.
BEFORE YOU GO
PHOTO GALLERY
Chris Christie Is Absolutely Shocked