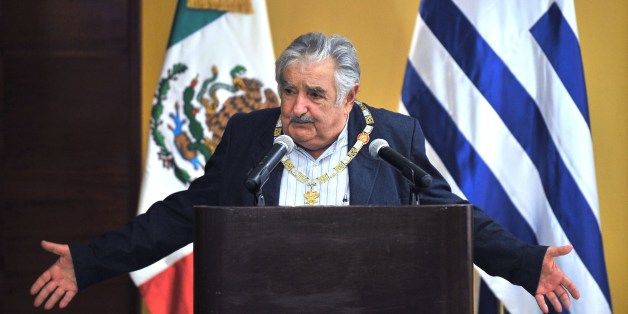 The president of Uruguay wants more countries to legalize weed.
Speaking to Reuters on Thursday, President José Mujica called on the United States and Europe to follow his government's lead by legalizing marijuana.
"The industrial societies are the ones that have to change," Mujica told Reuters. "For a small country, it's possible to experiment with this, but it's also very possible for a developed country because of the resources it has … Until things change there, it will be very difficult to change elsewhere."
Uruguay passed a trailblazing bill in December to legalize the government-controlled sale of marijuana to registered users. Mujica championed the change as a way to wrest power from drug traffickers and free up police to devote their time to more serious crime.
The U.S. government has said little about Uruguay's new approach, which marks the sharpest rejection of the Washington-led war on drugs in the Americas to date.
State Department spokeswoman Pooja Jhunjhunwala did, however, say in October that Uruguay must abide by the 1961 U.N. convention on drug control, which bars the possession, use and distribution of marijuana.
The United States itself would appear to be in violation of the convention. The states of Washington and Colorado legalized the recreational consumption of weed in 2012.
Mujica was nominated for a Nobel Peace Prize earlier this month for his leadership on marijuana legalization.
BEFORE YOU GO
PHOTO GALLERY
27 Reasons Why U.S. Shouldn't Lead War On Drugs