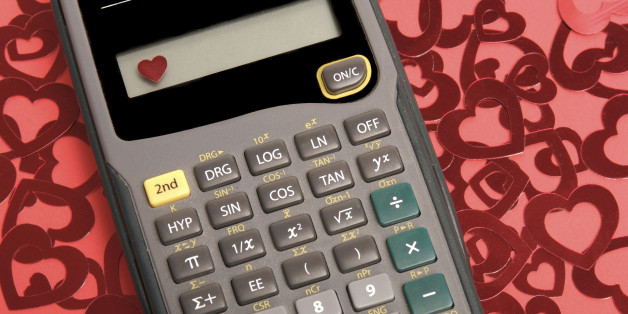 Americans are more pessimistic than ever about achieving the American dream. Another poll gives the Republican a narrow edge in Michigan. And it's Valentine's Day -- share one of our 'outliers' with someone you love! This is HuffPollster for Friday, February 14, 2014.
AMERICAN DREAM OUT OF REACH? - David Lightman: "Racing into a new century in which many of the old rules don't seem to apply anymore, Americans are overwhelmingly pessimistic about their chances of achieving and sustaining the American dream, according to a new Marist-McClatchy Poll. They see an economic system in which they have to work harder than ever to get ahead, and a political system that's unresponsive to their needs. They see the wealthy allowed to play by a different set of rules from everyone else. Eight out of 10 Americans think it's harder now than before, taking more effort to get ahead than it did for previous generations. Just 15 percent think it takes the same work as it did before, and a scant 5 percent think it's easier now. And Americans don't think it will get better soon, with 78 percent thinking it also will be harder for the next generation to get ahead." [McClatchyDC, see also Marist]
ANOTHER MICHIGAN POLL SHOWS GOP SENATE, GUBERNATORIAL EDGE - Paul Egan: "Gov. Rick Snyder maintains an eight-point lead over Democratic challenger Mark Schauer, while Republican Terri Lynn Land has strengthened in her U.S. Senate contest against Democratic U.S. Rep. Gary Peters, according to a new poll by EPIC-MRA. The poll, released to the Free Press, WXYZ-TV (Channel 7) and other media partners, shows Land of Byron Center leading Peters of Bloomfield Township 41%-38%. However, the numbers are within the poll's 4-percentage-point margin of error. Still, that's a turnaround from September, when Peters led Land 38%-37%." [Free Press, EPIC-MRA toplines]
Land advantage on five consecutive polls - While four of five polls fielded between May and November 2013 gave Democrat Peters a slight advantage, five conducted since then have all given Land a slight edge. The EPIC-MRA is the only one of these surveys, however, to use live interviewers and to call dual samples of both landline and cell-only households. The HuffPost pollster poll tracking model, based on all of the polls, puts Land's advantage over Peters at 2.7 percentage points (41.2 to 38.5 percent), roughly the same as the EPIC-MRA result. The lead is small enough that the model, which effectively polls the sample sizes of the different surveys, reports Land's probability of leading at 76.9 percent -- still well short of what most consider statistical significance. [Pollster chart]
Slightly closer margin than Harper Polling - The EPIC-MRA poll found a slightly smaller Land lead than two surveys conducted by the Republican firm Harper Polling which, as HuffPollster reported on Monday, significantly underrepresented voters from the Detroit media market in its most recent survey. The difference in the Land-Peters margin between the EPIC-MRA and Harper Polling surveys (between 2 and 5 percentage points) is roughly what the under-weighting of the Detroit market should have produced. [see HuffPollster]
AMERICANS THINK EXECUTIVE PAY IS TOO HIGH - Emily Swanson: "Two-thirds of Americans think that top corporate executives and CEOs are paid too much, and few Americans think they will ever enter the ranks of the highest paid, according to a new HuffPost/YouGov poll. The poll was conducted as part of a new Huffington Post project called Pay Pals, a database of the salaries paid to top executives and board members at every Fortune 100 company. According to the new poll, 66 percent of Americans think the pay of top corporate executives and CEOs is too high, while only 18 percent think their pay is appropriate. Two percent said that executives' pay is too low. A majority of Americans in the new survey from across the political spectrum agreed that executives' pay is too high -- 79 percent of Democrats, 61 percent of independents and 58 percent of Republicans." [HuffPost]
HuffPost's 'Pay Pals' interactive dataviz - The HuffPost data team partnered with researchers at the Center for Economic Policy and Research to compile data on executive pay and director compensation from publicly disclosed shareholder filings. Their interactive data visualization plots each company's total director income against stock performance. [HuffPost "Pay Pals", see also HuffPost: Exclusive Data Paints Troubling Picture Of Skyrocketing CEO Pay]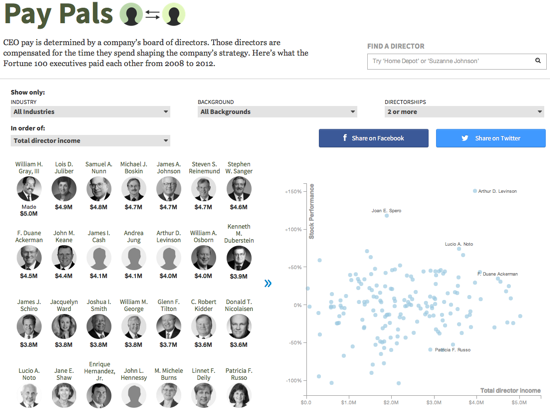 AND FOR VALENTINE'S DAY... - The most comprehensive survey deep-dive into marriage, relationships and Valentine's Day for 2014 comes from WE tv and the Associated Press. AP Polling Director Jennifer Agiesta: "A new Associated Press-WE tv survey finds 66 percent of paired-off adults say their relationships are perfect or nearly so. Most are excited for Valentine's Day and have a gift on their wish list for the holiday. Flowers and candy top the list of preferred gifts. But there are those who want something pricey like a car, jewelry or a vacation, and others who'd be fine with a teddy bear. About a third say they'd most like to have intangibles such as time together, health or happiness, while 17 percent said they aren't celebrating or don't want a gift...In this love-struck society, Valentine's Day holds strong appeal. About 6 in 10 say they're excited about Feb. 14, while a third say they feel more dread about the approaching onslaught of candy, flowers and dimly lit restaurants. Apprehension isn't limited to the lonely: Even 11 percent of those who say they are in a great relationship dread Valentine's Day." [AP, AP toplines]
...because we love our readers - Here are some other Valentine's Day themed polling data and commentary:
-66 percent want dinner with someone special for Valentine's Day [Rasmussen]
-52 percent say flowers make the best Valentine's Day gift. [CBS]
-Republicans are looking forward to Valentine's Day more often (59 percent) than Democrats (49 percent). [Fox News]
-Drew DeSilver shares five facts about love and marriage. [Pew Research]
-National Media Research shows your favorite candy says about your politics [WaPost's GovBeat]
-Online dating has lost its stigma. [Pew Research]
-Market research guru Annie Petit: "Roses are red, Violets are blue. Surveys rock and so do you. #MRX #BadValentinesDayPoetry" [@LoveStats]
-Pollster Steve Koczela: "COMPUTE US=U+ME. #SPSSVALENTINES" [@SKoczela]
HUFFPOLLSTER VIA EMAIL! - You can receive this daily update every weekday via email! Just click here then enter your email address in the box on the upper right corner of the Pollster page, and click "sign up." That's all there is to it (and you can unsubscribe anytime).
FRIDAY'S 'OUTLIERS' - Links to the best of news at the intersection of polling, politics and political data:
-A majority of Americans say they wish Obamacare had never passed. [Fox News]
-A narrow plurality of Americans rates the Catholic Church unfavorably. [YouGov]
-NBC's First Read offers three reasons the Democrats are unlikely to retake the House in 2014. [NBC]
-Seth Masket says political parties are networked, not fragmented. [WaPost's Monkey Cage]
-Nielsen agrees to withhold broadband-only households from its local television ratings "for the time being." [MediaPost via @AlexLundry]
-97 percent of NFL players say they are not ready to date a gay teammate. [The Onion]
Ariel Edwards-Levy is off today. She'll be back next week.