 Sit down for this: I use Google+, and I love it.
Having said that, you might be thinking that I, like the parent company aggressively pushing the social network, should stop trying to make Google+ happen. After all, how many social media accounts does one really need?
When I first told a friend on Myspace about Facebook, she rolled her eyes. Maybe in the same way you might have shrugged off Twitter when you first learned of its existence. Both have been called fads. So has the entire Internet, for that matter.
So why join Google+ in addition to (or even in lieu of) Facebook, Twitter, Instagram and their ilk? It started for me as curiosity after I had used Google Buzz. It wasn't that I was "done" with Facebook, but I wanted to see what Google could bring to my social networking experience, which I thought was still lacking.
On Google+, I've found a blank canvas to create, share and interact with people all over the world. It's a chance to be openly expressive on a platform where there are no preconceived notions of people who think they "know" me. You might have a lot of strong political opinions or a love of food porn pictures that you want to share with the world, but hold back on Facebook in fear of what your friends might think.
You can enjoy this blank canvas and find a place to share what you're truly passionate about, too. Here are 12 reasons you should give Google+ a second chance, if you haven't already:
1. Easily Control Who Can See Your Stuff
Let's say, for example, you want to share a post with only 10 people, but not the entire world. It's as simple as typing your friends' names into Google+'s share box. And if someone's not on Google+? If you include their email address, they'll get an email that lets them read your post. (Though the email will, understandably, ask them to join the network.) On Facebook, you must go through the tedious process of creating a specific group of people to privately share anything, and you can't share outside the social network. And what about disabling comments or reshares? Can't do it on Facebook, but you can on Google+.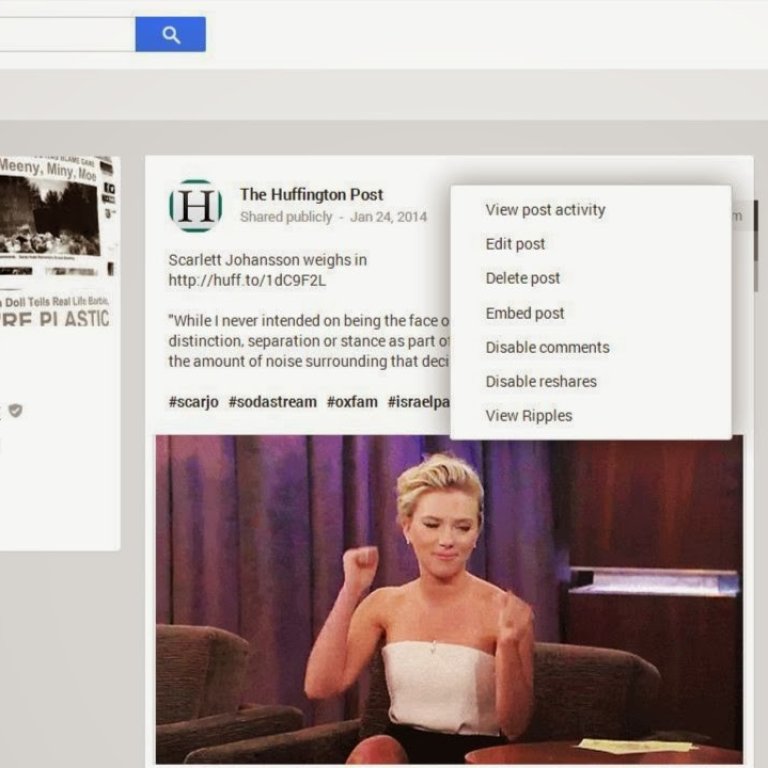 2. Google+ Is A Photographer's Paradise
Google+ is full of amazing photographers, but you don't have to include yourself in that category to appreciate what the social network offers. Google+ can automatically back up your Android or iPhone pictures privately as you take them (no other social network does that), and offers you tools to improve the tone, color and saturation of your so-so camera phone pics. There's also something called "Auto Awesome," a set of photo-editing tools that can automatically merge a burst of five or more pics into a GIF, erase people in the background of photos or add animated snow and twinkle to shots, among other tricks.
3. Unlimited Space To Rant
It's unclear exactly what the character limit is on Google+ -- some say it's 100,000 -- but it's absolutely clear you get a LOT more space than other social networks offer. Facebook only lets you rant for about 60,000 characters, and, of course, Twitter give you only a paltry 140. Neither allow any of the flourishes like bolding or italics that Google encourages. If you're looking for some free self-expression and have plenty to say, Google+ is the place for you. Have at it, Interwebs!
4. You Can Find Your Interest Soulmates
Google+ lets you join or create a "Community" on any topic you are passionate about -- immediately connecting with people who also love zombies, or whatever you might be into. The communities can be used as places to have passionate discussions, or just for meeting like-minded friends. You can also create a private community and save posts to read later. Do you like travel, sci-fi, or animals? You can find fellow enthusiasts on Google+.
Right now, Facebook is where your family and friends are. Google+ is where you can discuss your interests and passions with people who like the same things you like.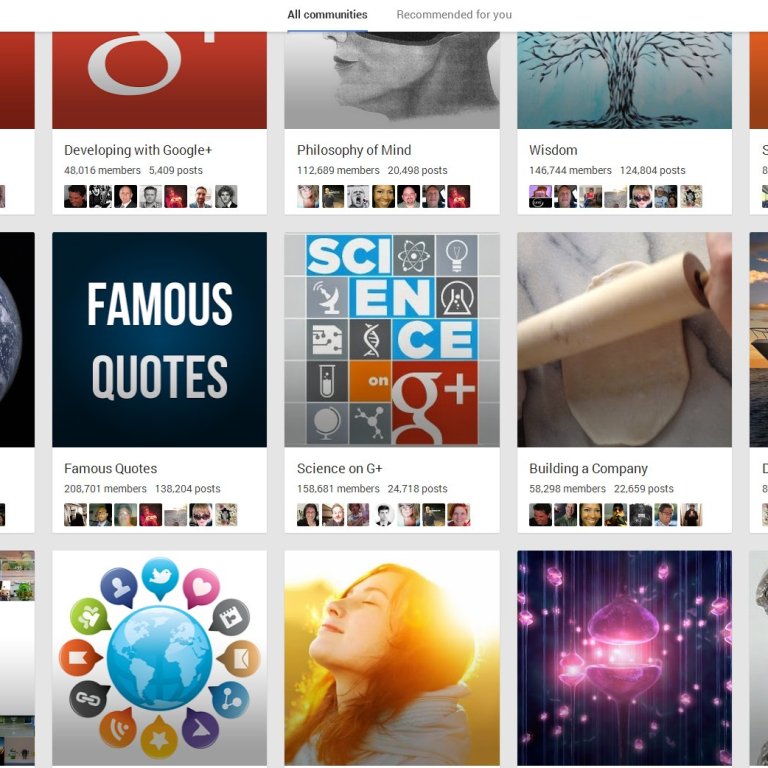 5. Celebrities Ignore You On Twitter, But They Won't On Google+
Celebrities didn't take to social media in big, genuine ways until Ashton Kutcher blew up on Twitter. Now, instead of just reading their tweets, you can regularly find all kinds of VIPs on Google+ who will give you the time of day, including astronaut Chris Hadfield, actress Jeri Ryan, tech geek Robert Scoble and Captain Kirk himself, William Shatner. Even luminaries like President Barack Obama and the Dalai Lama might actually give you face time on the social network that Reddit or Twitter can't emulate.
Jeri Ryan hanging out in 2012
6. Did I Mention How Awesome The People On Google+ Are?
The best part of the entire Google+ experience is meeting other regular people. People have dated, fallen in and out of love, gotten married, made lifelong friendships, formed business relationships, gotten new jobs and found places to crash when traveling abroad -- all from hanging out on this network. Anything can happen: One day I was made into a zombie by Canadian artist Byron Rempel. The next day I hung out with Dell founder Michael Dell. Spend enough time on Google+, and you'll (virtually) run into characters like bodypainter Paul Roustan, toy collector Michael Mozart, news anchor Sarah Hill, radio personality Jane Ellen and chef Larry Fournillier.
Australian artist Ashlan Nathens displays a love note he made in honor of Google+ community
7. You Can Start Your Own Hangout On Air Show And Reach The World Through A Live Video Broadcast
A Hangout On Air is a live HD video event that you can schedule in advance, easily invite people to watch on Google+, and use in a number of awesome ways. People have used them to host their own videocast to talk about Game of Thrones, chat with photographers, hold an "Open Mic," and even interview Jennifer Lawrence, Josh Hutcherson, and Liam Hemsworth.
Every week, you can join a FOX-11 Los Angeles Celebrity Interview Hangout to interact LIVE with a mix of cool celebs, meet up in the Virtual Star Party to see views via telescope that are out of this world, join the Collectors Hangout to discover the largest cool collections of anything from Legos to World War II memorabilia, weigh in on how your sports team is doing in the Sportschat.TV, or find out what tech device to purchase in an episode of Google+ Weekly.
On Google+, there was a Virtual Landing Party for the Curiosity Rover from NASA's Jet Propulsion Laboratory, Paul Roustan showed us how he bodypaints a nude model (NSFW), the community got to interact with Vic Gundotra, the head of Google+, the National Finals Rodeo Fanfest in Las Vegas was brought to life in hangouts, and there was even an online music concert festival rocking Google+!
A Virtual Star Party on Google+
Forget Twitter and its Follow Friday. May the +1 be with you.
9. Google+ Hangouts Happen In Real Life, Too
A "hangout in real life," or HIRL, happens when a bunch of Google+ enthusiasts actually meet in person. I've organized three HIRL weekends so far in New York. When you meet people you've hung out with on Google+, it can feel like you've known them forever. This following HIRL moment is from a concert of Google+ musicians, in which Canadian singer Ryan Van Sickle invited me up on stage for my New York singing debut.
10. Google+ To Learn About Google Glass
Unsurprisingly, those who've shelled out hundreds of dollars for the privilege of testing a Google product have taken to Google+ in a big way. There are a ton of excellent Google Glass-related photos, videos and other information on the social network for those thinking about buying the face computer when it finally goes on sale at the end of the year.
If you want to watch people using Google Glass, circle Glass Explorers Brett Lipton, Daniel Fontaine, Bobbie Today, Derek Ross, Robert Warren, Jeris JC Miller, Laurie Des Autels, Mike Elgan, Shaker Cherukuri, Katy Kasmai and Peter McDermott to get a taste.
11. GIFs!
With the exception of Tumblr and more recently Pinterest, Google+ is the only major social network to let you share and view GIFs. Posted GIFs animate on both desktops and mobile devices, and you can even choose a GIF as your profile pic or cover photo.
12. One Last Thing: There Are Currently No Ads On Google+
And of course, if you do try Google+, don't forget to circle HuffPost.
[Update to story: As of April 15, 2014, Dave Besbris is the new head of Google+! ]