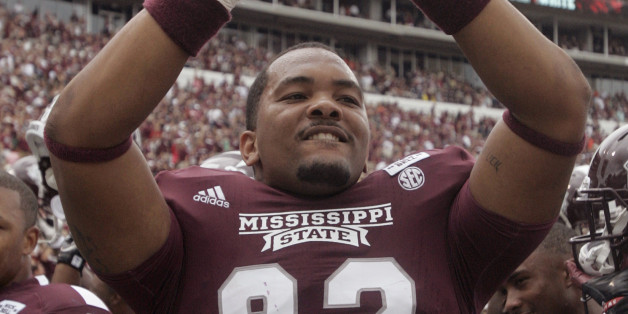 A Mississippi State athlete voiced his opinion on gay football players in light of Michael Sam's coming out, saying he "looks down" on them and that "being gay is not a man."
Sam, a former defensive lineman for the University of Missouri, publicly announced he is gay to the New York Times and ESPN Sunday, Feb. 9. He is currently eligible for the 2014 NFL Draft and could become the first openly gay, active NFL player in history.
In the days following his announcement, Sam received an outpouring of support from fans, celebrities and fellow athletes alike. However, he also was the target of hate.
Mississippi State University tight-end Rufus Warren tweeted his anti-gay views on the matter last Sunday, the Clarion Ledger first reported. His Twitter account has since been made private, but Clarion Ledger reporter Michael Bonner took a screen grab of the messages.
Mississippi State's Rufus Warren gives props to Michael Sam, but looks "down on gay football players." pic.twitter.com/zmqr3NnXbS

— Michael Bonner (@MikeBBonner) February 10, 2014
He later tweeted an apology to his school.
ICYMI RT @2_amazing My school does not need to reflect my thoughts.. I deeply apologize to my school and my followers for what I have said.

— Michael Bonner (@MikeBBonner) February 10, 2014
Still, Fansided noted that Warren's apology does not make up for the sentiment behind his homophobic statements.
"Warren can apologize for the words he typed, but is he sorry for having those beliefs?" wrote Patrick Schmidt. "He's not the only one to share homophobic beliefs as the Internet was littered with anti-gay tweets, messages and posts following Sam's landmark statement."
The university has not commented. A spokesperson for the Mississippi State Bulldogs was not immediately available.
Warren's response was not the only disgusting one made after Sam's coming out. Bigots called the 24-year-old "disgusting" and said "ain't s*** manly bout being a fag."
BEFORE YOU GO
PHOTO GALLERY
LGBT Athletes