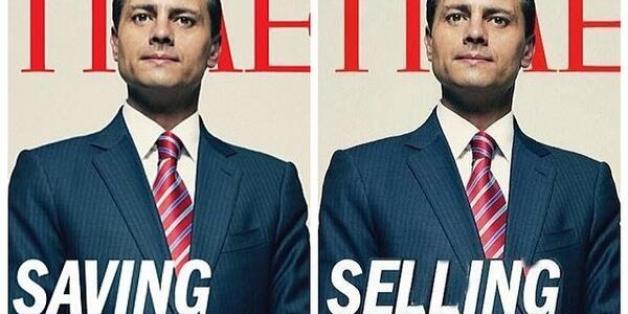 Enrique Peña Nieto may be saving Mexico, according to TIME magazine's latest International cover, but who will save TIME from the wrath of the Mexican people?
The new issue, dated for publication on Feb. 24, features the 47-year-old Mexican leader standing boldly behind the words "Saving Mexico," underneath which reads "How Enrique Peña Nieto's sweeping reforms have changed the narrative in his narco-stained nation." The cover's positive portrayal of the president's newest and controversial policies, however, has sparked backlash, spoofs and even accusations of bribery.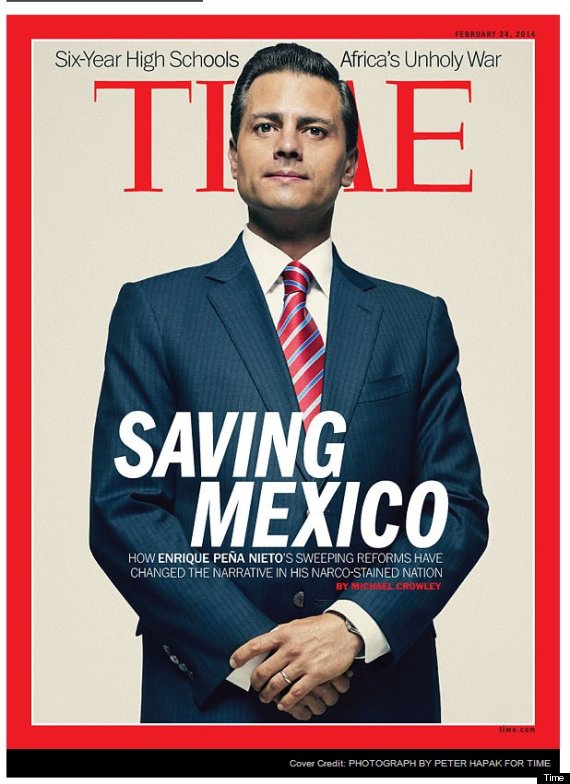 In his feature on Mexico and its leader, TIME's Chief Foreign Affairs Correspondent Michael Crowley begins by spotlighting Peña Nieto's energy reform, which opened the country's state-run oil industry to foreign investment for the first time in almost eight decades, and how the sweeping legislation has boosted Mexico's appeal among global investors. Before the reform, Mexico's state oil company, PEMEX, enjoyed a monopoly over the county's petroleum.
The energy bill, however, faced massive protests when it passed through Congress in December. Demonstrators shouted "The homeland is not for sale!" as officials voted to allow private companies to exploit oil and gas reserves in the country, according to the Associated Press.
At the time, critics pointed to the Constitution's prohibition of oil concessions, while the Mexican government said that private contracts would stipulate that all oil and gas belongs to Mexico and companies would have to pay the country royalties and taxes for the the right to drill.
"The state does not compromise in its view that the property continues to be owned by Mexico," Peña Nieto told TIME. "It belongs to all Mexicans."
The magazine's story continues by touching upon the Mexican leader's other reforms before delving into the drug cartel violence that places the country "at a pivot point."
Crowley continues:
But "Mexico's moment," as many are calling it, could still disappoint. Corruption and mismanagement are endemic to Mexican politics. Some of Peña Nieto's reforms are engendering fierce resistance. And drug trafficking, with its related crime and violence, remains a defining fact.
Crowley also mentions that the Mexican president's popularity at home has fallen several points below 50 percent -- though he quickly hints that it may be due to a "recent pause in economic growth" -- and the failed drug war Peña Nieto inherited from his predecessor that has claimed more than 70,000 lives by some estimates.
Uproar over the International cover started as soon as it hit the Web last week. Mexican residents took to Twitter to call the cover "disgusting" for what they viewed as a foreign glorification of the Peña Nieto administration and its controversial reforms, while their popularity plummets at home.
A Change.org petition has also recently appeared online (currently with 8,713 out of 10,000 signatures) to remove Peña Nieto from the cover.
Thousands of Mexican citizens are outraged at the way president Peña Nieto is portrayed in the cover as a 'savior'. The reason is we live this country day to day and it has gotten worse for the most of us since last year when he went into power...
Since the backlash began online, Crowley has been accused of taking bribes from the Mexican government for the story. In response, the story's author has welcomed criticism, offered clarifications and given a free link to the story online.
Remarkable how many critics of Mexico's president seem to believe I must have literally taken a bribe to write a positive story about him

— Michael Crowley (@CrowleyTIME) February 13, 2014
Dear Mexican friends: Read the story. It doesn't say that either Mexico or EPN are perfect. Addresses corruption, cartels, reform backlash.

— Michael Crowley (@CrowleyTIME) February 13, 2014
A possible turnaround for Mexico under its young new president? Free link to my new TIME international cover story: http://t.co/G4c0bjNis1

— Michael Crowley (@CrowleyTIME) February 14, 2014
The correspondent's response, however, has done little to assuage the wrath of many Mexican people online. Check out spoofs of the cover and more Twitter reactions below.
Mexican President Heralded As 'Saving Mexico' From The Narco Wars. http://t.co/3Fy7FsF0wB - Those of us living here KNOW better. Disgusting.

— Luis A. de Jesús (@vortex_bits) February 13, 2014
How much did it cost to @EPN this epic fail on @TIME magazine cover? Shame on you! pic.twitter.com/bghIt5XUqe

— mÖstro Santo (@ayMostro) February 13, 2014
EPN literally selling his image as savior to willing dupes - "Did Mexican President Pay For TIME Magazine Cover?" http://t.co/yXMypDNBNW

— Guillermo Jimenez (@tracesofreality) February 17, 2014
Not surprised about @TIME and Enrique Peña Nieto "Saving" Mexico. This magazine named George W. Bush and Adolf Hitler "person of the year"…

— Mariel Guzmán (@MarielGuzman) February 13, 2014
#TimeMagazine #SlayingMexico @TIME @EPN pic.twitter.com/E8OzdXI0FT

— Tryno Maldonado (@tryno) February 13, 2014
El presidente de #México (@EPN) y todas sus versiones, en la portada de 'Time' http://t.co/FRQ5AeIpbf | pic.twitter.com/GgoEYSZkbg

— elEconomistaAmerica (@eEAmerica) February 17, 2014
Enrique Peña Nieto Time Magazine Cover:Mexican President Heralded As 'Saving Mexico' From The Narco Wars or... pic.twitter.com/pmaRbb20lM

— Dàsh Güero♻ (@VancouverGuero) February 13, 2014
The most accurate response to @TIME's #EPN cover. #Mexico's people are saving themselves. #autodefensas pic.twitter.com/IN5FLVvzZC

— ThinkMexican (@ThinkMexican) February 13, 2014
BEFORE YOU GO
PHOTO GALLERY
Pena Nieto Sworn In