For the first time in two decades, the Great Lakes are nearly covered with ice.
(story continues below)
As of Feb. 14, ice cover reached 88.4 percent across the Great Lakes, according to the National Oceanic and Atmospheric Administration. Some lakes, like Lake Erie and Lake Superior are nearly 100 percent iced over, according to Newsy (embedded).
(See photos of the the Great Lakes on ice below)
"That arctic vortex came down, and the ice just kept going," George Leshkevich, a physical scientist with the NOAA, told the Associated Press.
Though cities along the Great Lakes, like Chicago and Detroit, have been pummeled by snow and cold this winter, the AP reports the extensive ice cover is not without its benefits: the ice cover protects fish eggs from predators and limits evaporation, thus helping to replenish lake water levels that been on the decline.
Ice cover on the Great Lakes hasn't been this widespread since 1994 when it hit 90.7 percent, according to The Weather Channel. The record for Great Lakes ice cover was set in February of 1979 when almost 95 percent of the region was frozen over, the Detroit Free Press reports.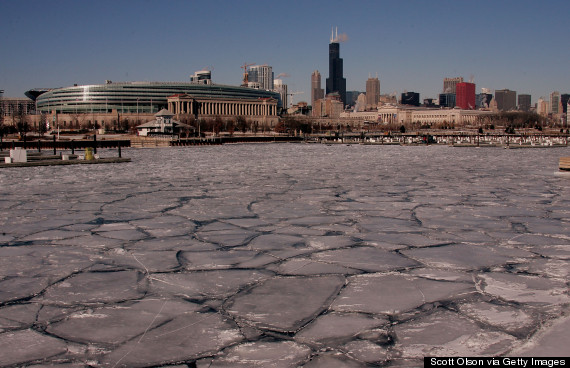 Ice covers the waters of Lake Michigan near Soldier Field (L) during a sub-zero morning February 5, 2007 in Chicago, Illinois. Temperatures were not expected to get above single-digits for the day while wind chill temperatures in the city have not been above zero since Friday afternoon. (Photo by Scott Olson/Getty Images)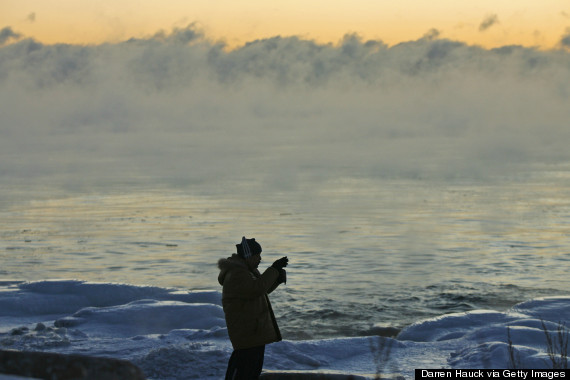 In this Feb. 6, 2014 aerial photo is a view of Lake Huron looking south towards Port Huron, Mich., right, and Sarnia, Ont., left. This winter has been so bitterly cold for so long that the sprawling Great Lakes, which hold nearly one-fifth of the surface fresh water in the world, may freeze over for the first time in two decades. (AP Photo/Carlos Osorio)
Ice cutters were out on Lake Michigan last week:
Great Lakes cutters forge through frozen waters as ice coverage nears all-time record http://t.co/uJmLyB2s72 pic.twitter.com/FM1dd3UhDI

— MLive (@MLive) February 13, 2014
A Valentine's Day aerial shot shows another lovely angle of the iced-over lakes:
PHOTO - Aerial view of Lake Michigan! Great Lakes approaching historic ice coverage ! http://t.co/tkVn1Bug0W pic.twitter.com/KRckTEZNty

— wilxTV (@wilxTV) February 15, 2014
Canadians at Georgian Bay in Ontario took a stroll on the (now-frozen) water:
It's true, the Great Lakes are frozen! #georgianbay #collingwood pic.twitter.com/HjK6JLbNDR

— Katherine McDonald (@katherinejhm) February 15, 2014
Canadians really do love walking on the ice, don't they? Pictured here from what's likely near Lake Ontario:
Did our own little Arctic tundra walk yesterday. 1st time in like 50 yrs all 5 Great Lakes are more than 90% frozen. pic.twitter.com/7pj3sCYaFU

— Misty Adams (@MinnieKinnie09) February 17, 2014
Clarification: An earlier version of this story indicated the last photo was possibly taken in an area near the Canadian side of Niagara Falls; it was likely taken near Lake Ontario.