Got a success story of your own? Send it to us at success.stories@huffingtonpost.com and you could be featured in our I Lost Weight series!
Name: Kaseedee Jermain
Age: 32
Height: 5'2"
Before Weight: 273 pounds
How I Gained It: Growing up I felt I was an "average" size. I was active, played sports, never worried about what I ate. Then I got pregnant, and it all went downhill quickly! I was eating for two and didn't really watch what I ate. I felt because I was pregnant I could eat whatever I wanted. I later learned what a huge mistake that was, when I weighed 273 pounds after I had my son!
Breaking Point: I realized about a month after my son was born that something had to change. I had no energy, and I was depressed and irritable beyond what I felt was normal. I wanted to be able to carry my son, take him for walks, play with him. I wanted to be there and be healthy for him.
How I Lost It: My journey has had it ups and downs. With encouragement from my husband, I joined the local gym. I had no idea what to do, and my first day there I broke down in tears on the gym floor! I found the gym scary and intimidating, but I found a trainer who helped me get started and has motivated me ever since. I have also enlisted help with my eating habits and found that I needed workout buddies to keep me going. Motivation is tough if you are on your own! I have been working for 10 years to lose the weight and keep it off. I have had setbacks, I have worked through injuries, but all in all I just keep pushing forward!
I have learned that I would rather be a strong woman than fit any "mold" out there. I have learned that skinny is not necessarily healthy, and you have to strive to be your healthiest, not a number on the scale. I am always looking for a challenge, and mix up my workouts day to day.
Now, I am doing things I never dreamed possible! I run endurance races with my son, I'm training for marathons, I lift weights. I never in a million years thought I would complete obstacle races, but I have. I am just loving life more! I have energy, I am genuinely happy! We focus on clean farm-to-table eating with my son. Setting an example for him is my main goal. I don't want him to go through the experiences I went through. I have also devoted my career to motivating others reach their goals: I now work full time in health and fitness! I feel I have found my purpose.
After Weight: 145 pounds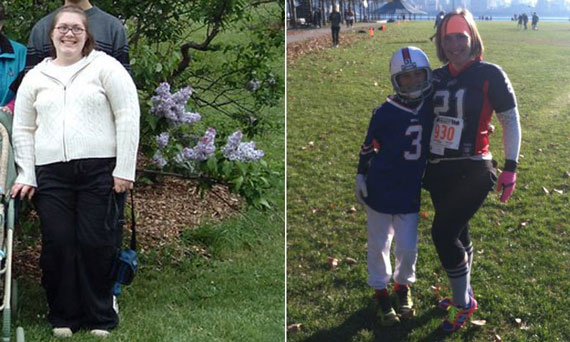 The Huffington Post publishes photographs as they are submitted to us by our readers.
Check out more of our inspiring weight loss stories below:
PHOTO GALLERY
Weight Loss Success Stories