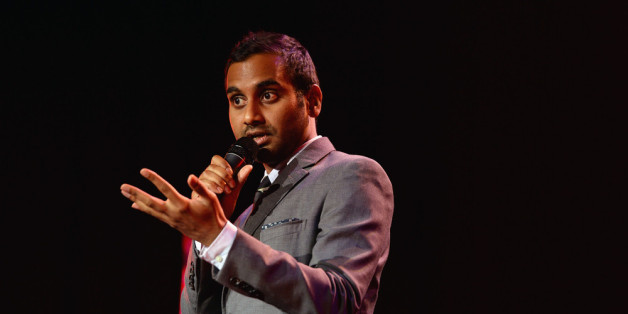 Aziz Ansari, Chelsea Peretti and other comedy stars are banding together to help out a fellow artist in need.
Stand-up comedian Liza Dye was hit by a B train in New York City on Feb. 13 and has been in the hospital since then. She survived the accident, but has had to undergo surgery and will have an extended stay in the hospital.
Several sources report that Dye fainted while walking on the platform and slipped onto the tracks, while others report that she fell in front of the moving train because she was texting while walking and lost her footing.
Dye does not have medical insurance to cover her treatment or hospital stay, so her friends and fellow comedians have set up a YouCaring page with the hopes of raising $50,000 in order to offset the impending bills. As of Wednesday (Feb. 19) morning, the campaign had raised nearly $33,000. "Parks and Recreation" star Aziz Ansari has promoted the cause, both on Twitter and also during his Feb. 16 surprise performance at the Upright Citizens Brigade theater in New York City.
A young NY standup, @lizadye, got hit by a god damn subway train. If you can, take a second & help out: http://t.co/PowlESwBdm

— Aziz Ansari (@azizansari) February 18, 2014
Chelsea Peretti, who is a long-time fan of Dye's comedy, and who wanted her to be SNL's pick during its search for a black female comedian, has also thrown in her support via Twitter.
help @lizadye aka @COFFEECRANKIN who fainted in a subway station and was hit by a train http://t.co/Buplr4r1q9

— Chelsea Peretti (@ChelseaVPeretti) February 17, 2014
Ansari and Peretti will even be doing a benefit show together, along with Moshe Kasher and other comedians, in order to raise funds to support Dye's care.
LA: Doing benefit show for @lizadye at Largo on 2/24 with @chelseavperetti @NotoriousROD @moshekasher @JoeMande. Tix: http://t.co/e9DUOiZS9i

— Aziz Ansari (@azizansari) February 19, 2014
Dye's doing pretty well, considering the circumstances, and she's certainly not letting pain or money problems dampen her comedic spirit.
my foot looks like django #hospitaLIZAtion pic.twitter.com/4UfZOEWTey

— Liza Dye ॐ (@lizadye) February 18, 2014
BEFORE YOU GO
PHOTO GALLERY
Celebrity News & Photos