Dear Shia LaBeouf: You are still famous and it's kind of, sort of, totally your own fault. Neither tweeting "I AM NOT FAMOUS ANYMORE" once a day, nor wearing a paper bag on your head with that claim -- while walking down the red carpet -- will actually make you any less famous.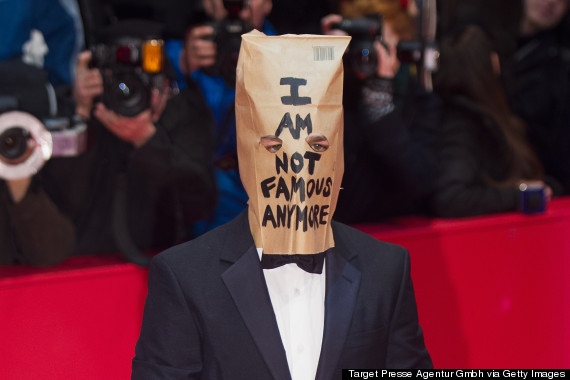 If you're really intent on getting out of the limelight, it's time to rethink your game plan. Hosting a bizarre modern(?) art installation and commissioning an aircraft to write messages in the sky is really anything but low-key.
Don't worry though, Shia. Take some notes from these former stars who have left Hollywood behind to pursue more normal lifestyles, and you'll be out of the spotlight in no time.
Phoebe Cates
Who was she?
The girl in the red bathing suit from "Fast Times at Ridgemont High" (Linda Barrett) and Kate Beringer from "Gremlins."
Where is she now?
Cates is currently the owner of the Madison Avenue boutique Blue Tree.
Cates tells USA Today that her shop patrons frequently recognize her. "Or if they don't, they tell me I look like Phoebe Cates, and I say, 'I get that a lot,'" she says.
Peter Ostrum
Who was he?
Charlie Bucket from he original "Willy Wonka & the Chocolate Factory."
Where is he now?
Ostrum is living the simple life as a large-animal veterinarian based out of Lowville, NY.
It took Ostrum a whole year to tell anyone in Lowville that he was the one-time child star, and he only told his wife when he was about meet her mother.
Greta Garbo
Who was she?
A prolific and critically acclaimed actress who is the American Film Institute's fifth Greatest Female Star of All Time.
Who did she become?
Garbo became a reclusive, extremely private art collector who lived in Manhattan without a spouse or children until her death at age 84.
Garbo refused to give interviews, sign autographs or answer fan mail.
Dylan and Cole Sprouse
Who were they?
Zack and Cody of "The Suite Life of Zack & Cody" and "The Suite Life on Deck."
Where are they now?
The Sprouse brothers are currently college students at New York University.
In 2013, the twins were appointed International Ambassadors of the Shin Koyamada Foundation, a youth-empowering nonprofit organization, and traveled to Japan to help implement a motivational and educational program for Japanese youths.
Cary Grant
Who was he?
Nickie Ferrante of "An Affair to Remember," John Robie of "To Catch a Thief," Brian Cruikshank of "Charade" and the American Film Institute's second Greatest Male Star of All Time.
Who did he become?
Grant left Hollywood to start a life as a dedicated father and board member at Fabergé, Hollywood Park, MGM and other companies.
Grant was an unfailingly faithful father and he even kept a vault of his daughter's photographs, videos and other memoirs.
Charmian Carr
Who was she?
Liesl Von Trapp of "The Sound of Music."
Where is she now?
Carr is the founder and owner of the very successful Encino, Calif., interior design company Charmian Carr Designs.
Carr got married and continued to act in commercials after "The Sound of Music," but ultimately left show business in order to raise her children.
Bobby Sherman
Who was he?
Jeremy Bolt of "Here Come the Brides," successful recording artist, and '60s/'70s teen heartthrob.
Where is he now?
For much of his adult life, Bolt has been a medical training officer of the Los Angeles Police Academy, and a captain of the Los Angeles Police Department.
Sherman also founded the Bobby Sherman Volunteer EMT Foundation, which provides volunteer EMTs to local community events.
Dolores Hart
Who was she?
Susan Jessup of "Loving You," Clare in "Francis of Assisi" and two-time co-star to Elvis Presley.
Where is she now?
Reverend Mother Dolores Hart is a prioress at the Benedictine Abbey of Regina Laudis in Bethlehem, Conn.
Hart returned to film one last time in 2006, to star in the Academy Award-nominated documentary about her life titled "God is the Bigger Elvis."
Heather Donahue
Who was she?
The main character of cult-classic "The Blair Witch Project."
Where is she now?
Donahue transitioned to the literary life as the author of "Growgirl," a memoir about her experiences growing medical-grade marijuana after deciding to give up acting.
Donahue reached the decision to start growing pot by burning the remains of her Hollywood days in the desert and meditating.
So there you have it, LaBeouf. It really is possible to step out of the spotlight! And not one of these actors had to stick his or her head in a bag.