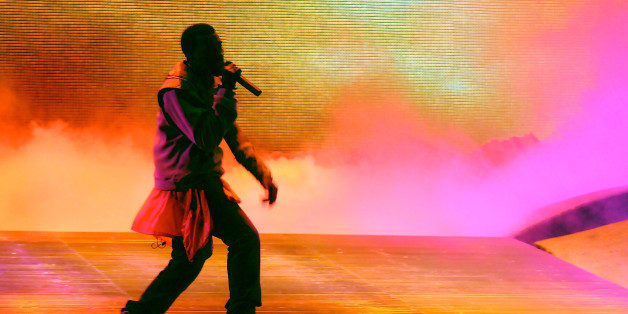 Kanye West was announced as a headliner for 2014's Bonnaroo Music and Arts Festival on Wednesday, meaning the rap superstar will return to the scene of one of his most infamous live appearances.
Back in 2008, West was booed and heckled by Bonnaroo fans for his performance, which didn't start until 4:45 a.m., almost two hours after its scheduled time. In the months after the event, West blasted Bonnaroo on his now-defunct blog for the festival's shoddy planning and staff. He also cited the fact that Pearl Jam, the band who played before West's scheduled time slot, had ended its set an hour late, causing more set-up delays. Here's one all-caps section, via Rolling Stone:
"WE WERE OBVIOUSLY DEALING WITH FUCKING IDIOTS WHO DIDN'T REALLY HAVE THE CAPACITY TO REALLY PUT ON THIS SHOW PROPERLY. THEY TRIED 2 GIVE ME A TIME SLOT WHERE IT WAS STILL LIGHT OUTSIDE ... I HAVE A FUCKING LIGHT SHOW DUMB ASS, IT'S NOT CALLED GLOW IN THE DARK FOR NO REASON SQUID BRAINS!"
In response to West's commentary, Bonnaroo representatives released a statement defending the festival's "world-class-event production team" which "strives to accommodate the needs of every performer."
"We will continue to present the highest level of production while representing the best interests of our audience, staff and performers," the statement read (via MTV), without making reference to West.
It's all water under the bridge now, apparently, as West will perform at Bonnaroo with the likes of Elton John, Vampire Weekend, Jack White, Lionel Richie, Frank Ocean, Neutral Milk Hotel, Lauryn Hill and more. Check out the full Bonnaroo lineup here; watch video of West being booed in 2008 below.
[h/t @alexjsuskind]
BEFORE YOU GO
PHOTO GALLERY
Celebrity News & Photos