With the death toll already at 50 and rising in two days of violence, clashes in Kiev, Ukraine, show no signs of slowing down, despite President Viktor Yanukovych's announcement of a truce on Wednesday evening. Though the protests have persisted for nearly three months, the bloodiest days of unrest have come this week after both Russia and the European Union maneuvered to further influence the former Soviet state.
WARNING: THESE VIDEOS CONTAIN GRAPHIC CONTENT
A multitude of videos circulating the Internet show the outrageous levels of violence in the Ukrainian capital. In one video from Radio Svoboda, Radio Free Europe's Russian service, a riot policeman with an unmistakable AK-47 assault rifle fires off the screen.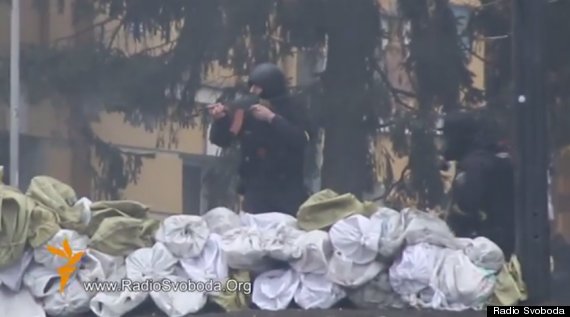 The video then cuts to footage of a sniper in the prone position, flanked by other police. Eventually, they all scamper out of frame.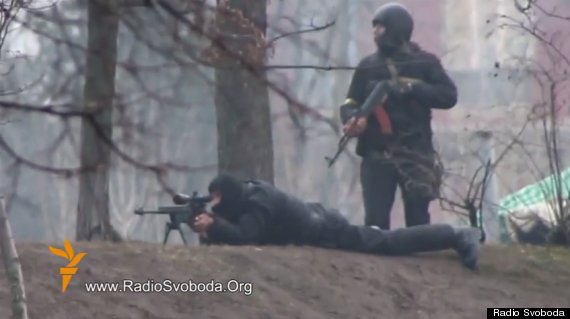 In a Sky News video, another riot police officer fires his AK-47 as he retreats down a street.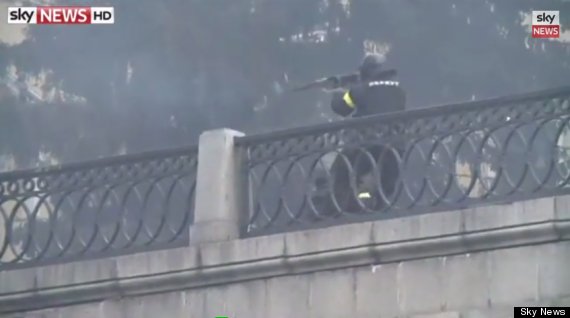 It's unclear what he's firing at, though the news anchor suggests some sort of "firework" went off above the police.
In another disturbing clip, protesters shuffle down a street in a testudo formation behind repurposed and makeshift shields.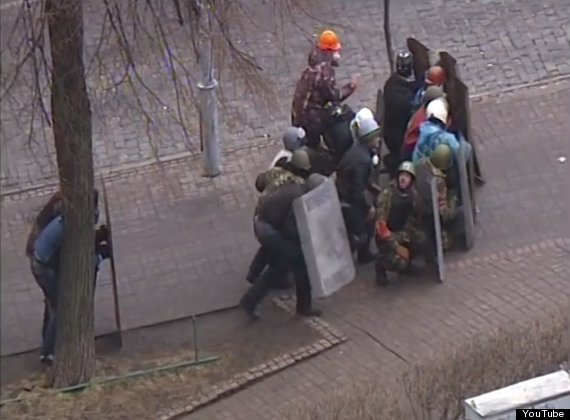 Gunshots ring out as the group plods down the street. But eventually, the assault proves too much for the shields, and one by one, protesters appear to be picked off by gunfire.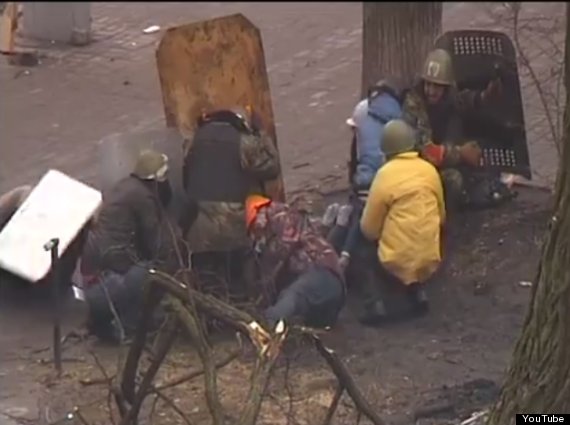 One rolls for cover after appearing to be shot. Another clutches his hamstring in pain.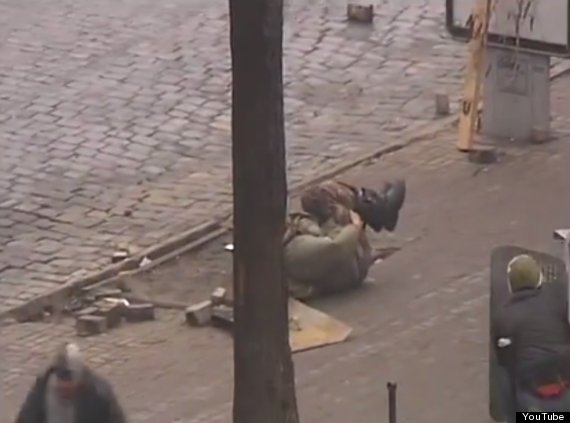 What was once a group a dozen deep has scattered into an every-man-for-himself display of self-preservation.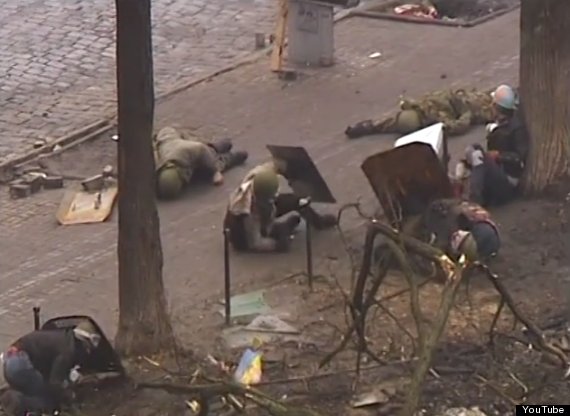 Fellow protesters and medics drag away the wounded and possibly dead.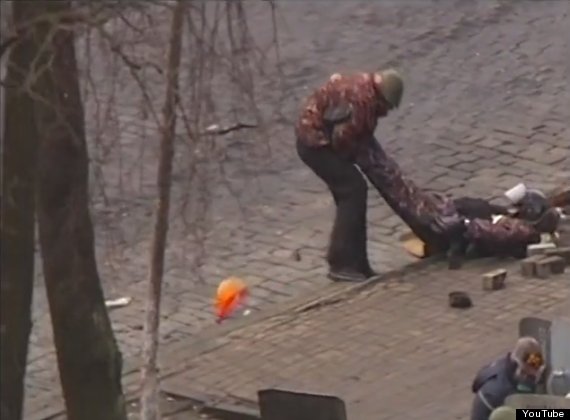 But before long, another tortoise of shields assembles and moves forward again.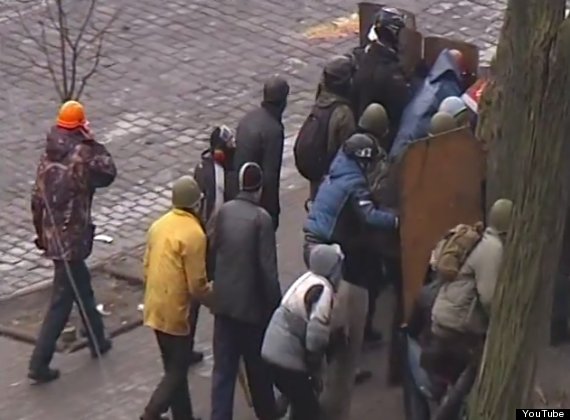 The YouTube channel of Ukrainian journalist Artem Shevchenko displays some of the most disturbing images yet. As the cameraman walks parallel to police barricades, battered and bloodied people lie in Kiev's streets.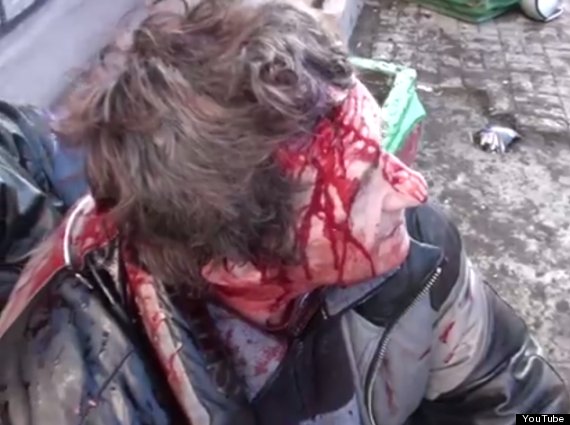 Further along, what appear to be dead or unconscious bodies sit slumped against buildings.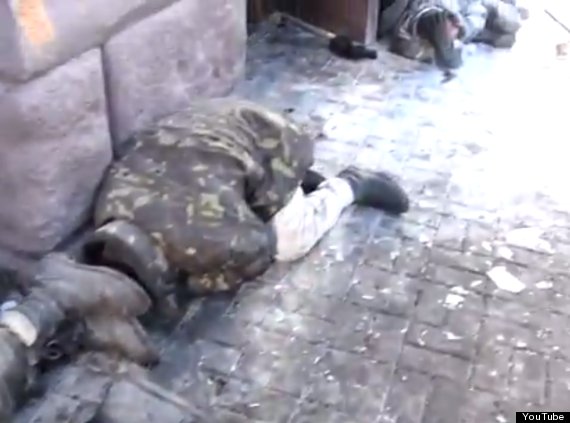 Police tend to an injured man.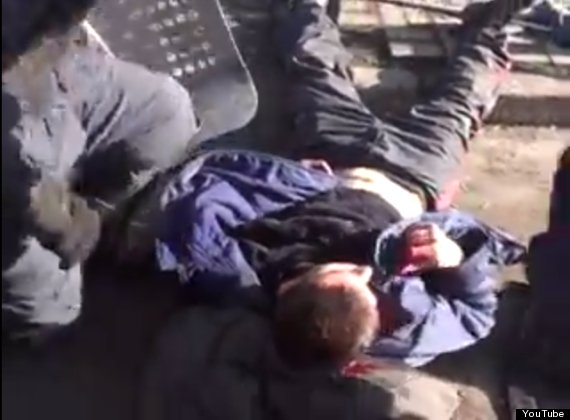 Others limp or are carried away to ambulances.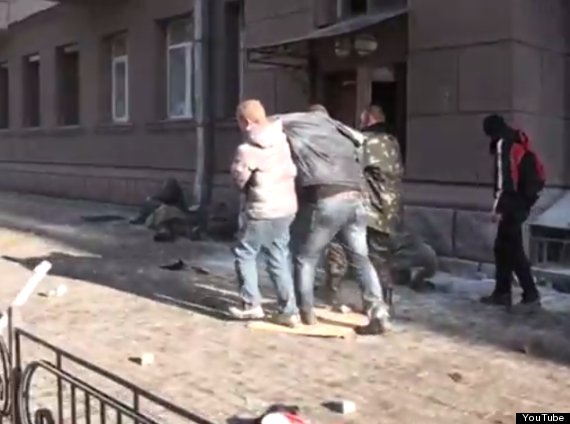 Beyond the ambulances, a pair of medics attempt to resuscitate a man lying on the ground.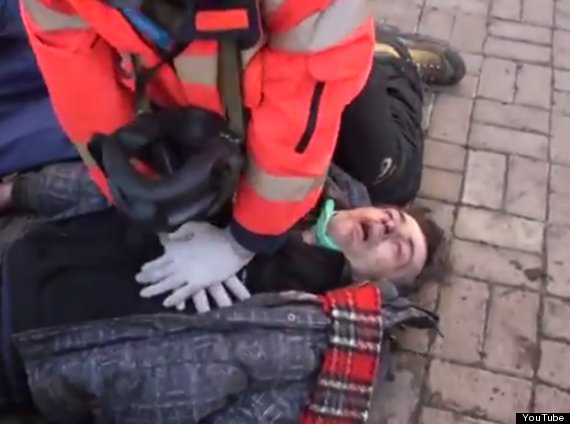 Further away, the cameraman checks the pulse of a man lying unconscious.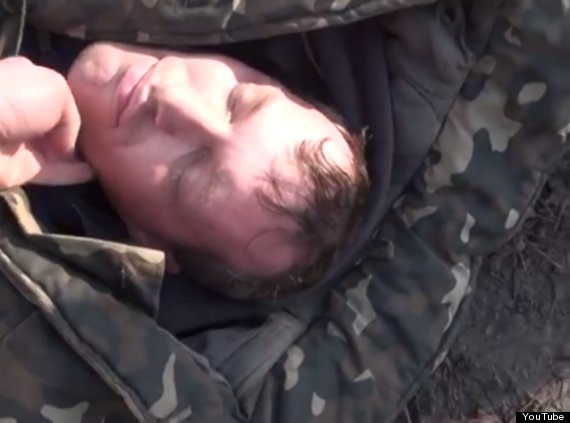 Another man in the distance appears unconscious or possibly dead.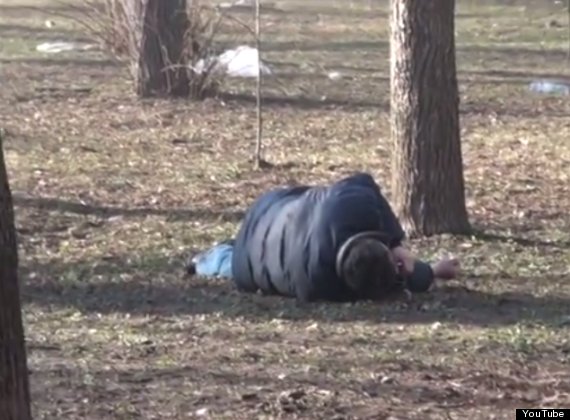 .
Bodies line the streets of Kiev, and no end to the bloodshed appears to be in sight. Protesters have taken 67 policemen hostage, and the government has declared riot police "have the right to use" combat weapons to free the police hostages.
The violence in Ukraine has drawn condemnation from around the world, and has put the tug-of-war between East and West in Ukraine into full public view. U.S. President Barack Obama urged on Wednesday for Ukraine's military to show "restraint and for the government to withdraw riot police." But earlier Thursday, Russia stoked the fires, with Russian Prime Minister warning Ukrainian President Viktor Yanukovych to not allow opponents to walk over him "like a doormat."
BEFORE YOU GO
PHOTO GALLERY
Ukraine's Protests Reignite