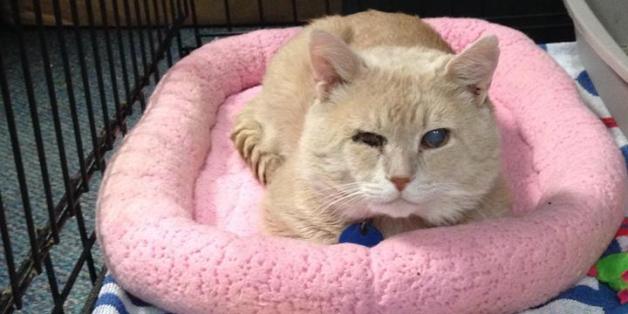 Authorities still don't know who shot Arrow the cat with dozens of BB pellets -- many in his head, even more in the rest of him.
The cat, believed to be about five years old, lived through the attack and was found on Jan. 18 near a mall in Northern Virginia. He was "on death's door," says Kerry McKeel, spokesperson for the Animal Welfare League of Arlington, where he was taken. "Sixty-six BB gun pellets. Or might be shotgun pellets. We don't know."
At the time, Arrow -- as AWLA named him -- was blind in one eye. His other eye was badly damaged. X-rays presented evidence of horrifying abuse. It was just luck that his insides weren't too badly injured for the cat to survive.
"I personally have never seen an animal filled with buckshot," Animal Welfare League of Arlington chief operating officer Susan Sherman told the local ABC affiliate.
"In our field we see a lot, but to see an animal like this and he's still so sweet, but to see what he's been through, and intentionally -- this is very difficult to take in," AWLA development associate Juliana Willems said to the station.
This is one tough tabby. Arrow's injured eye has been removed but the pellets are still in his body (AWLA said in a recent Facebook post that while "it was shocking to see so many BBs in one animal, there was no medical reason to remove them, as it would cause more trauma"). He's been neutered and had his teeth fixed up.

While community members are unhappy that the person who shot Arrow hasn't yet been caught, the cat himself is on the mend. Arlington Patch found Arrow content during a recent visit. AWLA said on its Facebook page that Arrow is "recuperating very well."
"He purrs, he cuddles, he's sweet, he looks great, he's friendly, he's not angry at people," Charnita Fox, who works in animal care at AWLA, said to WUSA9, "which is shocking because if that were to happen to me, I wouldn't want to be around people."
It seems like people want to be around Arrow as well.
Seriously, if I was in the position to I would be trying to adopt this poor cat right now. http://t.co/GAvD4RwMt1 pic.twitter.com/V6UWYtjhDw

— Nick Horowitz (@ztiworoh) February 20, 2014
McKeel says that since Arrow's story first came out, donations have been made both to care for him and to help improve conditions for the shelter's cats more generally.
AWLA's also "gotten significant interest from the public, wanting to adopt him," McKeel says. "We anticipate next weekend we'll open the adoption process."


ALSO ON HUFFPOST:
PHOTO GALLERY
BEFORE YOU GO
Animals In The News
PHOTO GALLERY
Animals In The News