WASHINGTON -- In January 2010, as newly elected New Jersey Gov. Chris Christie (R) took office, there was a major change at the top of the Drumthwacket Foundation, a nonprofit that has restored and helps maintain the majestic, white-columned governor's mansion in Princeton, N.J.
John Strangfeld, the chairman of insurance giant Prudential, and his wife, Mary Kay Strangfeld, volunteered to serve in the top two positions on the foundation's board. They were elected chairman and vice chairman, respectively, by the rest of the board that same month.
The posts may have appeared largely ceremonial. But within the Christie universe, they were significant. The governor and his family don't live at the mansion, but the first couple is invested in its restoration and upkeep. In 2012, Chris and Mary Pat Christie hosted 72 events there, or about one every five days. The governor is the honorary chairman of the Drumthwacket Foundation. His wife is the president.
The Strangfelds, in turn, played the role of fundraiser. Behind the scenes, they helped raise money from other donors to ensure the foundation's success, and they were good at it. Prudential itself has given gifts totaling at least $150,000 over the last several years.
In November 2011, as the foundation's revenues skyrocketed, the Christie administration awarded Prudential a record-setting $250 million tax incentive to move its Newark headquarters a few blocks down the street, to a shiny new glass office tower.
From the start, there were questions about the deal. Typically, corporate tax breaks are granted on the basis of how many jobs a company will create using the money it's saving on taxes. At the time of the Prudential deal, New Jersey's tax incentive programs gave out an average of $167,000 per job. But Prudential received three times that, a whopping $527,000 per job, in a deal approved by the Christie-controlled New Jersey Economic Development Authority. When asked at the time why the award was so high, a spokesman for the governor said the tax break was about development more than it was about jobs.
In a statement to The Huffington Post, Prudential spokesman Bob DeFillippo said, "John and Mary Kay Strangfeld are proud to have helped restore one of New Jersey's most historically important landmarks, and Prudential was pleased to be among the state's many corporate citizens to have contributed to that effort." Robyn Brenner, executive director of the Drumthwacket Foundation, said the company had been a donor since before the Christie administration.
But others saw more questionable motives and connections. In interviews with HuffPost, two New Jersey political operatives, one Republican and one Democrat, brought up Drumthwacket as a potential factor in the Prudential tax incentive. Neither would discuss it on the record because they both still do business with the state government. Christie's office declined to comment, referring questions to the Drumthwacket Foundation.
Ken Berger, president of the nonprofit rating group Guidestar, called the Strangfelds' election to the top board posts "very unusual" and "worrisome," all the more so because Prudential has ongoing business with the state. "It's very unusual for someone to simply rocket right to the top of a nonprofit board, and even more unusual for two spouses to do so," he said.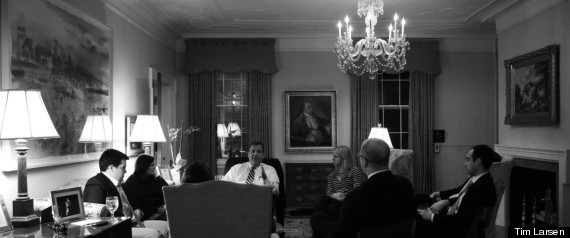 Gov. Christie, first lady Mary Pat Christie and staff wait out the snowstorm, which canceled the Inaugural celebration, at Drumthwacket on Jan. 21, 2014.
Since winning reelection in November 2013, Christie and his administration have struggled to contain the damage from a growing litany of scandals, including the politically motivated traffic jam known as Bridgegate and a federal investigation into whether Christie misused Hurricane Sandy recovery funds. At the core of both controversies are questions about how Christie wields his power as governor of one of the wealthiest states in the nation. The Drumthwacket Foundation and its lengthy list of donors -- including the Strangfelds -- offer another glimpse of a leadership style that has raised concerns about Christie's viability as a presidential candidate.
Thanks to its colorful history of corruption, New Jersey has some of the toughest money-in-politics laws in the country, aimed at blocking companies from influencing government with financial largesse. But these laws don't apply to nonprofits like Drumthwacket. In 2008, then-Gov. Jon Corzine (D) exempted nonprofits from the state's pay-to-play laws.
For many years, the Drumthwacket Foundation was a modest endeavor, aimed at "curating" and preserving the historic 19th century mansion. No governor has resided there since 2004. And during Corzine's tenure, from 2006 to 2009, the average annual revenues were around $125,000.
But the Christies had a different vision for the site, one that could help burnish the governor's public image. Within weeks of becoming first lady of New Jersey in 2010, Mary Pat Christie assumed the title of president of the Drumthwacket Foundation, a position that hadn't existed under the previous administration. Vowing to revitalize the house as a point of pride for the state's residents, the governor and his wife launched a new corporate sponsorship program for Drumthwacket, dubbed the New Jersey Pride Corporate Campaign.
Donors responded immediately. By 2011, the first lady had increased the foundation's total revenues to more than $1 million a year, according to Internal Revenue Service records.
Brenner of the Drumthwacket Foundation told HuffPost that the first family "wanted to leave this historic mansion in far better condition than they found it and to expand its use by the public as well as for educational purposes."
A review of IRS records and Drumthwacket donor lists, however, suggest that prospective donors saw the mansion as something more than just an altruistic investment. Contributions to Drumthwacket often coincided with the donors' attempts to win tax breaks, political appointments or other support from Christie and his appointees. In many cases, the donors, like the Strangfelds, got what they wanted.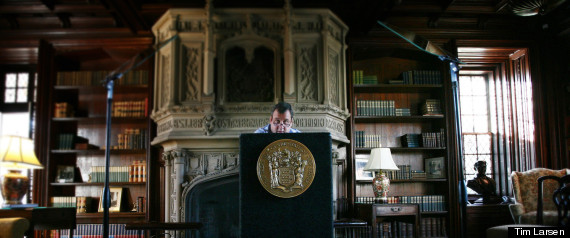 Christie prepares for his State of the State address in the library at Drumthwacket on Jan. 7, 2014.
New Jersey real estate developer Kurt Conti first appeared on the Drumthwacket donor rolls in February 2011 with a gift at the $50,000 level (Drumthwacket lists donors under broad categories based on how much they gave). Overnight, Conti was among the top donors to the foundation.
At the time, his construction company was bidding on two state contracts worth a combined $211 million. Conti won them both, the first on May 24, 2011, for $143 million, and the second less than two weeks later, for $68 million. But Conti's generosity was short-lived. In 2012, he did not donate at all to Drumthwacket.
A message left with Conti's construction company seeking comment was not returned. A spokesman for Gov. Christie's office, meanwhile, referred all questions about Drumthwacket to the foundation itself.
"Drumthwacket Foundation is an independent, non-partisan and non-profit organization that is run exclusively by the Foundation and its board," said Christie spokesman Colin Reed in a statement to HuffPost. "All trustees of the Board are elected by the Board at their annual meeting."
Guidestar's Berger, however, said that well-timed donations like these run the risk of undermining public trust. "To be seen as greasing the skids of political patronage can be a very dangerous thing," he said. "You would hope that there is true corporate philanthropy, but if donors are largely political or interested in state money, it raises questions about the nonprofit. And if there's a sense that it's a quid pro quo, that is not what you want."
Bayer Pharmaceuticals, which has New Jersey offices, also made a major gift to Drumthwacket at a politically opportune time, according to foundation records. Bayer donated to Drumthwacket at the $15,000 level in 2011, the same year it secured a package of tax breaks from the state Economic Development Authority worth more than $36 million. Bayer did not repeat its donation in 2012.
A spokesman for the company said, "Bayer was pleased and honored to join leading New Jersey corporations and citizens in support of a non-partisan effort to help maintain and restore Drumthwacket," but declined further comment.
As Bayer was seeking tax breaks, New Jersey businessman Robert Harris was trying to obtain an appointment to the powerful New Jersey Sports & Exposition Authority, which oversees MetLife Stadium and the Meadowlands racetrack. A longtime Christie political backer, Harris, like Conti, first appeared on the mansion's donor list in February 2011. In May of that year, Christie announced he would appoint Harris commissioner of the sports authority. Harris did not respond to a call and and an email about his donations.
It wasn't just New Jersey figures donating to Drumthwacket. The Prem Reddy Foundation, named for the head of the California-based hospital network Prime Healthcare Services, made a $25,000 contribution to Drumthwacket in September 2011. It was the foundation's first and only donation to the mansion of a governor who lived 3,000 miles away. Months earlier, Prime Healthcare had announced plans to take over a struggling hospital in Jersey City, N.J. The purchase required state approval. But that process stalled amid opposition from a nurses' union. The buyout proposal ultimately fell through in late 2011, a few months before the hospital itself went bankrupt.
The Cooper Hospital Foundation also donated tens of thousands of dollars to Drumthwacket at a politically opportune time. In late 2010, a Christie-appointed task force was considering a proposal to consolidate a number of hospitals in southern New Jersey, a plan that would have greatly expanded Cooper's reach. Cooper first appeared on the Drumthwacket donor list in early 2011, at the $25,000 level. The updated donor list was released just weeks after Christie's task force recommended the state move aheadwith the hospital consolidation.
In 2012, prominent real estate developer Murray Kushner's KRE Group announced plans to take over a massive Jersey City development project, one it hoped would receive funding from the state under Christie's tax incentive programs. As the company laid the groundwork for the project, KRE gave $10,000 to the Drumthwacket Foundation, its first major donation to the governor's mansion. In April of the following year, the state Economic Development Authority awarded KRE's Journal Square Project $33 million in tax credits.
Even Donald Trump jumped on the Drumthwacket bandwagon. In 2011, the New York-based real estate mogul needed Christie's blessing to obtain permits to build a personal cemetery on the fairway at the Trump National Golf Club in New Jersey. The plan wasn't popular with locals, but Trump teed up his proposal with a $5,000 donation to Drumthwacket. As the permit process continued, Trump grew more generous, giving $10,000 in 2012 and another $10,000 in 2013. In September 2013, his cemetery permit was approved.
While Trump, Cooper Hospital, Kushner, Reddy and Harris all donated to Drumthwacket when they needed a green light from the Christie administration, other individuals and companies donated to the governor's mansion when they ran into trouble.
In the fall of 2011, The New York Times launched an investigation into a for-profit correctional company that employed one of Christie's close friends. Bill Palatucci, who would later chair Christie's 2013 reelection campaign, was general counsel for Community Education Centers (CEC), which contracted with the state to operate halfway houses and transitional detention facilities.
When the Christie administration learned of the Times investigation in late 2011, it responded with a series of measures aimed at curbing the frequent escapes documented at CEC facilities. When a new Drumthwacket donor list came out, dated Dec. 7, 2011, CEC was among the $25,000 donors. Over the next two years, the company shelled out another $50,000 to the mansion fund.
In June 2012, the New Jersey legislature held hearings on the CEC matter and imposed a $45,000 fine on the company for failing to inform the state when inmates failed to check in. But the state did not sever its business ties with CEC. When the company's contracts came up for renewal in April 2013, the New Jersey Department of Corrections approved the multimillion-dollar agreements.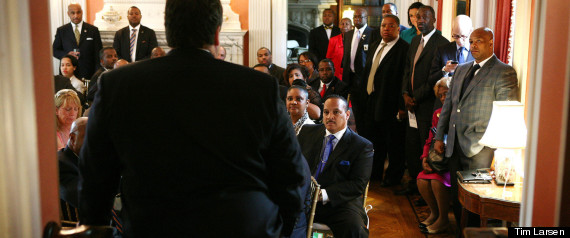 Christie gathers with African-American leaders to recognize "Juneteenth Day," or June 19th, at Drumthwacket in 2011.
In New Jersey, two significant factors help explain why so many of the state's companies and CEOs may look to the Drumthwacket Foundation to curry political favor.
The first is that the governorship of New Jersey is the most powerful in the nation. In most states, positions like state comptroller and attorney general are elected offices, chosen by the voters. In New Jersey, the governor appoints every cabinet-level official, judge and county prosecutor. New Jersey law also grants the governor the power to veto state spending one item at a time.
A second factor that makes the mansion such an attractive option for donors is that New Jersey's anti-corruption laws are the toughest in the country. Major state contractors are prohibited from contributing to state political candidates' campaigns, as are publicly regulated utility companies and financial firms that manage state pension funds. Lobbying, too, is more transparent in the state than practically anywhere else. With major options for exerting influence on politicians cut off, special interests and corporations in New Jersey are forced to find other ways to put themselves in the good graces of the powerful.
For political groups, a gift to Drumthwacket can be used to signal their level of support for the governor. The Laborers' International Union of North America has given to Drumthwacket every year since 1999, said Brenner. But as Christie backed a series of union-supported construction projects in his first term, LIUNA's donations to the mansion increased each year. In 2011, the group gave at the $2,500 level, according to donor rolls. In 2012, it doubled its donation to $5,000, and in December of that year, LIUNA endorsed Christie's bid for a second term. In 2013, as the union campaigned for Christie across the state, its donation to Drumthwacket went up again. By the end of last year, LIUNA was listed among the donors that had given between $10,000 and $15,000 that year.
Of course, Drumthwacket is not just a recipient of funds. Christie uses the historic mansion as a place to conduct state business and solidify political ties. When a group of influential Iowa Republican leaders came to New Jersey in May 2011 to encourage him to run for president, he met with them at Drumthwacket. When the governor wanted to woo lawmakers from the opposition party, he hosted them at the mansion. Perhaps not surprisingly, Drumthwacket's top donors are scattered more or less evenly across the political spectrum, based on a review of the political contributions made by top sponsors of the mansion fund.

Christie even hosted a private lunch there in 2010 for the two Democratic mayors who would later become pivotal figures in the scandals now engulfing his administration: Fort Lee Mayor Mike Sokolich, whom Christie aides punished with traffic jams near the George Washington Bridge in 2013 after Sokolich refused to endorse the governor's reelection bid, and Hoboken Mayor Dawn Zimmer, who alleges that the Christie administration held up Hurricane Sandy disaster relief funds from her city until she backed a major real estate development. Sokolich called the meeting with Christie "very meaningful," saying he and Zimmer enjoyed beef tenderloin with cream sauce at Drumthwacket.

Andrew Perez contributed reporting.
CLARIFICATION: An earlier version of this story said the New Jersey Sports & Exposition Authority oversees Giants Stadium. In fact, the sports authority oversaw that stadium until it was demolished in 2010 and replaced by the facility now known as MetLife Stadium.
BEFORE YOU GO
PHOTO GALLERY
Chris Christie Is Absolutely Shocked