 From an anti-nuclear nun, to solar power in Kenyan slums, to the uprisings in the Ukraine, here is your round-up of this week's stories of impact from around the web.
1. Malala Helps Syrian Children Refugees Cross Jordanian Border "After nearly getting killed by the Taliban for fighting for girls' education rights, Malala Yousafzai is doing whatever she can to protect Syrian refugee children -- and grant them access to learning. On Sunday, Malala, along with her father, Ziauddin, and a team from the Malala Fund -- an organization that is working to empower girls across the globe -- helped hundreds of Syrian refugees cross from their war-torn country into Jordan, according to her organization's blog."
Read the rest of the story from The Huffington Post.
2. What You Should Know About Ukraine
"Ukraine is a divided country caught in an increasingly violent tug of war between its past and future."
Read the rest of the story from Time magazine.
3. Pussy Riot Whipped By Cossack Militia In Sochi To Stop Performance "After a fairly tame first 10 days of the Olympic Games -- at least by Russian protest standards -- members of Pussy Riot were briefly detained Tuesday in connection with a theft in their hotel. The highest-profile members of the punk rock collective, Nadezhda Tolokonnikova and Maria Alekhina, were freed along with seven others after questioning by police. Within 24 hours, however, the anti-Putin protesters staged an impromptu performance."
Read the rest of the story from HuffPost.
4. Venezuela: What's The Crisis About? "Venezuelans have taken to the streets in recent days, leading to gruesome clashes between protesters and police. Their demands are varied, from economic to social. Here's a Q and A to bring you up to speed with what's going on."
Read the rest of the story from CNN.
5. Somalia Hunger Crisis 'Very Ominous' As More Than 850,000 People Face Starvation: UN (How To Help)
"More than 850,000 people in Somalia are in desperate need of food and are grappling with "crisis and emergency conditions," the United Nations announced on Tuesday."
Read the rest of the story from HuffPost.
6. Cheap, Green Solar Bottles Light Up Kenyan Slum
"It's a hot afternoon in Nairobi's Kibera slum, but 32-year-old Michael Matare is comfortable in his tiny room. The house is brightly lit by two plastic water bottles jutting out of the ceiling. Between them hangs a 100-watt bulb, but it isn't needed."
Read the rest of the story from Reuters Foundation.
7. Anti-Nuclear Whistleblowers Are Being Blown Away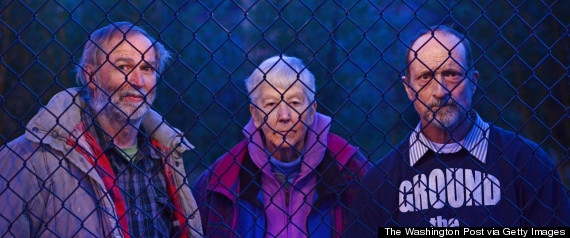 "One wouldn't imagine an 84-year-old nun and a nuclear plant's safety manager having much in common, but whistleblowers and anti-nuclear protesters have provoked harsh rebuke after shedding light on shocking security failures at U.S. nuclear sites."
Read the rest of the story from TakePart.
8. Mark Ruffalo: 'Our Water Is The Most Precious Thing That We Have Right Now' (VIDEO)
"Actor Mark Ruffalo joined HuffPost Live Thursday morning to discuss a range of topics on water conservation, from regulation to fracking. Ruffalo founded Water Defense, a group that advocates for safe drinking water."
Read the rest of the story from HuffPost.
9. U.S. Ranks Low In First-Ever Global Index Of LGBT Inclusion In Armed Forces
"The enduring ban on transgender individuals serving in the US military has earned America a low ranking in the first global league table of LGBT inclusion in the armed forces."
Read the rest of the story from The Guardian.
10. Protesters Demand Google Stop Funding Climate Change Deniers
"Several dozen people gathered at Google's headquarters on Tuesday to protest the company's membership in the American Legislative Exchange Council (ALEC), a right-wing group known to be one of the most influential climate change deniers."
Read the rest of the story from HuffPost.