We've had more than two weeks of jaw-dropping Winter Olympic glory. But doesn't it feel like we just donned our patriotic gear, and now somehow it's already time to watch the closing ceremonies?
We'll be sad to see the end of the Sochi games, but thanks to some awe-inspiring moments and wise lessons learned, we'll carry them with us -- until next time.
1. Once you accomplish a goal, reach even higher.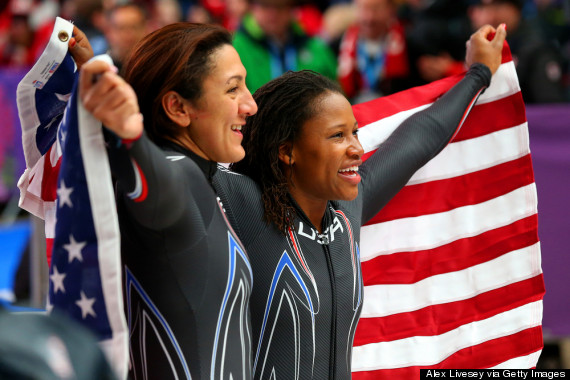 Lauryn Williams (above, right) became the fifth athlete overall and first American woman ever to win a medal at both the Summer and Winter Olympics when she and driver Elana Meyers finished second in the bobsled in Sochi. She'll add that silver to her collection; she's the proud owner of a gold medal in the women's 4×100 relay from London in 2012 and a silver for the 100-meter sprint in 2004, Forbes reported.
And even though Lolo Jones had less success with the same transition, we think it's pretty impressive that both women weren't satisfied "just" being superstar runners, but kept pushing themselves to try new things, learn new skills and reach new heights -- or speeds, as the case may be.
2. Play it safe.
At one point, it wasn't all that common to see skiers and snowboarders hit the slopes without a helmet. Take Johnny Moseley, for example, who won gold in 1998 wearing what appears to be just a bandana.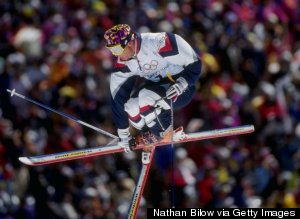 But witnessing frightening crashes like Czech snowboarder Sarka Pancochova's helmet-cracking slopestyle tumble reminds us they're there for a reason. Even if we're just buckling our seat belts, we're convinced.
3. Know your limits.
Shaun White took a lot of flak for withdrawing from slopestyle so close to the competition. But we'd venture to say the decision is worth at least some praise. "With the practice runs I have taken, even after course modifications and watching fellow athletes get hurt, the potential risk of injury is a bit too much for me to gamble my other Olympics goals on," he said in a statement. It's one thing to push yourself; it's another entirely to put yourself in harm's way.
Although not an athlete at the Games, Bob Costas also knew when to say when in Sochi. He exemplified a lesson we whole-heartedly support: Don't go to work when you're contagious!
4. Don't keep doing the same thing and expect different results.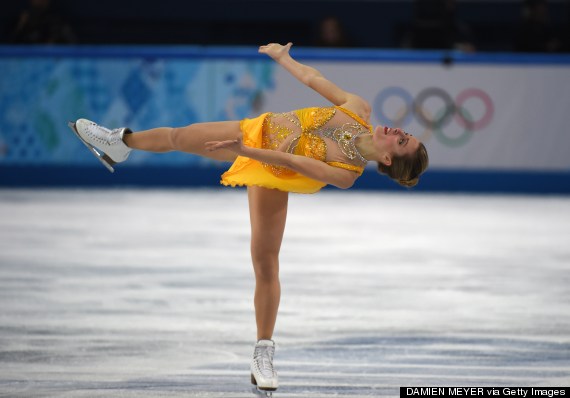 If something isn't working, whether it be at the office, in a relationship or with a fitness routine, make a change. Figure skater Gracie Gold switched coaches mere months before heading to Sochi, and less than three weeks before the Games, fellow figure skater Ashley Wagner (above) switched back to her previous season's long program after she fell twice during the new one at nationals, USA Today reported. While there's certainly comfort in routine, some change is (obviously!) good.
5. Find a de-stressing ritual that works.
While our own anxiety and stress most likely doesn't come from competing in a sport we love on the international stage, we certainly all have moments where we need some serious centering. Having a fool-proof stress-buster up your sleeve can't hurt, even if it only helps you make a work presentation or talk calmly to your spouse rather than pull off a triple salchow. A number of Olympic athletes have given fans glimpses of their pre-game rituals (luger Kate Hansen's dance moves are not to be missed), but we're particularly fond of Gracie Gold's surprising choice: She juggles! "It's always been my thing," she told Shape.com. "It's definitely my quirkiest pre-competition routine!"
6. Limit your screen time.
Okay, so this one we didn't exactly learn from the athletes, but bear with us: Many of the most exciting events aired live -- at the crack of dawn. And people actually tuned in!
Olympics messing with my sleep pattern! Up late to watch curling, up early to watch hockey and speedskating! #blearyeyed #Sochi2014

— Rob Faulds (@SNFaulds) February 15, 2014
Not only did exciting matchups cut into sleep time, the Games kept us glued to streaming laptops and prime-time broadcasts more than usual. And it's not like anyone needs to be sitting down staring at a screen more.
7. Prioritize sleep.
Speaking of sleep, we'd like to award a very special gold medal in sleep appreciation to Jeremy Abbott. Not only did the American figure skater bring his own queen-sized air mattress to Sochi, he also eventually left the Olympic village to find some focus. "I had to step away and think, 'All right, I have a whole week and a half to really live this experience,'" he told NBCOlympics.com. "I came here to do a job and I have to stick to my business."
When it comes to performing at work -- on the ice and off -- skimping on sleep is bad news. It decreases workplace productivity, increases work-related accidents and injuries, not to mention raises the risk of serious health problems like stroke, obesity, diabetes and earlier death.
8. Get up after you fall -- literally.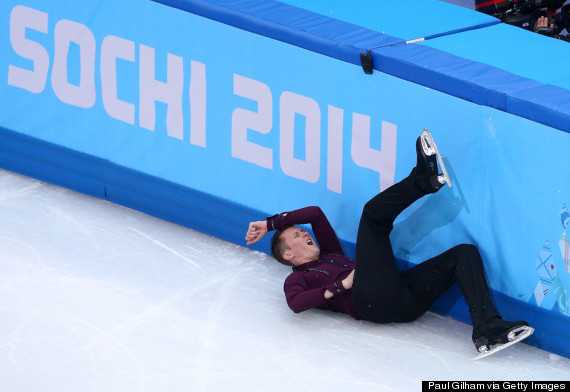 There's more to learn from Jeremy Abbott: He took a tough tumble during his short program and lay on the ice in pain for 10 to 20 seconds before climbing back to his feet. But as the crowd started to clap and cheer, he decided to carry on. "I don't care if I'm two minutes late," he later told reporters he thought at the time. "I don't care what happens with the rest of this. I'm going start to finish. I'm not going to give up this moment."
Russian figure skater Julia Lipnitskaia also picked herself up after falling, and, despite an emotional interview after receiving her scores, told reporters, "I will fight tomorrow." Life can knock us down in any number of literal and figurative ways, but it's how we handle those setbacks that help us grow and succeed.
9. Pioneer your cause.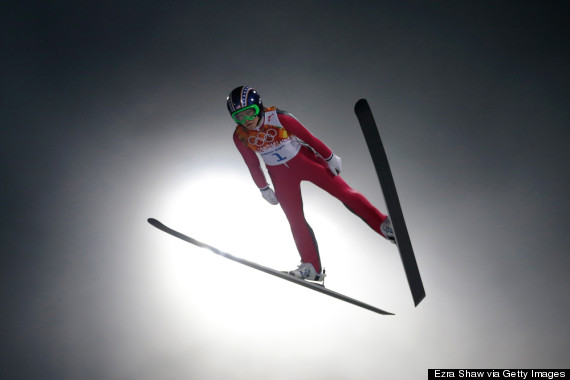 The 2014 Games are the very first Winter Olympics to include women's ski jumping (yes, 90 years after the first men's competition). The trailblazers who competed have been doing so for years in various national and international competitions, but it took a lawsuit and more casual protests to throw out bogus speculation that ski jumping simply wasn't safe for women to get it included in the Olympics. The pioneers who took to the sky over Sochi this year, like Sarah Hendrickson (above) and Jessica Jerome from the U.S. and medal winners Carina Vogt, Daniela Iraschko-Stolz and Coline Mattel inspire us all to never give up just because someone tells you no.
10. Find a furry friend.
After Sochi officials made headlines for planning to kill many of the area's stray dogs, outraged fans and athletes alike struck up an effort to find at least some of the pups happy homes. A number of athletes have pledged to take a Sochi stray home with them -- a move which benefits not just the dogs but the athletes themselves: Having a lovable, happy-to-see-you pet can boost self-esteem, lower stress and even help protect kids against allergies.
11. Keep your loved ones close.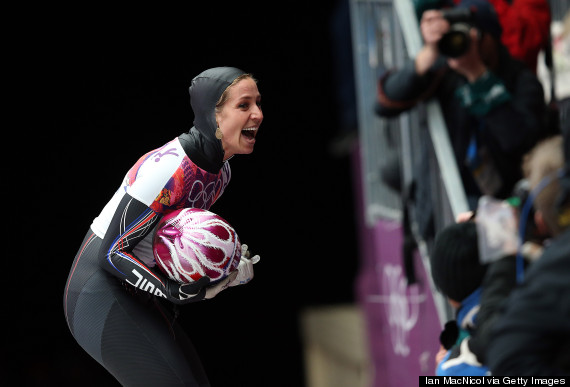 A furry friend can't be your only support, however. Studies show that a tight-knit network of family and friends helps us keep stress at bay and may even help us live longer.
While many Olympians had family near throughout the highs and the lows of the Games, perhaps no one spoke more highly of her loved ones than the "fastest mom on ice," Noelle Pikus-Pace. She nabbed the silver in the skeleton -- a sport she had retired from after the 2010 Vancouver Games. After a miscarriage, she decided to return to sliding -- as long as her family could be with her. Her husband and two young children have traveled with her during training and competitions, and their efforts paid off: "With my family here, and the love and support, it's beyond words," she told USA Today. "Being a mom is my first priority and it always will be," she told the L.A. Times.
12. Accept disappointment but don't dwell.
A gold medal favorite in the moguls, skier Hannah Kearney was visibly upset with her bronze-medal finish. She was open and honest about her disappointment in her post-race interview with NBC. "Now that my Olympic career is over, the peak of my athletic career's in the past, that's a hard thing to handle," she said. "All I want to do is fight and earn another medal, but I'm not going four more years," she said before turning away from the camera in tears.
No one could fault her a heavy heart; who wouldn't be frustrated when years of training lead to just a few seconds when things don't go as planned? There's no shame in knowing you could have done better, but it's rare to see such honesty about disappointment. She wasn't down for long, though. In a later interview with ESPN, she reflected, "I wish I was able to shine on the largest stage, but life goes on."
13. Food is fuel.
Despite what those upsetting McDonald's commercials comparing a gold medal to a chicken nugget would have you believe, Olympic athletes actually know a thing or two about nutrition. Cross-country skier Kikkan Randall's pretty familiar with the idea that strong food choices make for strong performances. "Improving my diet has allowed me to have more good days in training because I put the right fuel in my body," she told HuffPost Healthy Living. "My energy levels have been more consistent, and my recovery is optimized so I can train harder in the next session.... [T]he closer you get to the top, the smaller the margins become and the harder it is to improve. You have to maximize every part of your training and lifestyle."
You may not have as small margins separating you from your peers, but the right diet choices can set you up for greater success. Take breakfast, for example: Eating a morning meal high in protein can help you ward off fatty, sugary snacks later in the day. And considering those fatty, sugary treats are the ones also most likely to rob you of sleep, add to your stress and contribute to inflammation, we consider that a medal-worthy idea.
14. Find your true inspiration.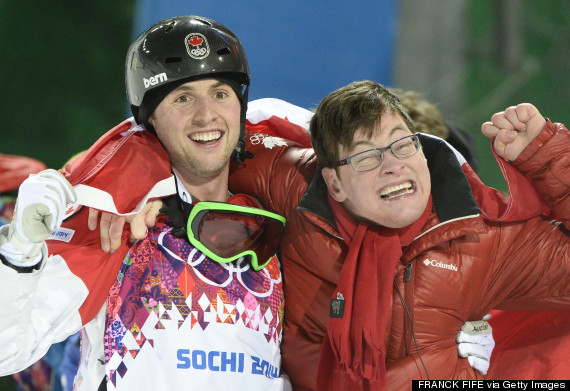 So many of us are motivated by money or power or flat abs that it's refreshing to hear stories like Canadian freestyle skier Alex Bilodeau's. After capturing the gold medal in what he's called his best performance ever, he celebrated with brother Frederic, who has cerebral palsy. "When I'm on my skis my colleagues are my inspiration, they are pushing me every day to be a better skier, to go faster, to go bigger. But a four-year process is very long, and when I wake up in the morning it's my brother," he told reporters. "[I]f he had had the chances like I did, he would have been four times Olympic champion. He's a great inspiration, a great person and he's going to be an inspiration for me after my career also," NBC reported.
BEFORE YOU GO
PHOTO GALLERY
Life Lessons From Running