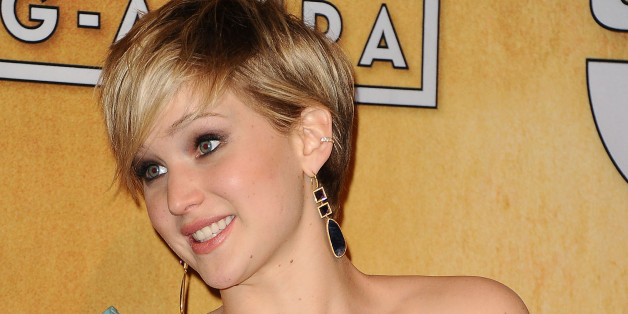 Back in January, Jennifer Lawrence won the Internet with how she reacted to hearing a major spoiler about "Homeland" on the red carpet for the SAG Awards. As it turns out, however, that wasn't Lawrence's first experience with finding out plot details before she was ready.
Speaking to The Hollywood Reporter, director David O. Russell revealed that he spoiled the ending of "Anna Karenina" for Lawrence during production on "Silver Linings Playbook."
So, she's reading this novel and has got this much of it left. Does anybody here know that book at all? Not everybody does because people are mostly reading text these days. So she, I go, 'Oh wow, you're down to almost the end, Jennifer.' I watched her reading it to this point. I go, 'Well, have you gotten to the part where she throws herself under the train tracks?' And she goes, 'What?' 'Oh, no, I was just joking around. I don't know.' She goes, 'Surely, surely Vronsky is coming back. Vronsky, surely he's coming back,' and she starts crying, she's sobbing. And I go, 'No, yeah, he's going to come back. Just keep reading it.' And she walks away from me sobbing. I've never had experience like that in my life. This 20-year-old person who is living every ounce of 'Anna Karenina.' And the fact the guy wasn't going to come back for the girl, just destroyed her. She felt it from the bottom of her toes. I don't know how to explain that.
There were no hard feelings between Lawrence and Russell: She went on to star in "American Hustle" for the director, a performance that earned Lawrence her second Oscar nomination in as many years. (Last year, Lawrence won Best Actress for her role in "Silver Linings Playbook.") The two are expected to collaborate again on a future project about the inventor of the Miracle Mop.
For more on Russell, head to THR.
BEFORE YOU GO
PHOTO GALLERY
Celebrity News & Photos