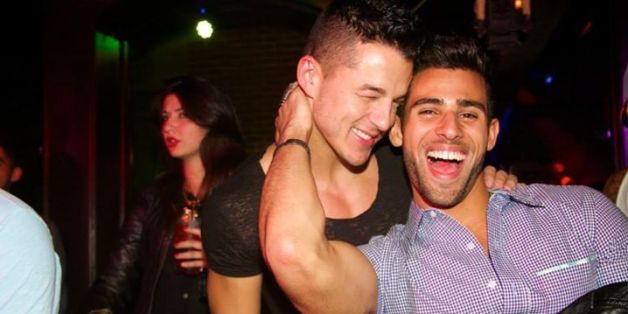 A popular gay bar in West Hollywood, Calif. is giving homophobic politicians a taste of their own intolerance.
The Abbey announced Monday that it is banning, effective immediately, any legislator who supports bills to discriminate against gays and lesbians. The bar is keeping a list of politicians who voted for such bills by the door for the bouncer's reference. Meanwhile, bar staff is currently compiling dozens of headshot photos of the politicians to put up as well, a representative from the bar told The Huffington Post.
The bar's "Deny Entry list" is in response to recent bills in state legislatures that would allow businesses, religious organizations and even public servants to discriminate against gay individuals. Such bills have been put forth in Kansas, Tennessee, South Dakota, Oregon, Arizona, Idaho and Maine. They come after high-profile stories around the countries of businesses getting blowback after denying same-sex couples wedding cakes, photography services and venues.
This isn't the first time in the headlines for the Abbey, once named the "Best Gay Bar in the World." The bar banned bachelorette parties in 2012, calling them a "slap in the face" because marriage wasn't legal for everyone. Staff members began permitting bachelorette parties again after the U.S. Supreme Court overruled California's gay marriage ban last year.
"When we banned bachelorette parties, we got calls from every red state with people saying they would never come to The Abbey. We got calls from blue states complaining about fighting discrimination with more discrimination," David Cooley, founder of The Abbey, said in a statement Monday. "I've learned that I can't stop crazy, ignorant or stupid but I can stop it from coming through my doors."
The Abbey encouraged other brands, hotels, retailers, restaurants, airlines and businesses to join the ban.
"I live in the 'Real America' too and more importantly, I live in the real world," Cooley said. "I want to send a message to all those people out there who conflate Christian values with discrimination: we don't want your kind here."
CORRECTION: A previous version of this article mischaracterized as "southern" the states where legislation similar to Arizona SB 1062 is pending.
BEFORE YOU GO
Other companies that support gay marriage equality.
PHOTO GALLERY
Companies That Support LGBT Rights