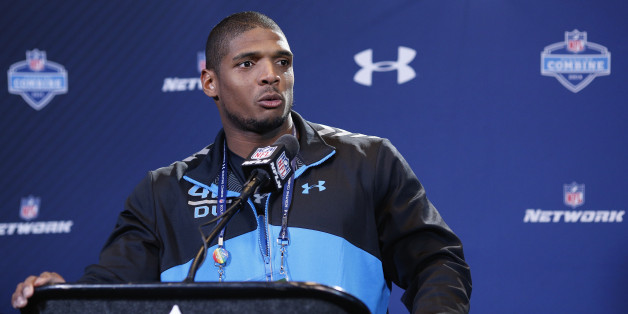 Michael Sam, a first-team All-American defensive lineman out of Missouri, dropped a "Back to the Future" reference on Tuesday when responding to a Republican lobbyist who wants him barred from the NFL. The 24-year-old college football standout recently announced that he is gay and is aiming to become the first out player in the NFL.
Lobbyists? Where Michael Sam is going he doesn't need the permission of any lobbyists.
With Sam in the spotlight while working out at the NFL Scouting Combine in Indianapolis this week, lobbyist Jack Burkman announced he is preparing legislation that would ban gay athletes from playing in the NFL. Although Burkman told The Huffington Post that he would have some support for his proposed measure in the House of Representatives, the entire affair has been widely panned as a publicity stunt.
The SEC's 2013 co-defensive player of the year fired back with a tweet that referenced the fictional time-traveling vehicle used by Marty McFly in the beloved film trilogy to point out the futility of Burkman's effort.
Jack Burkman is going to need a Delorian, not some bogus bill, if he wants to prevent gay athletes from being in the locker room

— Michael Sam (@MikeSamFootball) February 25, 2014
As noted by Cyd Zeigler of Outsports, any time travelers looking to keep gay players out of the NFL would need to go back until at least 1964. While Sam is poised to become the first openly gay player in NFL history, he will be far from the first gay athlete in the league.
@MikeSamFootball Given Dave Kopay started playing in 1964, the Delorian would have to go back to at least before the merger.

— Cyd Zeigler (@CydZeigler) February 25, 2014