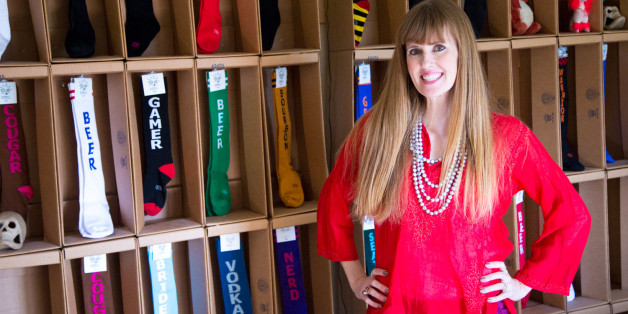 One of the reasons I started my website is that I wanted a place for women to come together and dream. We women need to know that we don't have to hang on to an old dream that has stopped nurturing us -- that there is always time to start a new dream. This week's story is about a fashionista who couldn't find an accessory she needed, so she had it custom made. Her creation has brought in a million dollars in revenue, and even has Beyoncé's seal of approval! -- Marlo, MarloThomas.com
By Lori Weiss
Erica Easley just wanted a pair of socks. A simple desire, the kind of thing most of us would order online or pick up while we were out running errands. But the harder she searched, the less she seemed to find. So the former advertising copywriter, who was known not only for her love of words, but her sense of style, decided to have them made. Not one pair or two -- but 1200 -- all with one simple phrase.
"Obama. I wanted socks that said Obama," Erica said with a smile. "It was 2008 and there was all this enthusiasm around the presidential campaign. Everywhere you looked there were Obama t-shirts, bobbleheads, even toilet paper. But I couldn't find socks."
Erica was trying to make more than a political statement. She wanted to make a fashion statement as well. She likes to say that she left her advertising job because she couldn't adhere to the dress code. So much so, that on her last day, her colleagues threw a party with a "Dress like Erica" theme -- and her friends came outfitted in bright colors, rock n' roll t-shirts and tutus.
"I've been a clothes horse my entire life," Erica explained. "It's not that I follow fashion. But I'm passionate about it as a form of expression. I'd always loved Cyndi Lauper and Boy George's style and funky vintage clothes. And I've worn a uniform of shorts and knee socks most of my adult life."
"No one was going to make me one pair of socks. So I ordered 1200 of them. I think I thought about it for all of five minutes. My boyfriend, Ed, owns the largest vintage clothing store on the West coast -- so I figured at the very least, we'd be able to sell the rest there."
And while Erica thought she might turn a few heads, as she walked through her Los Angeles neighborhood, she never expected what happened next. Ed put a sign outside his store, announcing that they were selling Obama socks, and suddenly the press started calling. Erica's red and blue knee highs began making headlines and the accidental entrepreneur decided to see what would happen if she made an even bigger splash.
"I bought a plane ticket and made my way to the Democratic convention in Denver. I had a giant duffle bag that I dragged around town, and I set up outside the stadium where Obama was giving his acceptance speech. I had a captive audience. I was wearing the socks, kicking up my heels and screaming, 'Get the world's first presidential knee socks.' And I sold every pair I brought."
Erica had made a $2,400 investment and came home with her pockets filled with cash. $7000 in cash. So she thought, Why not try it again? What if she took some of the money she made and picked another word? What she never expected, was that one word would lead to the next, and that her passion for fashion would not only help her build a million dollar business, but land her socks a spot in one of the most talked about music videos of the year.
Article Continues Below Slideshow
PHOTO GALLERY
Erica Easley
"I was just doing this as a side thing," Erica said. "I didn't see myself as a business owner. I was happy buying vintage clothing for Ed's store. But I had the extra cash, so I thought, What if I made socks with the word 'beer?' People love beer and it's a great word. I figured we'd stock them at the store and however long it took to sell them would be fine."
But what Erica didn't realize was that she'd created a walking billboard for her business. Store owners began spotting her trendy sock wearing customers on the street and asking where they'd found the unique fashion statements. And she began getting calls from people around the country who wanted to open up wholesale accounts.
So word by word, Erica, who happens to have a degree in English, started adding to her sock vocabulary. She'd find a word that made her laugh or seemed to be trending on social media and she'd call her manufacturer. Words like nerd, geek, pickle and bacon.
"People love the bacon socks! Store owners started calling to ask if 'bacon' meant something else, other than the obvious -- whether it was some sort of street drug or something -- because people were buying five pairs at a time. People are just bonkers for bacon!"
She named her fledgling company Gumball Poodle -- a colorful tribute to the antique bubble gum machine and collection of vintage stuffed dogs that make their home at Ed's store -- and just the right words for a company that's committed to selling fun. And before she knew it, Erica's socks were being spotted on marathon runners, at softball games -- and on roller derby queens around the country.
"Roller derby is all about self expression, so our socks are perfect for them. And because they call the new girls on the circuit 'fresh meat', our 'meat' socks are big sellers."
"It took me a couple years to realize what this could be," Erica reflected. "I started hearing from people all over the world. And that's when I realized I needed to buckle down and start thinking of this as a business."
Slowly but surely, Erica continued to add new colors and designs -- increasing her word count to 83 styles and taking her wares to trade shows around the country. But the one thing she never invested in was marketing. Somehow she didn't need to -- because the socks seemed to speak for themselves -- and to make their way to the wildest of places.
"Ed and I were at the store just before Christmas and we were so busy I didn't have time to answer my phone. I noticed that I had two missed calls from his niece, Ariana. I thought they were just for fun and that I'd call her back that evening, but then I noticed texts that she had sent. When I stopped to read them, I saw the words, 'OMG! Beyoncé is wearing your socks!' I was sure it had to be a mistake. But we googled and found the 'Pretty Hurts' video that she'd just released and there they were! Beyoncé was wearing our metallic gold 'Gangsta' socks!"
"At that point, I just started hyperventilating," Erica laughed. "We're a small company. I don't have a press department or a publicist on retainer. But Ed has a cooler head. He reminded me of the friends I have in the entertainment industry, so I called them and they told me what to do. I put out a press release, so when journalists starting writing about what Beyoncé was wearing, they'd include our $10 Gumball Poodle socks!"
Erica's socks not only made their way onto Beyoncé's feet, but as a result of their starring role in her video, they were featured on MTV Style and in Vogue Italy. Last year, the business that began because one woman wanted to make a statement, brought in a million dollars. And Erica is projecting nearly double that amount this year.
"There were a lot of people who blew me off when I first started out," Erica recalled. "I remember contacting someone when we were looking for warehouse space, and he accidentally sent me an email that I think was meant for his partner. It said, 'Socks? Can you imagine if we told people we had a new client that sold socks? The only way we'd do this is if she's really hot."
"I keep a copy of that email on my wall, to remind myself of how far we've come, and not to let other people's words get in my way. You just have to do what you believe in. The best ideas come from left field. Remember the pet rock?"
Add Marlo On Facebook:
Follow Marlo on Twitter:
Sign up to receive my email newsletter each week - It will keep you up-to-date on upcoming articles, Mondays with Marlo guests, videos, and more!