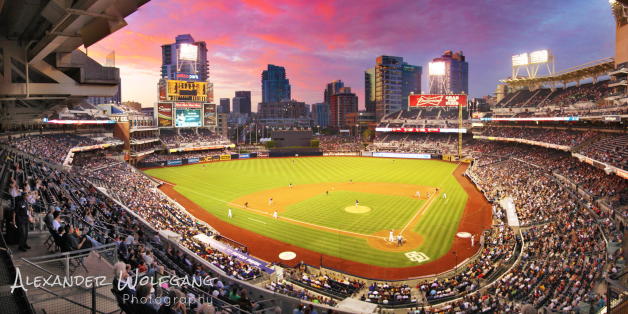 Think you can hit a home run at the San Diego Padres' Petco Park? If so, the Padres are willing to let you try. Should you succeed, you'll clinch free pair of 2014 regular season tickets, in addition to the major ego boost the accomplishment would surely bring.
Padres marketing brass has labeled the stunt "Swing for your seats," opening up the full day of Saturday, March 15, for fans to attempt to hit a ball, pitched by machine, over the outfield fence of Petco Park. Be warned, though: Participants get only one swing at no more than two pitches, and foul balls don't count.
Here's your chance to knock one out of Petco Park and win #Padres season tickets. Learn more: http://t.co/r3EV8UAfp0 pic.twitter.com/U1oHYmov03

— San Diego Padres (@Padres) February 26, 2014
Unfortunately, if you played baseball in college for a Division I team, you're out of luck this time. Neither upper-level college players nor professional baseball players will be allowed to participate. In addition to other rules, competitors must also be at least 16, must use a bat provided by the Padres and must wear a helmet.
And those that do qualify shouldn't expect an easy go of things. Bleacher Report dug through some home run statistics from the 2013 season, only to find Petco Park ranked 22 out of 30 for home runs allowed in major league ballparks.
Daunting statistics, sure, but it's free to try, and the opportunity to hit a ball in a major league stadium sounds like a great time either way. In any case, it's a home run for the Padres marketing department.
Interested? Sign up here, on the Padres website.