Dove's marketing strategy of encouraging women to see their "real beauty" is one of the most talked about of the decade. However, it turns out advertising your products as a metaphorical solution to a state-specific stereotype isn't exactly a wise application of the "self-acceptance" mantra.
The company's latest billboard features a woman proudly displaying her armpit and reads:
"Dear New Jersey, When people call you 'the Armpit of America,' take it as a compliment. Sincerely, Dove."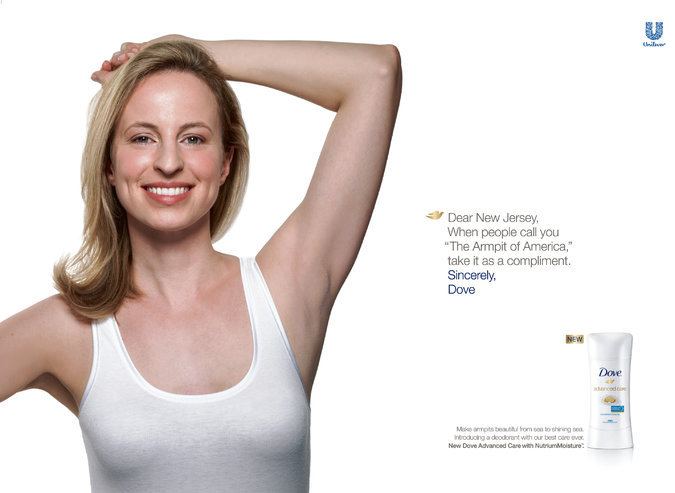 The new campaign, which promotes Dove's newest deodorant line Dove Advanced Care, is slated to arrive in the Garden State this July.
Senior marketing director of Unilever, Dove's parent company, told The New York Times he doesn't anticipate New Jersey residents will be up in arms over the billboard's message.
"I don't expect that there will be a lot of people who misunderstand, but to the degree that they do, we'll be open about what we're really trying to say," McCarthy told the Times. "The message that we want to get out there is that the armpit is not a bad thing, and that we stand for caring for the armpit."
But Dove executives probably weren't expecting to launch the campaign in the midst of Bridgegate either. Governor Chris Christie's traffic scandal has reinforced the state's long-held stereotype as one of the most corrupt in the nation.
"It just feels unnecessary and like it's kicking New Jersey when it's down," New Jersey resident and research executive Jen Drexler told the Times.
The billboard is part of a wider brand effort to elevate the armpit from a beleaguered chore to a more pleasant beauty and hygiene experience. We're skeptical, and so is New Jersey.
[h/t Jezebel]
BEFORE YOU GO
PHOTO GALLERY
6 Ridiculous Products That Make Women Less "Gross"