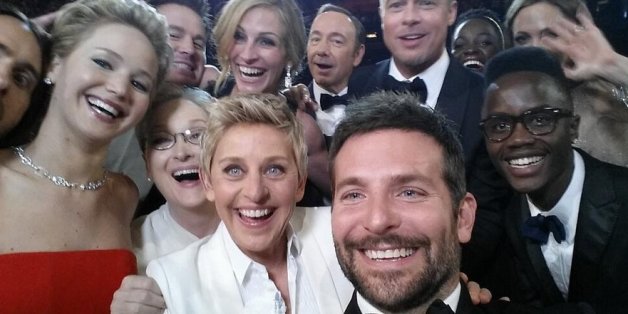 Bradley who?!
The Guardian issued a pretty epic correction Monday when they misidentified Bradley Cooper as Bradley Manning in the Oscar selfie that went viral during the ceremony Sunday night. Host Ellen Degeneres tweeted the picture among many other photos she had been live tweeting during the show. The "selfie" had more than 2 million retweets by the end of the award show, the Guardian said. By Monday morning, it had more than 500,000 more.
The Guardian celebrated the photo for getting the most retweets in Twitter history, beating out President Obama's "four more years" tweet with the picture of himself hugging the First Lady. The Guardian celebrated the photo for managing to bunch together some of "Hollywood's finest," like Meryl Streep, Lupita Nyong'o, Brad Pitt, with Bradley Manning snapping the group selfie.
There's just one problem. That's not Bradley Manning.
Whoops. Here is the correction:
This article was amended on 3 March 2014. The original stated that Bradley Manning took Ellen's selfie. In fact, it was Bradley Cooper. This has been corrected.
And in case you missed it, here is Ellen Degeneres' original tweet:
If only Bradley's arm was longer. Best photo ever. #oscars pic.twitter.com/C9U5NOtGap

— Ellen DeGeneres (@TheEllenShow) March 3, 2014
(h/t: Poynter)
BEFORE YOU GO
PHOTO GALLERY
Celebrity Feuds