An outdoor ad for Selsun Blue shampoo has cleverly found a way to use snow as dandruff. A lot of dandruff.
The French tagline on the ad, which appears in Montreal, reads, "When flakes take you by surprise."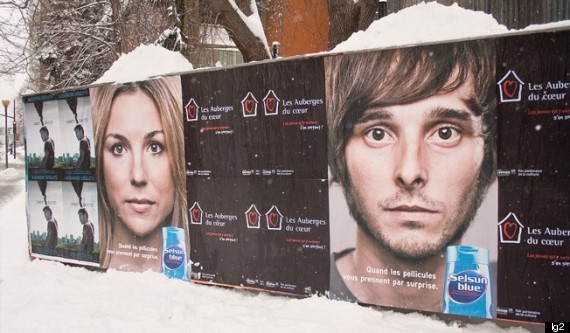 "Dandruff tends to appear more frequently during winter because of the heating systems that dry the air. And usually they appear kind of by surprise, out of the blue, just like a snowstorm," a spokeswoman for Ig2, the agency behind the billboard, explained to The Huffington Post.
The campaign is designed to roll with the elements, using a platform behind the ad to collect the snow.
"The 'dandruff' on the head of the posters would appear and disappear according to how much snow would fall on the city, which has been a lot!" the spokeswoman added.