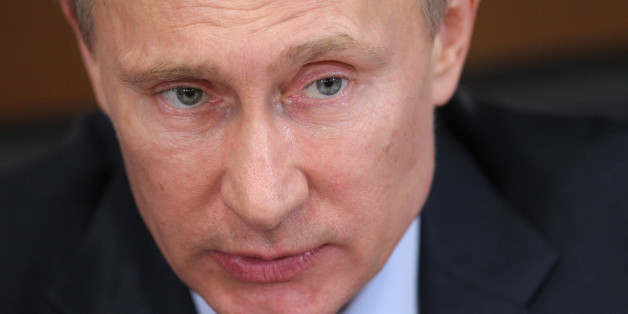 (James Saft is a Reuters columnist. The opinions expressed are his own)
By James Saft
March 4 (Reuters) - Sometimes it takes a slap in the face to make you realize a long-cherished belief is long dead.
Russia's power move in Ukraine is the slap and the so-called BRICs (Brazil, Russia, India and China) as an investment concept is the (now very much dead) belief.
That's not because India will bomb Sri Lanka or Brazil impose a 'co-prosperity zone' on Surinam. It is rather because Russia's move on Crimea demonstrates that history is not over, that globalization is not inevitable, and that you as an investor can very easily get worked over by this process.
You might, in other words, be better off keeping your money at home, or at the very least imposing a much greater discount on how cheap emerging market assets must get before they are worth the risks.
So far the damage in market terms is radiating out from the point of conflict, or aggression, with Russian assets hit very badly. That makes sense, but to simply focus on this story as being about the particular geopolitics of Russia and the rest is to miss the larger point: geopolitics, largely a one-way bet for investors since the cold war, don't always have to be a supporting factor.
BRIC enthusiasm was founded on two related concepts, both now very much in doubt.
The first was that the fundamentals within emerging markets were superior, for a set of reasons that almost smacked of historical inevitability. Not only were these countries, the argument went, lower in debt, but they represented the demographic future, with growing populations, better prospective economic growth and a massively expanding middle class.
Clearly demographics, never a Russian strong suit, are no longer a great reason to buy China, which is close to reaching its own demographic tipping point a good deal earlier than we would have bet 10 years ago. And while growing wealth and a growing middle class are a good thing, evidence this produces superior returns for investors is extremely thin on the ground.
TWO-WAY TRAFFIC AND COLLISIONS
The second concept, and here we enter into the truly delusional, was the Davos mindset that globalization will continue its steady march and will always favor capital.
Investment in BRICs, and in emerging markets generally, was supported by a world view which took for granted the idea that because 'everybody' wants to maximize development and growth, 'everybody' will not just give investors a fair shake but play, more or less, by the international rules.
A world in which countries like Russia are doing things like they are in Crimea is one in which capital which ventures abroad is going to be more cautious. More cautious capital requires higher returns to entice it. Russia particularly is going to get hit by this, but there is a good chance it applies generally to emerging markets.
Russia's aggression in Crimea doesn't just undermine this by itself, it does so through the very timid response it has thus far generated internationally. German interests seem inclined to block sanctions based on energy, while British ones seem wary of anything, such as seizure of the Russian elite's assets abroad, which might threaten London's banking franchise.
Now, to be clear, Russia is a very particular kind of bad bet, and its markets, even before their 10.8 percent fall on Monday, were priced that way.
We've seen other easy assumptions about how emerging markets and global investment 'works' being challenged recently. Take the Chinese yuan, the slow and steady appreciation of which, under the watchful eye of the People's Bank of China, has been the closest thing to a sure bet in global markets in recent years.
Two weeks ago, unexpectedly, the yuan suddenly started to fall in value, dealing some nasty blows to speculators who've come to rely on its steady appreciation. There are reasons to believe that China simply wants to introduce two-way risk into the market, and that it is simply trying to create unfriendly conditions for those who try to hitch a free ride on the yuan's usual slow rise.
That said, China also faces substantial difficulties in its needed transition towards a more consumption-based economy, something it needs to do while deleveraging in what may be a painful way for many influential constituencies.
Letting the yuan weaken makes a lot of that a good bit easier economically. It would also be very dangerous internationally, inviting a round of begger-thy-trade-partner devaluations.
Needless to say, it would also not be good for foreign capital flows, just like Russia's Ukraine gambit.
The bottom line, and Russia only underscores this: globalization is reversible. (At the time of publication James Saft did not own any direct investments in securities mentioned in this article. He may be an owner indirectly as an investor in a fund. You can email him at jamessaft@jamessaft.com and find more columns at http://blogs.reuters.com/james-saft) (Editing by James Dalgleish)
BEFORE YOU GO
03/25/2014 6:18 PM EDT
Senate To Vote Thursday On Ukraine Aid
Senate Majority Leader Harry Reid (D-Nev.) set up a final vote Thursday on a bill that would provide Ukraine with up to $1 billion in loan guarantees and impose targeted sanctions against Russian officials.
Reid made the announcement Tuesday after dropping a controversial provision from the Senate bill that would have boosted the U.S. quota at the International Monetary Fund. Republicans in both chambers of Congress opposed the IMF reforms, which were specifically requested by the White House to increase Ukraine's borrowing capabilities at the institution.
Senate Minority Leader Mitch McConnell (R-Ky.) said earlier Tuesday that Republicans would still want to vote on a number of amendments, but the IMF language was the major sticking point. Without it, the Ukraine aid package is expected to pass both the Senate and the House without much drama or delay.
--Sabrina Siddiqui
03/25/2014 5:24 PM EDT
Moldovan Separatists Claim They Downed Ukrainian Drone
Authorities in a pro-Russian separatist region of Moldova claim to have brought down a Ukrainian drone on a reconnaissance mission.

NovostiPMR, the news agency of Trans-Dniester says Tuesday that the region's intelligence agency downed the drone on March 23.

The region broke away from Moldova in 1990. There are 1,500 Russian troops stationed there guarding hundreds of tons of weapons.

According to the agency, the drone was "launched from Ukrainian territory by people close to the Ukrainian Security Service and the Defense Ministry."

It said the plane illegally crossed into Trans-Dniester violating its air space. It added that the authorities in the region reserved the right to use "all available methods" to defend the territory which is not internationally recognized but is supported by Russia.
03/25/2014 4:18 PM EDT
Russians Take Over Last Ukrainian Ship In Crimea
Russian forces appeared to be attempting to take over the last military ship controlled by Ukraine in Crimea on Tuesday after a Ukrainian military spokesman reported explosions in its vicinity and helicopters approaching the vessel.

Russian forces armed with stun grenades and automatic weapons have seized ships and military bases from the last remaining Ukrainian troops in Crimea in recent days as part of Russia's largely bloodless annexation of the region.

Kiev, which calls Russia's annexation of Crimea illegal, ordered its remaining forces to withdraw for their own safety on Monday, but not all troops have yet left the Black Sea peninsula and some ships have been prevented from leaving.

"Around 1900 (1600 GMT) there were several explosions from the direction of the minesweeper Cherkasy in the Donuzlav bay," Ukrainian military spokesman Vladislav Seleznyov told Reuters.

"Some Mi-35 helicopter gunships were observed hovering in the area. Speedboats and a tug were seen approaching Cherkasy," he said.

On Monday Cherkasy attempted without success to break to the open sea through a blockade at the entrance to the inlet. The Russian navy blocked the route earlier this month by scuttling three hulks in the channel.

Seleznyov said he was unable to confirm whether Russian troops had boarded the ship.
03/25/2014 3:02 PM EDT
Russian Military Holds Exercises In Moldova
Russia's military staged training exercises on Tuesday in Transdniestria, a breakaway sliver of Moldova that is a focus of tension following Russia's annexation of Ukraine's Crimea region.

NATO's top military commander said on Sunday he was worried that Russia might have its eye on Transdniestria, a largely Russian-speaking region that borders western Ukraine, after seizing Crimea, which has a narrow ethnic Russian majority.

The Interfax news agency quoted a spokesman for Russia's Western Military District, Colonel Oleg Kochetkov, as saying that Russian forces stationed in Transdniestria had "conducted an anti-terrorism drill and practiced operations to rebuff an attack on their military base".

Transdniestria, with a population of half a million, has run its own affairs since 1992 after fighting a brief war against the Moldovan government over fears that it might join Romania after the collapse of the Soviet Union, and Russia has a permanent garrison of peacekeepers there.
03/25/2014 1:02 PM EDT
No, Ukraine Will Not Have Nukes: Ministry Of Foreign Affairs
Ukraine's Ministry of Foreign Affairs confirmed, in something of a Shermanesque statement, that the country will not develop nuclear weapons, one day after the Russian Minister of Foreign Affairs seized on a proposal by some Ukrainian MPs to leave the Nuclear Nonproliferation Treaty.
"Ukraine has not planned, is not planning and is not going to plan to resume its nuclear status," a spokesman for the agency said at a press briefing.
Earlier this month, several opposition MPs introduced a draft bill to withdraw Ukraine from the NPT. Russia's Foreign Ministry seized on it, saying "the dysfunctional new Kiev authorities may pose a threat to the security of Ukrainian nuclear sites under the current Ukrainian circumstances," in a statement.
"We do not trust attempts of the Ukrainian delegate to dissociate from this position. The NPT is in serious danger."
Ukraine, which suddenly became the world's third-largest nuclear state after the collapse of the Soviet Union, gave its nuclear arsenal back to Russia for disposal under the 1994 Budapest Memorandum in exchange for security assurances from Russia that it would respect Ukraine's territorial integrity.
--Luke Johnson
03/25/2014 12:34 PM EDT
Five Scenarios For Russia's Relations With China, Moldova And Nato
The world's industrialized nations have turned their back on Russia, following Moscow's annexation of Crimea.
Though the G8 cannot expel its members, countries can refuse a member permission to attend, effectively expelling them.
With jitters in the east of Europe about further Russian incursion, and wariness in China, the state of world diplomacy could look very different by 2015.
HuffPost UK has asked military and international relations experts on five scenarios that could occur now Russia looks increasingly isolated, and as the West looks impotent.
Read here what they predict.
03/25/2014 12:27 PM EDT
Senate Democrats Consider Dropping IMF Provision
Senate Majority Leader Harry Reid (D-Nev.) may drop a controversial reform to the U.S. share at the International Monetary Fund from the Ukraine aid package, according to Senate leadership aides.
The provision was requested by President Barack Obama and Ukrainian leaders, but faces widespread opposition from Republicans. Senate Majority Leader Mitch McConnell (R-Ky.) said Tuesday that his members would not support the aid bill unless the IMF language was dropped.
A Senate leadership aide said removing the provision is now "under consideration in order to move the bill." In exchange, Republicans would drop their demand to delay a Treasury Department rule that cracks down on the political activities of nonprofits, known as 501(c)(4)s.
The House of Representatives passed its own legislation providing aid to Ukraine earlier this month without the IMF reforms, and planned to move on a sanctions bill that also left the issue untouched. House Speaker John Boehner (R-Ohio) has said boosting U.S. funds at the IMF has "nothing to do with Ukraine," and his aides indicated they would not have enough votes to move the Senate bill through the lower chamber in its current form.
The Obama administration and Senate Democrats have been making the case that ratifying the IMF reforms, which were agreed upon in 2010, is critical to Ukraine's borrowing capabilities in a time of crisis. Still, some House Democrats acknowledged that the White House was complicating the process by renewing debate over a contentious issue when providing aid expeditiously is of the utmost importance.
--Sabrina Siddiqui
03/25/2014 11:46 AM EDT
Obama Dismisses Romney's 'Geopolitical Foe' Comment
President Barack Obama dismissed the notion that former GOP presidential candidate Mitt Romney was correct in saying that Russia was "our number one geopolitical foe" Tuesday, in a response to a question from Jonathan Karl of ABC News. He said that Russia was merely a "regional power" that was acting out of "weakness."
"Russia is a regional power that is threatening some of its immediate neighbors, not out of strength, but out of weakness. Ukraine has been a country in which Russia had enormous influence for decades, since the breakup of the Soviet Union, and we have considerable influence on our neighbors," he said. "We generally don't need to invade them in order to have a strong cooperative relationship with them."
--Luke Johnson
03/25/2014 11:26 AM EDT
Obama Says He's Not Interested In Putin's Motivation
At a press conference in Europe, U.S. President Barack Obama sidestepped a question on whether he "misread" Russian President Vladimir Putin, saying he wasn't so interested in his motivations.
"With respect to President Putin's motivation, I think there has been a lot of speculation. I am less interested in motivation and more interested in the facts and the principles that not only the United States but the entire international community are looking to uphold."
He added that the United States is "concerned" about further encroachment by Russia into Ukraine.
--Luke Johnson
03/25/2014 10:39 AM EDT
Will Russia Annex Moldova Next?